Member Event Sign-ups
Current event jobs are managed through SignUp Genius.
Click on the button below to sign up to work events.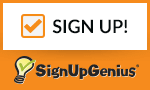 Note
: You must be a member of EXCEL in order to complete this process. If you are not currently a member, please visit our information on how to join EXCEL.
Join EXCEL
We welcome members who have a diversity of interests, talents, and who represent the various majors and disciplines from across campus.