For Current Ambassadors
Event Sign Ups
Event sign-ups are now being managed by SignUp Genius. Please click on the link below to volunteer for an event.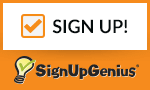 Note: You must be a current member of the UTA Ambassadors in order to complete this process. Please refer to the "How to Join"  page for information on how to become an Ambassador.
AMBASSADOR PARTICIPATION RECORDS
Click here to view the meeting attendance and organization outreach records.
Click here to view the participation hours records.
Click here to view the individual and committee point system records.
Note: These documents are updated twice a week. If you feel there is an error, please contact the Ambassador Secretary/Historian.
ambassador online training
All Ambassadors are required to complete the online training (including each of the 6 modules and quizzes). The deadline for the Sring 2018 online training is January 10th. Click here to access the training.
AMBASSADOR EXecutive board applications
Ambassador Committee Chair applications are currently being accepted for the Spring 2018 semester. Applications are due Monday, December 4 at 11:59PM. Click here to access the applications.
ambassador EXECUTIVE BOARD
Office Hours Change Form - Submit this form if you need to change your office hours for a particular day/week prior to the missed hour(s).
Office Hours Update Form - Submit this form at the end of each office hour to update Mr., Ms., and Jennifer on your progress!