For Members
MANDATORY TRAINING
If you missed the mandatory Student Government training on January 11th, 2018, make sure to contact a Leadership Team member to schedule your make up. 
PARTICIPATION Point OPPORTUNITIES
Participation point sign-ups are now being managed by SignUp Genius. Please click on the link below to volunteer for an event.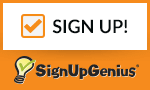 Note: You must be a current member of Student Government in order to complete this process. Please refer to the "How to Join"  page for information on how to become a senator.
Participation Point Record 
To view the number of Participation Points you currently have, click here.  If you have any questions or comments concerning the number of participation points you have, email Khaylindria Miles. 
Forms 
Resolution Implementation Process Form
Arlington City Council Template