The Importance of Women's History from Lorraine Raymundo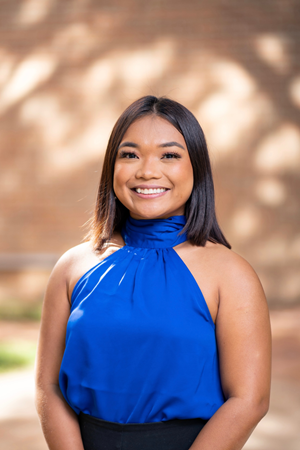 The College of Business Diversity, Racial Equity, and Inclusion Group (DREIG) is asking UTA staff, faculty, and students what the importance of Women's History Month means to them personally. Victoria Davis-Sutton, a College of Business DREIG student associate, interviews Lorraine Raymundo, a current graduate student working towards her Master of Science in Marketing Research.
Victoria: Why is Women's History important to you?
Lorraine: As a proud Filipina, I find it crucial to acknowledge the importance of women's history as it highlights the struggles and contributions of women in shaping our society. It helps us comprehend our past, present, and future, and paves the way for a more inclusive and fair society. Knowing about women's history inspires me to become an active advocate for gender equality and marginalized groups.
Victoria: How can others be an ally for women and women in marginalized groups?
Lorraine: To become an ally for women, one must educate themselves about the issues and listen to their experiences and perspectives. It is important to advocate for their rights and needs, amplify their voices with their privilege and platform, and work towards creating an inclusive and just society.
Victoria: What are some challenges you face being a woman?
Lorraine: As a woman, I face challenges such as discrimination, limited opportunities, and societal expectations and stereotypes. However, I see these challenges as opportunities for growth, resilience, and empowerment, and I strive to overcome them.
Victoria: Who do you feel has made a major impact for women?
Lorraine: Many influential women have made significant impacts for women's rights, such as Gloria Steinem, Malala Yousafzai, and Ruth Bader Ginsburg. In the Philippines, women like Gabriela Silang, Melchora Aquino, and Cory Aquino have fought for the rights and welfare of Filipinos, especially women.
Victoria: What is your favorite quote?
Lorraine: One of my favorite quotes is from Michelle Obama: "There is no limit to what we, as women, can accomplish." This quote empowers me to strive for success and break through barriers as a woman.