Executive MBA

Currently accepting applications for the next intake. Apply Today!
Program Overview
With an updated curriculum and a new "Saturday only" schedule, it is an exciting time to join the Executive MBA program at the University of Texas at Arlington.
Conveniently located at the UTA campus in downtown Fort Worth, the UTA Executive MBA program is designed for working professionals who are looking to take their careers to the next level. The UTA Executive MBA program combines rigorous academic study with professional development programming and a unique global business experience and will be a foundation upon which you will build the rest of your career.
While Executive MBA programs most commonly meet on Friday and Saturday, The UTA Executive MBA has transitioned to a true weekend program that is optimized for the working professional student.
Classes meet on Saturdays only (2 -3 times per month) and the program is fully completed in 17 months.
HIGHLIGHTS:
17-MONTH COMPLETION

TRUE WEEKEND – SATURDAY ONLY CLASSES

GLOBAL BUSINESS IMMERSION TRIP

NEW LEADERSHIP LABORATORY

ACCESS TO EXECUTIVE BUSINESS COACHES
Learn More
Register For Info Session
Schedule Phone Meeting
Apply Now
Contact Us
The Executive MBA program is designed for students who have significant experience in their career and have a solid foundation of real-world business knowledge upon which to build.
The value of the Executive MBA is that it further develops leadership skills by focusing on strategy, decision-making, and relationships between business functional areas. UTA Executive MBA participants learn cutting-edge, high-level business models, concepts, and procedures they can begin applying immediately. This knowledge is enhanced through team-based deliverables and collaborative projects with fellow classmates. A typical UTA Executive MBA student has an average of 16 years of work experience and an average of 10 years of leadership or management experience.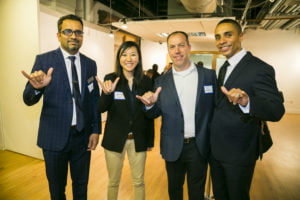 THE COHORT EXPERIENCE
The UTA Executive MBA program is designed around an intimate cohort model. As a participant in the program you will work, study, and learn as a member of a collaborative cohort of successful experienced professionals who are driving growth and change within their organizations and industries.
This is the cornerstone of the program with each member of the cohort contributing their own unique skills and experience to the discussion. In doing so they learn through exposure to perspectives and insights from a broad variety of industries and functional specialties and contribute their experience to the learning or others. Learning in a cohort magnifies the knowledge and skills of the individual into a powerful community of learners.
TYPICAL STUDENT PROFILE
The Typical Executive MBA cohort consists of a talented group of leaders and professionals from a broad selection of industries and who bring experience from a wide variety of professional specialties.
– Average age: 36 – 38 years old
– Average years of professional experience: 14-16 years
IMMEDIATE RETURN ON INVESTMENT
Executive MBA participants pursue their degree while simultaneously maintaining their full-time careers. As a result, they can immediately apply what they learn over the weekend on Monday morning. This immediate return on investment makes the Executive MBA extraordinarily valuable for program participants.
Whether you want to advance in your current industry, shift roles, or build a new business, UTA's Executive MBA Program can help you achieve your goals beginning on day one.
In our most recent UTA Executive MBA survey, the advantages speak for themselves in terms of return on investment:
UTA Executive MBA students had an average 24.6% salary increase, compared with 16.8% nationwide, and realized their ROI in only 2.46 years compared to 2.97 years nationwide.
85% of graduates stated effectiveness in their current position increased because of their Executive MBA.
75% of graduates also felt their ability to be promoted was increased because of their Executive MBA.
95% of graduates stated the program met or exceeded their expectations.
The Executive MBA program offers great value and is very affordable compare to other AACSB-accredited programs.
Tuition for 2021 is $75,900, and this also includes the Graduate Certificate in Asian Business Studies.
CURRENTLY ACCEPTING APPLICATIONS FOR AUGUST 2021
EXECUTIVE MBA 2021 – 2021 TUITION
| | | |
| --- | --- | --- |
| Application Fee | $75 | Due with application |
| Tuition Deposit | $1,500 | Due upon acceptance (non-refundable) |
| First Payment | $18,600 | Due Feb. 1, 2021 |
| Second Payment | $18,600 | Due July 1, 2021 |
| Third Payment | $18,600 | Due Oct. 1, 2021 |
| Fourth Payment | $18,600 | Due Feb. 1, 2022 |
FINANCIAL AID AND LOANS FOR EMBA STUDENTS
Executive MBA are skilled financial managers and most often seek to finance their program by taking advantage of the favorable financial aid and loan programs available today. We suggest applicants discuss these opportunities with the Program Director and our specialized financial aid advisors today.
To take advantage of these programs the first step is to complete and submit the Free Application for Federal Student Aid (FAFSA). The University of Texas at Arlington school code is 003656.
VETERANS' EDUCATIONAL BENEFITS
Veterans bring valuable leadership experience to the Executive MBA cohort and we encourage them to apply. In fact, the program has many alumni who had distinguished military careers. One of the reasons they choose this program is that UTA is ranked No. 1 in Texas and No. 20 in the nation as "Best for Vets" by Military Times magazine, a premier publication to the U.S. veteran community.
The UT Arlington Executive MBA program accepts the educational benefits provided to veterans through the Post-9/11 GI Bill. This process starts with the Executive MBA application fee being waived for all veterans. For more information, the UT Arlington Office of Veterans' Affairs can be reached at 817-272-3017 for more information.
UTA Executive MBA Scholarship for Non-profit executives and Community Service Leaders
Increasingly, non-profit managers and community leaders have increasingly started to seek the education that an Executive MBA provides. The UTA Executive MBA program seeks to encourage these managers and professions to seek the education that an Executive MBA program provides.
Eligibility for consideration:
Consideration will be given to given to applicants in the following categories according to the following priority order:
Applicants working in a managerial role in any qualified 501(c)3 organization/non-profit or charitable organization.
Applicants working in a local government entity or quasi-governmental entity such as a Chamber of Commerce.
Applicants holding local public office.
Applicants with experience in teaching and/or supporting the educational mission of the community.
Applicants who are members of organizations whose mission is significantly dedicated to serving the community e.g. Rotary, Lions, the Junior League, religious organization, charitable boards, school boards, health advocacy groups, etc.
Applicants who work within a for-profit organization and contribute to their company's community outreach programming.
Applicants who contribute to the community during the time of pandemic as a medical practitioner.
The Executive MBA curriculum is designed for participants who have significant experience in their career and have a solid foundation of real-world business knowledge. During the program they will take courses from all the various technical and functional areas key to the success of today's business leader:
OPENING SESSION COURSES
Business Analytics, Quantitative Methods and Decision Models for Managers
Leadership Laboratory Module 1 (see section Leadership Laboratory)
SEMESTER ONE
Making Strategic Decisions with Financial Data
Business Economics and Competing in the Global Economy
The Digital Transformation of Business
Leadership Laboratory Module 2
SEMESTER TWO
Financial Management and Accessing Global Capital Markets
Marketing and Customer Value Creation
Sales Management, Business Development and Revenue Generation
Leadership Laboratory Module 3
SEMESTER THREE
Designing Global Supply Chains for Competitive Advantage
Strategic Cost Management
SEMESTER FOUR
Negotiations and Professional Communications
Leadership Laboratory Module 4
Experiencing the Global Environment (China trip)
Competitive Strategy, Entrepreneurship and Intrepreneurship
*Course sequence and content subject to change by EMBA administration.
Research shows that there is a finite and specific set of executive skills that separate successful from unsuccessful leaders and these skills can be assessed and developed.
The Leadership Laboratory is a new and novel course that we have designed at the UTA Executive MBA program that will position you for success.
This unique course is integrated throughout the entire program and synthesizes individual managerial, leadership, and organizational development models into one Leadership Framework course that will position our graduates for maximum effectiveness and success as High-Performance Leaders in high-performance organizations.
In addition to the Leadership and Organizational Framework model, this course will engage participants throughout the program with such key leadership topics as:
Leading Effective Teams – both as team leader and individual team member
Development of personal and organizational mission, values, and core competencies

This will include a 360 analysis of each students' current strengths and weaknesses.

The definition of personal and organizational success and how to measure it
Understanding key attributes and characteristics of successful organizations
How to integrate the technical business skills being learned in other classes into a comprehensive strategic direction for the organization and one's career.
How to build effective relationships for success in the areas of recruiting of talent building quality customer relationships, including corporate governance and other stakeholders.
How to integrate data and information into an effective strategy for performance management operational processes.
Participants will engage with important current leadership topics such as Sustainability, Ethics, Diversity and Inclusion, Cross-cultural management, etc.
Participants will learn/focus on practical professional competencies in the areas of leadership and workforce development including such topics as Recruiting and Hiring, Training, Compensation, and Motivation

We live in a global economy and your future success will be influenced by your ability to navigate the international business environment. UTA's China immersion experience, the global component of UT Arlington's Executive MBA program, is an unmatched, one-of-a-kind opportunity to intimately understand and explore the nuances of international business.
This experience is a highlight for the program participants and is made unique by the fact that that UTA established an Executive MBA program in China in 2002. UTA's 3,600 alumni of this program hold senior and top leadership positions in organizations across China. This uniquely broad alumni network in China provides their US-based counterparts with a one-of-a-kind opportunity to make high-level connections and experience China from an insider's perspective.
THE APPLICANT EVALUATION PROCESS
The Executive MBA program wishes all participants to be successful in the program and to achieve their academic and career goals. To this end, we partner with our program participants from the first day of their admissions process.
The admissions committee considers the following in addition to the completed application: work experience, recommendations, personal interview, personal essay, academic history, and overall application content.
SCHEDULE A PERSONAL ADVISING CONVERSATION WITH THE PROGRAM DIRECTOR:
To schedule an advising appointment with our Program Director by clicking HERE
APPLICATION DEADLINES
FALL 2021 – PRIORITY GIVEN to applicants who submit all materials by June 30, 2021. The final application deadline is July 30, 2021, on a space-available basis.
CRITERIA FOR ADMISSION
A four-year undergraduate degree
Minimum of 5 years of professional work experience, with 2 years of managerial experience
High potential for advancement and proven academic capability
Ability to contribute to the Executive MBA experience
Ability to read, write, and speak English. If candidates do not have standardized test results (e.g. TOEFL, IELTS), they will be required to take an in-house English test and pass an oral English interview. This requirement is waived for custom-designed cohorts for companies or government entities, which are taught in Mandarin.
Strong interest in a U.S. educational experience.
SUBMITTING AN APPLICATION
Go to www.applytexas.org and ensure that you choose EXECUTIVE MBA – DOMESTIC as your program selection.
Order transcripts from all previously attended colleges to be sent directly to UTA's Graduate Admission Office at admission@uta.edu. If you are UTA alumni, no need to order your UTA transcripts. If postal service is the only option from your previous school(s) use the appropriate address below.
Email the Letter of Recommendation form (you should sign the top section digitally, if possible so that you send it as a fillable PDF) to your references, and have them email back to emba@uta.edu upon completion.
We require at least two professional Letters of Recommendation, one of which should be from your immediate supervisor. They can be emailed directly from your colleagues to emba@uta.edu.
Email your resume, organization chart (if possible), and unofficial transcript copies (speeds up the decision process) to emba@uta.edu.
We encourage applicants to be in contact with us during the application process. We are here to help.
Meet Our Alumni
Contact Us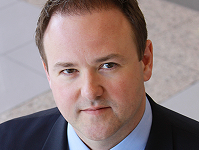 Joseph Babcock
EMBA Director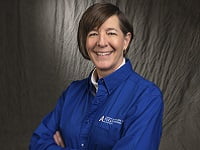 Nancy Fletcher
EMBA Program Coordinator
Location
UTA Fort Worth
1401 Jones Street,
Fort Worth, TX 76102