OPINION: Should We Ban College Admission Tests?
In an op-ed for Inside Higher Education, Dr. Daniel Robinson and his co-authors argue in in favor of college admission exams and their importance in higher education.
NOTE: The views expressed in this article are solely those of the authors, and do not represent the views of the College of Education or its faculty, the University of Texas at Arlington or anyone associated with it, and the University of Texas System.

Authors: Daniel H. Robinson; Robert A. Bligh; Howard Wainer
During the pandemic, testing large numbers of high school graduates safely was a task of insuperable difficulty. Having students take the tests remotely was not a reliable option, as monitoring for cheating was not possible. As a result, about 600 colleges decided to suspend the requirement of admission test scores as part of the application process. Subsequently, many are considering making the suspension permanent.

Some immediate effects of not requiring admission tests appear, at first glance, to be positive. Selective colleges -- those that admit less than 50 percent of applicants -- are currently experiencing substantial increases in applications, especially from first-generation, minority and low-income applicants. As of Feb. 15, only 44 percent of applicants had submitted SAT or ACT scores, compared with 77 percent the year before. This increase in applications may help to reverse the 4.5 percent decline in enrollments during the 2020-21 academic year compared to the prior year. Given such encouraging results, why do we need admissions tests?

It would seem that colleges that accept all of their applicants, like most community colleges and for-profits like the University of Phoenix, would have no use for admissions testing. Not so. The scores can still serve a critically important role of helping both the student and the college decide on a curriculum that would best serve the student's education. At the other extreme, colleges like Harvard, Princeton or Stanford Universities, which accept fewer than 5 percent of applicants, use admissions testing scores very differently. Such colleges are searching for students whose academic ability allows them to flourish in such a rigorous environment. Such applicants, although often obvious within their individual high schools, may be harder to find by highly selective colleges. Experience has shown (e.g., the National Merit Scholarship Program) that using a well-designed test for initial screening and searching is an efficient, practical and valid tool.
Imagine a 17-year-old minority girl whose family lives in poverty. She blows the top off the SAT, placing her among the top scorers in the country. Unfortunately, her high school grades do not set her apart, both because of the homogeneity forced on grading policies and because the standards of scholarship at her high school and others like it are not held in high esteem. How would a ban on admissions testing affect her ability to get into a highly selective school?

To read more of this opinion article, visit Inside Higher Ed.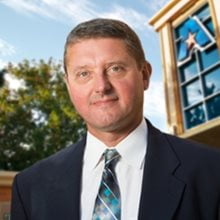 Dr. Daniel Robinson

Daniel H. Robinson is the K-16 Mind, Brain and Education Endowed Chair at the University of Texas at Arlington. Robert A. Bligh is a retired lawyer residing in San Antonio. Howard Wainer is a statistician and author living in Pennington, N.J.