Student Affairs Org Taps Roland for Leadership Role
The ACPA–College Student Educators International has elected Dr. Ericka Roland to its CPP Directorate.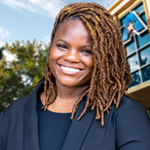 One of the nation's top organizations for student affairs professionals has elected Dr. Ericka Roland to its Commission for Professional Preparation, or CPP, Directorate.
As a member of the CPP Directorate, Roland, an assistant professor in the College of Education's Department of Educational Leadership and Policy Studies, will help shape the direction of a premier organization for higher education professionals.
Among its mandate, the CPP Directorate promotes learning opportunities for higher education faculty and administrators, helps recruit student affairs practitioners, and provides networking, scholarship, and service opportunities for student affairs teaching faculty.
"This is a great honor for Dr. Roland and UTA as it raises awareness of the university's graduate-level programs that are designed to prepare outstanding higher education scholar/practitioners," said Dr. Marilee Ludvik, department chair. "We're inspired by Dr. Roland's achievement. Her service in this role will bring our department added collective expertise for updating our master's degree curriculum informed by the evidence-based research, student support, and retention strategies that the directorate nationally leads."
Roland's three-year term officially begins on Sunday, March 6, at the 2022 ACPA annual convention and CPP Directorate open meeting.