Back to the Basics with Boardgames
A unique education course is using boardgames to help future teachers get back to the basics of teaching.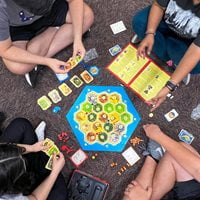 "Teaching Social Studies in the Secondary Classroom" (EDUC 4343) incorporates old school games like Catan and Homesteaders into the classroom instruction. The class is taught by Dr. Taylor Kessner.
"Teaching and learning is much simpler than we often make it out to be. In fact, teaching and learning is all around us all the time—we just have to be mindful of looking for it," said Kessner, an assistant professor in the Department of Curriculum and Instruction.
In this introductory lesson for EDUC 4343, UTA students spend the second half of class in The Basement at the UTA Library playing boardgames. This activity is designed to help students see and think about how teaching and learning something new actually comes very naturally in certain settings – and how future educators can translate this understanding to design their own social studies courses at the secondary, or junior/high school, level.