Master of Education in Educational Leadership and Policy Studies - Higher Education Administration
Get equipped for a career in higher education within a college, a university, or the many educational institutions that study, support, and address higher ed issues.
Future Students Start Here
Our M.Ed. in Educational Leadership and Policy Studies, with Higher Education Administration Emphasis, prepares future college/university staff, administers, and leaders to meet the needs of incoming and current students at the undergraduate and graduate level. Students enrolled in the program will explore the concepts such as diversity and inclusion, educational leadership, resource management, curriculum design, the impact of policy on higher ed, and more.
Priority Deadlines
We may continue to accept applications after the suggested deadlines. Check uta.edu/mymav to see your admission status, as well as updates on any documents we may need to process your application.
Fall Semester
Submit by July 15
Early Deadline is June 1
Spring Semester
Submit by Dec. 1
Early deadline is Oct. 15
Summer Semester
Submit by May 1
Early deadline is March 15
The department offers the Master of Education (M.Ed.) in Educational Leadership and Policy Studies, with Higher Education Administration emphasis. This is an in-person program that has been temporarily offered virtually because of Covid-19. Contact our program advisers for more questions about coursework.
The higher education emphasis prepares students to pursue a career in colleges and universities or the many organizations that study, support, or address higher education-related issues. The ELPS department works collaboratively with campus administrative offices. Students may also seek graduate assistant opportunities in areas such as student affairs and housing.

Students take courses in higher education administration, law, and history and become informed consumers of research. Graduates find employment in many areas of higher education, including but not limited to:
Student affairs
Housing
Financial aid
Institutional research and technology
Course of Study
| | |
| --- | --- |
| EDAD 5322 | Educational Research and Evaluation |
| EDAD 5360 | Leadership Theory |
| EDAD 5380 | Diversity and Equity in Education |
| EDAD 5399 | Capstone Practicum in Educational Leadership and Policy Studies |
| | |
| --- | --- |
| EDAD 5350 | American College Student |
| EDAD 5351 | Higher Education Administration and Student Affairs |
| EDAD 5352 | Higher Education Law |
| EDAD 5354 | The American Community College |
| EDAD 5356 | History, Principles, and Philosophy of Higher Education Administration |
| EDAD 5357 | Higher Education Trends and Issues |
Tuition and Affordability
At UTA, we believe an excellent education should be attainable for all. We provide financial aid and scholarships that keep your costs low and your debt manageable.
Tuition Estimator
This tool is designed to help potential and existing students obtain a rough estimate of the fees involved in attending the university.
Graduate Assistantships
UTA offers Graduate Assistantships to help students pay for school and get valuable, applied learning experiences in higher education. GAs receive a monthly stipend of up to $1,300 and work closely with higher ed colleagues at UTA. Note that these do not provide an out-of-state tuition waiver.
Program Coordinator
Dr. Maria Trache
Professor, Educational Leadership and Policy Studies
Research Interests: Higher ed, K-16 pathways, life course res, STEM ed, internationalization, labor market, social equity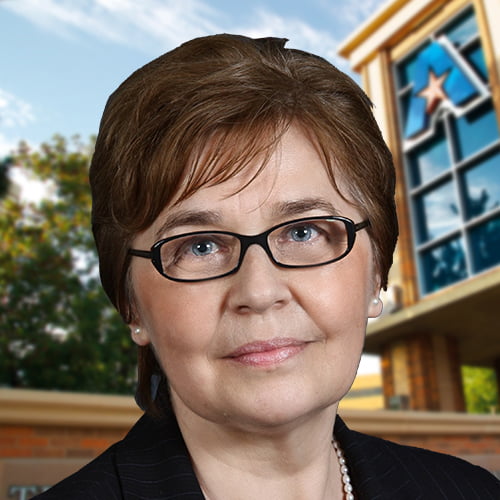 Bio: Dr. Maria Trache is a professor in the College of Education, Department of Educational Leadership and Policy Studies since August 2011, following 14 years as Statistical Consultant and Research Manager at the University of British Columbia and over 15 years as a faculty at the University of Bucharest. She brings over 30 years of combined teaching and research experience from both science and social sciences to UTA. As an educational researcher, Dr. Trache focuses on equity issues in higher education and the labor market by examining the effects of structural differences at the intersection of gender, race, social class, immigrant status, disability. Her research is informed by theoretical frameworks from sociology, economics of education, and life course research. She has expertise in advanced quantitative methods, survey methods and analysis of large-scale survey data. Dr. Trache is author/co-author of about 45 publications in peer-reviewed journals, edited books, working paper series. She currently serves as a member on the Sociology/Demography Insight Grants Selection Committee for the Social Sciences & Humanities Research Council of Canada (SSHRC).
Graduate Recruiter
Monique Bird
Director of Marketing and Communications
Graduate Advisor