Virtual Innovation Day
College Celebrates Student Research With Virtual Innovation Day April 22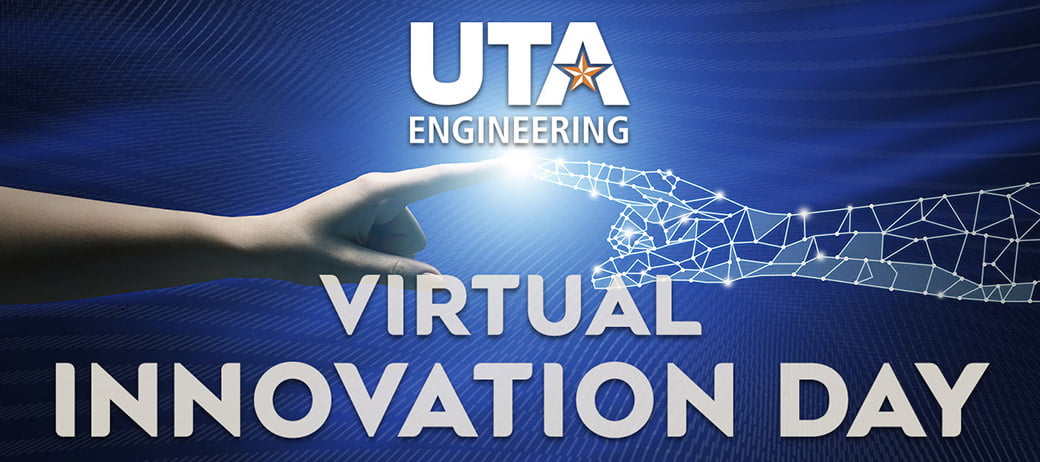 Covid-19 has impacted this year's Innovation Day by pushing it online. But it has not put a damper on the event, which has been at the College of Engineering since 2018. This year's Virtual Innovation Day features 125 projects emanating from graduate research, undergraduate research and senior design.
Visit https://uta.engineering/innovationday to view project posters and presentation videos.
Engineering Dean Peter Crouch, understanding the importance of giving students at all levels access to real research experiences, created Innovation Day in 2018 to encourage student participation in research, especially at the undergraduate level. In addition to showcasing the outstanding work of student researchers, the event is an opportunity for industry and the community to become more involved and aware of the quality of UTA's engineering students as they prepare to enter the workforce.
Hundreds of engineering students are making their venture into the world of research and innovation. Some innovation/research projects include:
diabetes therapy
wrist rehabilitation
building a multifunctional external disk drive/internet dongle/portable charger
an app that helps wheelchair users to and from the airport
an app that trains children to be better pedestrians and users of advanced transportation systems
recycling/reusing 3D printing wastes
an autonomous lawnmower
paper strip for microbial detection
a wearable American Sign Language translation device.
Many of the students had to finish their research and innovation projects via Zoom, Teams or other meeting software. The judges also are conducting the review and judging remotely in Pennsylvania, California, Washington, Florida, Washington D.C. and Mumbai.
Sponsors include: Raytheon Technologies, UTA's Provost Office, Bell, BNSF, Chroma, FormFactor, Mouser Electronics/Analog Devices, Oncor, AYCO Charitable Trust on behalf of Janet and Mike Green, Jacobs, LUNA, Tarrant Regional Water District, The Rios Group and State Farm.