Design, Connect, Create
NIH Fellows led by Professor Kytai Nguyen hosted the "Design, Connect, Create" Physics Camp to introduce young women interested in STEM to the field of nanotechnology in biomedical engineering. The ladies toured state of the art research labs and learned cutting edge research techniques. They were present for hands on activities that demonstrated sensors that detect heart rate and eye movement.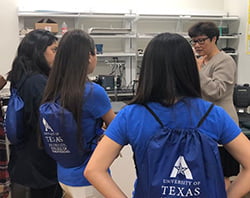 Demonstration of a LABNIRS
Three Physics Camp participants observe a demonstration of a LABNIRS system by Professor Hanli Liu.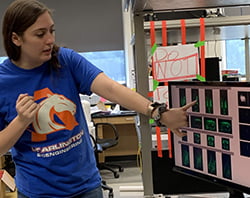 Fellow Victoria Messerschmidt
NIH T32 Fellow Victoria Messerschmidt showing campers her imaging techniques using lasers and zebrafish.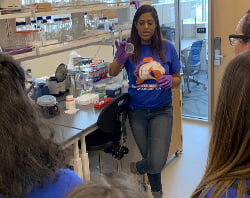 Fellow LeNaiya Kydd's
Three Physics Camp participants learn about NIH T32 Fellow LeNaiya Kydd's current research efforts.