JANUARY 2021 RESEARCH MEETING VIA TEAMS: JANUARY 11, 2020
Cynthia Co delivered a presentation on Carbon Nanotubes and their application in the field of Biomedical Engineering.
NOVEMBER 2020 RESEARCH MEETING VIA TEAMS: NOVEMBER 17, 2020
Ann Phillips delivered a presentation covering the progress of her research.
OCTOBER 2020 RESEARCH MEETING VIA TEAMS: OCTOBER 20, 2020
SUMMER NANOTECHNOLOGY SYMPOSIUM VIA TEAMS: AUGUST 24, 2020
The NIH T32 Summer Symposium covered many topics relating to biomedical engineering. The discussion was delivered via Teams. Adam Germain talked about communication between hospitals and biomedical engineers. Alan Taylor talked about the risks and toxicology of Nanotechnology. Annie Phillips talked about nanotechnology's application in everyday life. Cynthia Co talked about ethics in relation to nanotechnology. Karla Perez talked about job opportunities in the field of nanotechnology. Lenaiya Kydd delivered a presentation on Leaders in NanoTechnology. Luis Soto-Garcia spoke about nanotechnology and disease. Finally, Victoria Messerschmidt talked about emerging nanotechnology.
SEPTEMBER 2020 RESEARCH MEETING VIA TEAMS: SEPTEMBER 22, 2020
June 2020 Research Meeting via Teams: June 25, 2020
Doctoral student Luis Soto spoke on the topic of Nanotechnology's potential support in the fight against SARS Covid 2.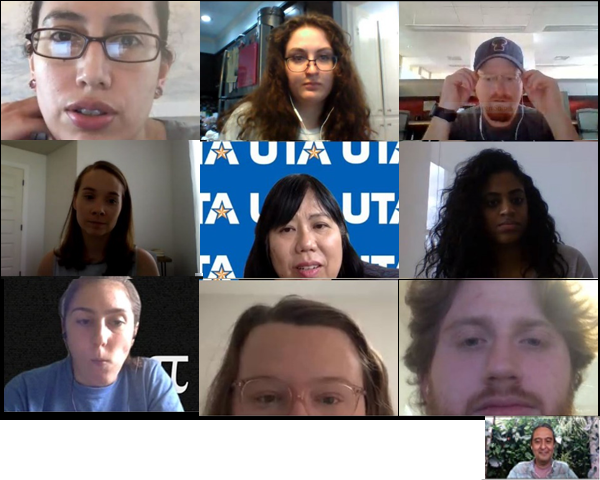 Dr. Kytai Nguyen
Dr. Nguyen and the UTA NIH T32 fellows adapt to challenges by taking the meetings online.
Summer 2018 Special Topics in Nanotechnology: May 30, 2018
Spring 2018 Update: March 6, 2018
May 2018 Summer NIH Meeting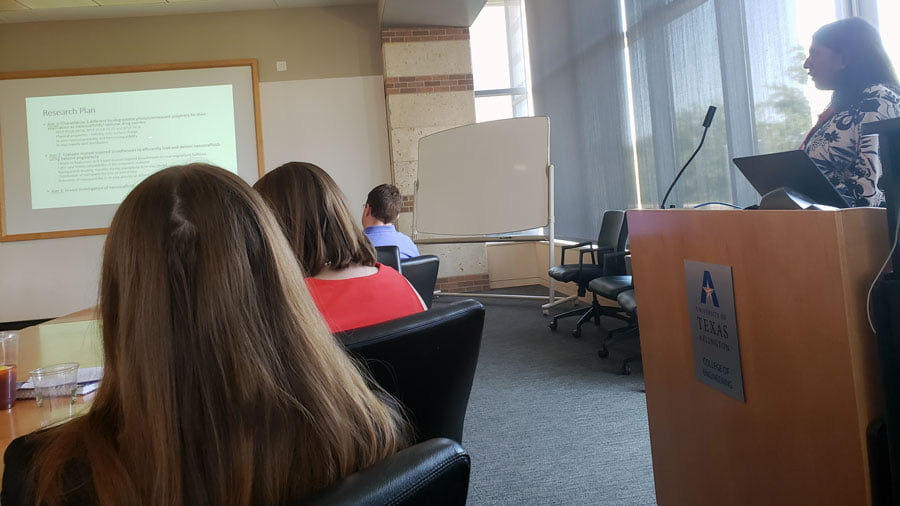 Aneetta Kuriakose
Aneetta Kuriakose introduces her research topic and discusses her yearly progress. Aneetta is working to prevent the complications such as restenosis after percutaneous coronary interventions by promoting regeneration/accelerated healing of injured endothelial layer using nanotechnology.
Discussions
Aneetta Kuriakose and Victoria Messerschmidt pause to discuss what they have learned at the meeting. NIH fellows were tasked with teaching each other about the following topics: Emerging nanotechnology landscape (Victoria M.), Nanotechnology risk and toxicology management (Katherine M.), Interactions btw engineers with hospital and companies (Aneetta K.), Entrepreneurship and intellectual property (Elizabeth L.), and Leadership development (Le'Naiya K.)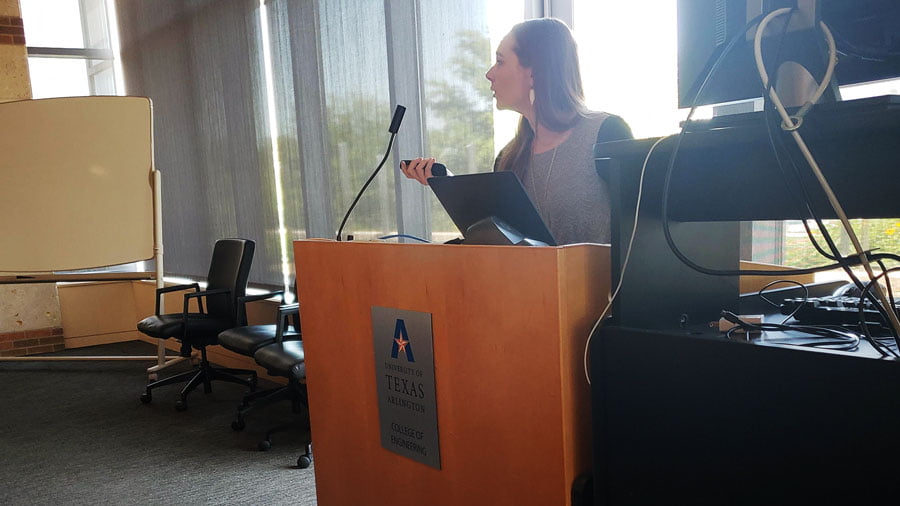 elizabeth lyde's presentation
Elizabeth Lyde describes how she is working to evaluate the effects of cardiovascular risk factors on brain networks using functional Near-Infrared Spectroscopy (fNIRS) and eventual integration of targeted antioxidant nanoparticles to improve systemic and brain blood flow.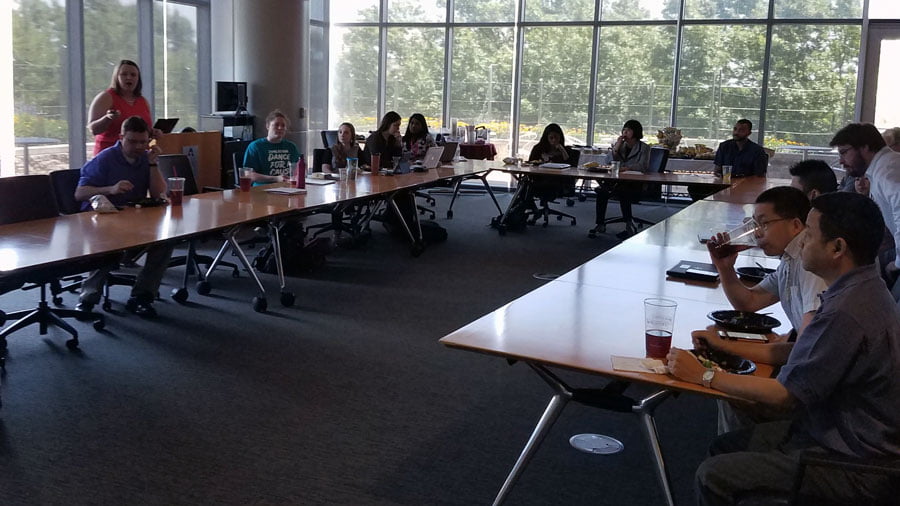 katherine copeland's presentation
Katherine Copeland explains her research progress on her idea to create a therapeutic alternative to non-surgical patients suffering from hypertrophic obstructive cardiomyopathy using nanotechnology to the NIH mentors and other invited guests.