Engineering Clinics and Tutoring Resources
Engineering Clinic (ENGR 1250)
The Engineering Clinic provides extra assistance for students enrolled in ENGR 1250 regarding projects and assignments. The sessions are conducted by the In-Class Teaching Assistants (ITAs).
Actual days may vary due to scheduling conflicts that may arise, which will be announced via email, and the Engineering Clinic schedule may change during the semester as needed.
Students may attend any time during the week that is convenient. No appointment is necessary. No formal activities are planned; help is provided on an individual (as time permits) or small group basis and is student-driven.
The sessions are different than one-on-one tutoring. The ITAs are more coaches or mentors in the problem-solving process, and often help several students at the same time. The ITAs will aid in problem solution checking or with minor questions about procedures. The ITAs will not lecture on material or help if the student has not attempted the assignment; students with major conceptual questions will be directed to contact the professor. If students wish to have individual attention on a topic or assignment, the use of professor office hours is the best choice.
The Engineering Clinic is available on a first-come, first-served basis. If the room reaches capacity, students may be turned away for safety (room capacity) reasons. Please plan in advance—students can anticipate the Engineering Clinic to be full or unavailable immediately before a large project or homework deadline. Beginning a project the day before it is due, and expecting the Engineering Clinic to be available for extensive help, is unrealistic.
This is an opportunity for you to get help with course materials in the evening. Students are expected to behave in a professional manner at all times. If a student is rude or hostile toward an ITA, the student will be required to meet with the course coordinator and possibly banned from attending further Engineering Clinic sessions.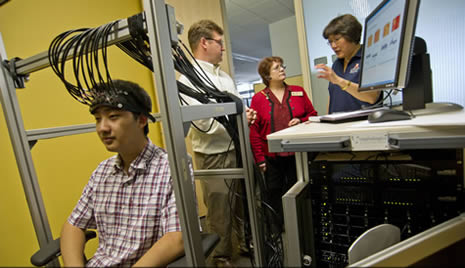 University Study Clinics, Tutoring and Mentoring Resources
Help sessions available:
Monday - Thursday 7 - 10 p.m. Sessions are conducted in ERB 435
Monday, Tuesday and Friday 3 - 5 p.m. Sessions are conducted in ERB 435