College of Engineering New Student Welcome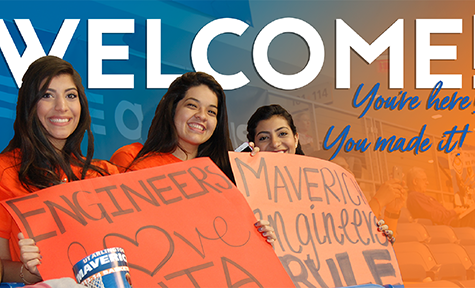 New Student Welcome
Each year, we host a welcome event for all of our new freshman and transfer students and their parents/families to present information featuring resources and ways to get involved and be successful in engineering. At the end of the presentation, we will take general questions, and then break out into department-specific rooms to introduce our departmental contacts and advisors so you can find out more about your major. We'll also provide snacks and some College of Engineering swag!
FAQs for New Student Welcome
General Questions
Will we be given a tour of campus before the semester starts or will we be given extra time to get to classes and such?
You should plan to locate any classrooms where face-to-face classes will take place
How would we know where our classes are located?
On MyMav, each class had the location listed, for example NH 110 or SEIR 198. The campus maps will tell you which buildings the abbreviations go with; ex. NH is Nedderman Hall and SEIR is Science and Engineering Innovation and Research building. There is a complete campus map at https://www.uta.edu/maps. Click on the Buildings drop down menu and the codes are listed next to the building names.
How do I know where to park on Campus?
Students may find parking lots that are approved for their permit at http://www.uta.edu/pats/parking/where-may-i-park-with-my-permit.php
How do I appropriately converse with others in a work or school environment?
The most important thing is to be respectful of others, whether they are your professor, fellow classmate, advisor or other staff member at UTA. It is OK to ask questions and to seek assistance; we encourage you to do so! But, you should be mindful of others' time, personal space, and other commitments. Just be yourself and you will do great!
Could I take some subjects in the Honors College even though I'm not enrolled in the Honors College?
To enroll in classes that are designated honors classes, you do need to be an honors student. These classes will require more work than the average class. The honors college takes applicants year-round though, so you can always apply if you're interested in joining the program so that you can take the honors classes.
When are some big scholarship deadlines and when do most scholarships open?
Information about most of our scholarships may be found at https://uta.academicworks.com/. You should also check your departmental website for more information. Deadlines for each scholarship differ, so pay attention to the details so you don't miss out on any opportunities!
Where can I find information about scholarships?
All the available scholarships are listed on MavScholarShop.
If we are on an academic scholarship and we decide to change majors, would we lose that scholarship?
It depends on the type of scholarship you have. If your scholarship is from UTA then changing majors probably will be fine. If your scholarship is from the College of Engineering or a specific department, then if you change out of Engineering or out of that department then you will lose your eligibility for that award. Check out the specific details for your scholarship to determine this.
Can we access our syllabus before classes begin? Is there a website or anything that has a syllabus for each class?
Syllabi are posted by individual professors in the Canvas portal. As we get closer to the beginning of the semester, you will see information for each class for which you have registered populated with important information.
When should we see all our classes on Canvas?
It depends on whether the faculty has made the class available yet. Give them another day or so and you should be able to see them all.
If I'm enrolled in a class, can I check if the original one I wanted has aan open space?
You can check on MyMav
There are a few courses that are not added into my Canvas, like (UNIV1131 &and English 1301). H How do Ii add them to my Canvas?
Contact your advisor to make sure that you are properly registered. The classes may also not be visible yet on Canvas.
Why do some of the classes available for registration lack the meeting times?
If a class is being offered online and is also asynchronous, it won't have a specific meeting time. If you think the class you're talking about doesn't fit that criteria, you can ask your advisor about that specific class, and they can give you more information.
How will we know what to do on the first day of school?
Your professors will have communicated with you by email or Canvas to let you know what to expect on the first day of class. If they have not, you should reach out to them to clarify any questions you may have about how students will participate in their class.
Will clubs and such still be a thing or not due to COVID-19?
Student organizations are still active during COVID-19, but are encouraged to practice social distancing and safe in-person protocol when meeting indoors. It is still very important for students to feel engaged in the normal college environment, so please take advantage of every opportunity to find extracurricular activities that interest you.
Where do you sign up for student organizations?
You can look them up here: https://www.uta.edu/academics/schools-colleges/engineering/students/organizations and https://mavorgs.campuslabs.com/engage/organizations
Is it still possible to change classes?
Yes, but you should still work with your academic advisor so that they can help you stay on track.
If I am taking college algebra my first semester, will I be able to catch up and take calculus very soon?
If you are able to pass the Math Placement Test (MPT). The MPT has two sections and both would need to be passed. If so, that satisfies the pre-calc requirement. NOTE: The Construction Management major does not require calculus.
How will being in pre-calculus affect my degree plan?
Pre-calc is not on the degree plan. It is a pre-degree plan course. The first math course on the degree plan is Calculus 1. Therefore, pre-calc does not affect your degree plan.
With the exception of:

If you are taking the course at UTA, the grade will be used in one of the three COE GPAs, the cumulative GPA;
and must be in compliance of the COE 3-attempt rule in order to be eligible to continue with the aerospace engineering major.

Am I able to pursue a second major my freshman year along with my first major?
Students may not declare a double major during their freshman year. After the freshman year, students wishing to double major or receive dual degrees (see definitions below) should speak with their advisors to ensure all requirements are understood.

Double Major A student who fulfills the specified requirements for two different majors under a single degree, simultaneously prior to graduation, completes a double major. For example, a student may complete a Bachelor of Science in Computer Science and a Bachelor of Science in Electrical Engineering – both B.S. degrees. - Prerequisite and field of study courses are required to complete both majors. One diploma is issued upon graduation and both majors are recorded on a student's transcript and diploma.

Dual Degree A student who fulfills the specified requirements for two different majors from different degrees, simultaneously prior to graduation, will complete a dual degree. For example, a student may complete a Bachelor of Science in Computer Science and a Bachelor of Arts in Spanish – a B.S. degree and a B.A. degree. The student must complete a minimum additional 30 credit hours beyond the degree plan with the greater required credit hours and also complete all prerequisite and field of study courses for both degrees. Two diplomas are issued upon graduation.
COVID-19 Questions
Due to the COVID-19 regulations, UTA has asked their students to get a COVID viral test on or off campus. Where on campus is this?
There are two locations on campus. Check out https://www.uta.edu/announcements/coronavirus/testing for more information.
How are the classes, including labs, being affected by COVID? Are the classes going to be smaller, less labs, etc?
In-person classes will be smaller for the first few weeks to allow for social distancing guidelines.
Will tuition or fees be reduced due to COVID, and if not, why?
No, our goal is to ensure that instruction continues throughout the Fall semester with the same standards and outcomes expected at UTA. As long as instruction continues, tuition will not be discounted.
Do I have to remove the COVID testing hold on my account to get completely enrolled in all my classes? I only have two classes in Canvas while I have enrolled in 5 of them.
The hold does not affect registration.
How will everything work due to the Coronavirus? Will the entire semester be done virtually or what? Classes for the fall are being taught in a variety of modalities: Face-to-face, online or hybrid. Online asynchronous: All instruction and testing is online. All classes are asynchronous (recorded) with no requirement for students to come to campus on a specific day or time. Testing occurs online and may be required at a specific day and time.

Online synchronous: All instruction and testing is online at a scheduled day and time. There is no requirement for students to come to campus. Testing occurs online and may be required at a specific day and time.
Online asynchronous: Learning takes place at different times. Instructors will create and distribute content (video lectures, PowerPoints, assignments, etc.) ahead of time. They may ask students to engage in discussion boards or group chats as part of course requirements.
Face-to-face: Students must attend class in person and on campus. Classrooms will allow for social distancing and masks are required while in class. After Thanksgiving, however, all classes and testing will be online only and may be required at a specific day and time.
Hybrid: These classes combine online and face-to-face instruction. Students may be required to attend face-to-face classes one or more days per week, rotate days on campus or take exams and make presentations face-to-face. The online portions of the course may be live (synchronous) or recorded (asynchronous).

What are the resources for all students that are available during this time?
Resources for students may be found at https://www.uta.edu/announcements/coronavirus/student-resources
Resources for Student Success
I would like to know all the resources in the school facility that could help me to succeed.
The Engineering Clinic is a service offered to aid students learning who are enrolled in ENGR 1250/1251. Clinics for other classes, such as math, chemistry, etc., are available elsewhere. The sessions are conducted by the In-Class Teaching Assistants, or ITAs. ITAs will attend class during the day with the students and have help sessions available for students Monday through Thursday from 7 – 10 p.m. ONLINE THROUGH MICROSOFT TEAMS. ITAs. Students will be expected to contact the "on call" ITAs through Teams if you have questions. The schedule will be posted to Canvas.
How willare study groups be best conducted?
Working in informal study groups outside of the classroom can be very beneficial so that you can help each other study and keep each accountable. The safest way to do this at this time would be to set up a TEAMS meeting so that you can meet up online. If you meet up in person, just be sure to keep social distancing practices so that everyone can stay as safe as possible.
How much free time will I have?
The amount of free time you have will depend greatly on you and your schedule! Just try to use good time management skills so that you can stay on top of your work, and schedule in some free time!
Do you have any time management tips?
Even in an online learning environment, you will still have a similar amount of classwork and needed study time, just without the formal classroom and campus setting. A set schedule can help provide structure and keep you motivated.

Create a weekly &and daily calendar to organize your course schedule, study time, and free time. Check these helpful tips for time management.
Log-in daily and follow your course schedule as if you were attending in person. Add study time to your calendar for each course.
Keep up with the course content. Don't let lectures or course content stack-up, which can cause you to become overwhelmed.
Build a daily schedule that plays to your strengths! If you're a morning person, schedule your coursework and study time in the AMmorning. Make sure you build in time for breaks, meals, and plenty of rest.
Wake up and go to bed about the same time every day, if possible, so that you can stay on track.

What kinds of tutoring resources are there available if a student begins to struggle in any particular subject?
University Tutorial & Supplemental Instruction provides academic support services for a variety of classes. Supplemental Instruction, or SI, is a free service that helps students work in groups to understand class concepts. Tutoring helps students develop and grow strong study habits by working one-on-one with a tutor for free. eTutoring provides free online tutoring, including writing assistance. Find a tutor at https://tutortracutsi.uta.edu/TracWeb40/Default.html
Questions about Hybrid Classes
Because of COVID, some of my classes are considered online while other classes are considered as hybrid classes. What can I expect on the first day of school, and will we know whether the first day of some of our classes are online?
The posted MyMav Fall 2021 course schedule will not change, o. Only the mode of instruction will change. For example, students who sign up for a 9 a.m. Tuesday/Thursday course should be available for class during those days and times. If taught in a hybrid modality, the course may meet face-to-face on Tuesdays and online on Thursdays, or vice-versa. If taught online, it may be taught synchronously, meaning that the course will meet online Tuesdays and Thursdays at 9 a.m.
I would like to know Wwhen can we have details of HYBRID/HYBRID 3 schedule? Will that be informed on a weekly or monthly basis?
Your class schedule will be determined by your instructor. The instructors have been given the freedom to schedule the class according to what is best for the class structure and the students. They will explain everything about how their class will work. Be sure to check your Canvas and email for more instructions from them!
How will the rotation schedule work for HYBRID3 courses? Will it be something like every other class day?
It could be structured that way. It will just depend on how the instructor would like to structure the class. The instructors have been given the freedom to schedule the class according to what is best for the class structure and the students. They will explain everything about how their class will work. Be sure to check your Canvas and email for more instructions from them!
How are the hHybrid classes are going to work with engineering labs? Also what are Engineering labs?
Some classes are held in labs, and what labs are like can vary by subject. For example, Computer Science labs will have computers in them while Computer Engineering labs will have more hardware equipment in them. Your instructor will build a schedule for your class so that everyone can use the lab safely and still maintain social distancing.
How and where are online classes held?
Online classes will be conducted in Canvas, on Teams or Zoom, depending on the professor's preference. This information will be shared by your professor in the syllabus that will be posted on Canvas.
I've had one instructor inform me that the first two weeks of class will be virtual due to the recent covid surge. I just wanted to verify that this isn't a school wide mandate; in other words, any classes that haven't specifically said otherwise will still initially meet on campus, correct?
UTA is going to about 50% capacity for the first two weeks by having about half of each class on campus and the other half live on line each day. Your instructors are still contacting you regarding the plans for your classes. You may get info today, tomorrow, or Wed. about the plans for your first two weeks. Keep watching your e-mail and Canvas for info from your faculty instructors!
How will the being hybrid affect our ability to meet with professors or teacher assistants for help?
Faculty who are going hybrid will also go hybrid with their office hours. You'll get info about office hours from the faculty.
Technology/Books Questions:
Is there any software we need to get before classes begin?
Do I need a computer capable of running engineering software?
Please visit https://www.uta.edu/academics/schools-colleges/engineering/students/student-computer to find out more information about the computer specifications that we recommend for engineering students. If you already have a computer that meets these specifications, there is no need to purchase an additional computer. Information on software will be included in the syllabus for each course. Student versions of many engineering software applications are available from the individual manufacturers.
What would we do if we were not able to purchase all of our textbooks due to them being out of stock or unavailable?
Look for used versions and be sure to talk to your faculty member and let them know that you were not able to find the textbooks.
How can I find out what books/software/access codes I will be needing for each of my classes?
Professors will post information about required textbooks and software in the syllabus that will be accessible on Canvas prior to classes beginning.
Many books have posted to purchase, but during orientation they told us to wait to buy them. What should we do?
You should wait until the professor posts the required textbook list before purchasing your books.
How do I access the Canvas website/app?
Canvas by Instructure is the UTA's Learning Management System (LMS). Canvas offers exciting features and opportunities for innovation, allowing faculty to create engaging and meaningful learning experiences for UTA students. You may login online at uta.instructure.com or through UTA's homepage: www.uta.edu and click on either" Students" or" Faculty/Staff" to find the Canvas link. You should also download the Canvas app on your smartphone so that you have access anywhere, anytime.
Research and Internship Questions: What other learning opportunities exist beyond the classroom?, Ssuch as conventions, events, engineering-specific organizations, research, study abroad programs, and moreetc.?
UTA and the College of Engineering offers a wide variety of extracurricular activities for students to receive a full college experience. Student organizations that are engineering-specific as well as more general provide a starting place for many new students to "find their people" and feel at home at UTA. As an organization member you may have the opportunity to attend a local, regional or national conference and present research or just network among peers from other institutions. There are also many events throughout the year (although most, if not all, will be virtual for the foreseeable future), so students can come together to socialize outside of the classroom. Opportunities for research abound for students who are determined and proactive. While UTA does offer Study Abroad programs, they have been cancelled for the Fall 20201 semester. Once they resume, students are able to take advantage of this great opportunity to learn more about the world.
How can a student participate in research?
Undergraduate students are encouraged to supplement their academic experience by participating in research outside of the classroom. Many of our professors have positions available for assistance within their labs and appreciate students who take the initiative to get involved. Students should locate a professor who has a research focus that appeals to them, students and then communicate with that professor about the possibility of working with them on this research.
What year of school would you recommend us to start applying for an internship job?
We recommend you attend information sessions provided by ESS or by the Career Center. Go to the job fairs to find out what skills/knowledge you need to secure an internship. Typically, we suggest that a freshman have about 30 hours in their major at UTA and a transfer have at least 15 hours in their major at UTA before they look for internships.
How do I get an internship? Is it different for transfer students?
Co-op positions are full-time positions lasting one to three semesters. Students typically don't attend regular classes during that semester. Upon accepting a co-op position, you must register for the cooperative education course. This pass/fail class will go on your transcript as an accomplishment and maintain your full-time student status. A student and employer evaluation will be due at the end of the term. If you receive a co-op position, please contact the co-op office at 817-272-2569 or stop by the office at 242 Nedderman Hall. International students must enroll in the co-op program prior to working a position as required by federal law. Internships are part-time positions that students can work while attending class. No course enrollment or evaluations are required. There is no definite work timeframe. To participate in an engineering co-op or internship, undergraduate students must:

Have completed a minimum of 30 credit hours
Have a minimum overall GPA of 2.5 or better
Have completed all prerequisite requirements if you are a transfer student

How will career fairs work this year?
Career Fairs will be held virtually this year. The College of Engineering Virtual Career Fair is scheduled for September 29. More information will be shared with students via email as we approach that date. The university also has an All-Majors Fair that will also be conducted online for the Fall 2021 semester on September 21-23.
Are there expectations for internships? If so, when would you recommend students apply for internships?
Each internship will have a different requirement. Go to the job fairs to find out what the employers are looking for.
Questions about Professors
How helpful are professors?
Professors are here to help you succeed, so don't be afraid to ask for assistance when needed. Be sure to talk to them during their regular office hours, if possible. Get to know them and they will be eager to assist you. They want to see students who take initiative and who are actively taking responsibility for themselves.
Will professors have regular office hours?
Professors are still required to have regular office hours when students may meet with them. However, during this time of social distancing, it is best to try to meet with the professors via Microsoft Teams or other virtual meeting platform.
When are we going to know which professor is teaching a class?
Once courses are assigned to a professor, that information is available in MyMav.
How can we get in contact with online teachers?
You can reach your professor via Canvas once your class has been set up on that portal. If you need to reach them before then and you know who your professor is, you may reach out to them via email. A directory is located at https://www.uta.edu/directory.