College of Engineering New Student Welcome
Virtual presentation and FAQs from the UTA College of Engineering's New Student Welcome event for new undergraduate and transfer students on August 18, 2020.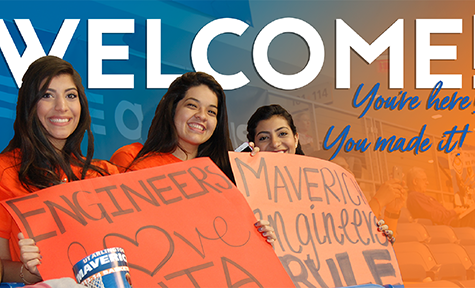 New Student Welcome
The New Student Welcome, held virtually on August 18, 2020, is an information session for new undergraduate and transfer students in UTA's College of Engineering.
FAQs for New Student Welcome
General Questions
Will we still be required to buy parking passes while taking most classes online?
Students who are taking only online classes do not need to purchase a parking pass, but if they come to campus for any reason, they may utilize the hourly parking spaces. For students who will be attending in-person classes, a parking pass is required. The Student and Resident semester permit has been discounted by 1 month to end on 11/30/20 to align with the university's shift from face-to-face class to online-only. Students remaining on campus in December will need to purchase a 30-day, pay-as-you-go permit. Students can request a prorated refund for the semester permit until 9/11/20.
Will we be given a tour of campus before the semester starts or will we be given extra time to get to classes and such?
You should plan to locate any classrooms where face-to-face classes will take place.
How do I know where to park on campus?
Students may find parking lots that are approved for their permit at uta.edu/pats/parking/where-may-i-park-with-my-permit.php
How do I appropriately converse with others in a work or school environment?
The most important thing is to be respectful of others, whether they are your professor, fellow classmate, advisor or other staff member at UTA. It is OK to ask questions and to seek assistance; we encourage you to do so! But, you should be mindful of others' time, personal space, and other commitments. Just be yourself and you will do great!
Could I take some subjects in Honors College even though I'm not enrolled in Honors College?
To enroll in classes that are designated honors classes, you do need to be an honors student. These classes will require more work than the average class. The honors college takes applicants year-round though, so you can always apply if you're interested in joining the program so that you can take the honors classes.
When are some big scholarship deadlines and when do most scholarships open?
Information about most of our scholarships may be found at uta.academicworks.com. You should also check your departmental website for more information. Deadlines for each scholarship differ, so pay attention to the details so you don't miss out on any opportunities!
Can we access our syllabus before classes begin? Is there a website or anything that has a syllabus for each class?
Syllabi are posted by individual professors in the Canvas portal. As we get closer to the beginning of the semester, you will see information for each class for which you have registered populated with important information.
Why do some of the classes available for registration lack the meeting times?
If a class is being offered online and is also asynchronous, it won't have a specific meeting time. If you think the class you're talking about doesn't fit that criteria, you can ask your advisor about that specific class, and they can give you more information. This information should also be on the course syllabus in Canvas.
How will we know what to do on the first day of school?
Your professors will have communicated with you by email or Canvas to let you know what to expect on the first day of class. Additionally, if classes are face-to-face, a room location can be found in MyMav. If they have not, you should reach out to them to clarify any questions you may have about how students will participate in their class.
Will clubs and such still be a thing or not due to COVID-19?
Student organizations are still active during COVID-19, but are encouraged to hold all of their meetings and events online until further notice. It is still very important for students to feel engaged in the normal college environment, so please take advantage of every opportunity to find extracurricular activities that interest you.
If I am taking college algebra my first semester, will I be able to catch up and take calculus very soon?
If you are able to pass the Math Placement Test (MPT). The MPT has two sections and both would need to be passed to be eligible for Calculus I. If so, that satisfies the pre-calculus requirement. NOTE: The Construction Management major does not require calculus.
How will being in pre-calculus affect my degree plan?
Pre-calculus is not on the degree plan. It is a pre-degree plan course. The first math course on the degree plan is Calculus I. Therefore, pre-calculus does not affect your degree plan, with the following exceptions:

If you are taking the course at UTA, the grade will be used in one of the three College of Engineering GPAs, the cumulative GPA; and
must be in compliance of the College's 3-attempt rule in order to be eligible to continue with an engineering major.
Am I able to pursue a second major my freshman year along with my first major?
Students may not declare a double major during their freshman year. After the freshman year, students wishing to double major or receive dual degrees (see definitions below) should speak with their advisors to ensure all requirements are understood.
Double Major
A student who fulfills the specified requirements for two different majors under a single degree, simultaneously prior to graduation, completes a double major. For example, a student may complete a Bachelor of Science in Computer Science and a Bachelor of Science in Electrical Engineering, both B.S. degrees. Prerequisite and field of study courses are required to complete both majors. One diploma is issued upon graduation and both majors are recorded on a student's transcript and diploma.
Dual Degree
A student who fulfills the specified requirements for two different majors from different degrees, simultaneously prior to graduation, will complete a dual degree. For example, a student may complete a Bachelor of Science in Computer Science and a Bachelor of Arts in Spanish – a B.S. degree and a B.A. degree. The student must complete a minimum additional 30 credit hours beyond the degree plan with the greater required credit hours and also complete all prerequisite and field of study courses for both degrees. Two diplomas are issued upon graduation.
COVID-19 Questions
How are the classes, including labs, being affected by COVID? Are the classes going to be smaller, fewer labs, etc?
In-person classes will be smaller to allow for social distancing guidelines.
Will tuition or fees be reduced due to COVID, and if not, why?
No, our goal is to ensure that instruction continues throughout the Fall semester with the same standards and outcomes expected at UTA. As long as instruction continues, tuition will not be discounted.
How will everything work due to the Coronavirus? Will the entire semester be done virtually or what?
Classes for the fall are being taught in a variety of modalities: Face-to-face, online and hybrid.
Online synchronous: All instruction and testing is online at a scheduled day and time. There is no requirement for students to come to campus. Testing occurs online and may be required at a specific day and time.
Online asynchronous: All instruction and testing is online. All classes are asynchronous (recorded) with no requirement for students to come to campus on a specific day or time. Testing occurs online and may be required at a specific day and time. Learning takes place at different times. Instructors will create and distribute content (video lectures, PowerPoints, assignments, etc.) ahead of time. They may ask students to engage in discussion boards or group chats as part of course requirements.
Face-to-face: Students must attend class in person and on campus. Classrooms will allow for social distancing and masks are required while in class. After Thanksgiving, however, all classes and testing will be online only and may be required at a specific day and time.
Hybrid: These classes combine online and face-to-face instruction. Students may be required to attend face-to-face classes one or more days per week, rotate days on campus or take exams and make presentations face-to-face. The online portions of the course may be live (synchronous) or recorded (asynchronous).
What are the resources for all students that are available during this time?
Resources for students may be found at uta.edu/announcements/coronavirus/student-resources
Resources for Student Success
I would like to know all the resources in the school facility that could help me to succeed.
The Engineering Clinic is a service offered to aid student learning who are enrolled in ENGR 1250/1251. Clinics for other classes, such as math, chemistry, etc., are available elsewhere. The sessions are conducted by the In-Class Teaching Assistants, or ITAs. ITAs will attend class during the day with the students and have help sessions available for students Monday through Thursday from 7–10 p.m. ONLINE THROUGH MICROSOFT TEAMS. Students will be expected to contact the "on call" ITAs through Teams if you have questions. The schedule will be posted to Canvas. Other resources for students may be found at uta.edu/announcements/coronavirus/student-resources
How will study groups be best conducted?
Working in informal study groups outside of the classroom can be very beneficial so that you can help each other study and keep each accountable. The safest way to do this at this time would be to set up a TEAMS meeting so that you can meet up online. If you meet in person, be sure to keep social distancing practices so that everyone can stay as safe as possible.
How much free time will I have?
The amount of free time you have will depend greatly on you and your schedule! Just try to use good time management skills so that you can stay on top of your work, and schedule in some free time!
Do you have any time managing tips?
Even in an online learning environment, you will still have a similar amount of classwork and needed study time, just without the formal classroom and campus setting. A set schedule can help provide structure and keep you motivated.