A Conversation with Dr. Opal Lee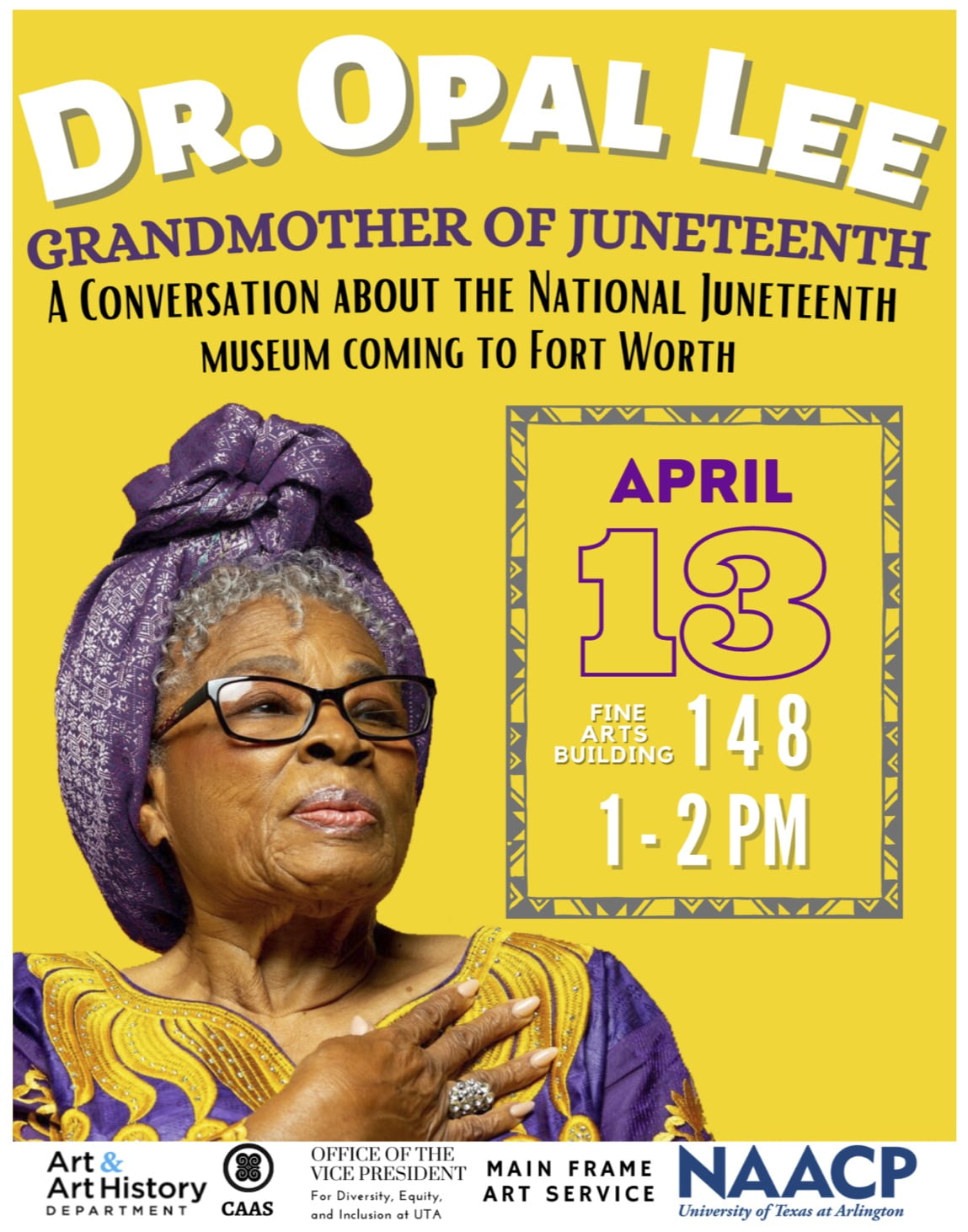 The Department of Art and Art History is proud to be able to co-host a conversation with Dr. Opal Lee from 1-2 pm on Wednesday, April 13, 2022, in UTA Fine Arts Building 148. The talk is co-sponsored by the UTA Office of the Vice President of Diversity, Equity and Inclusion, the Center for African American Studies, the NAACP chapter at UTA, and the Art and Art History Department DEI Committee.
Dr. Opal Lee is a retired teacher and long-time activist, known as the 'Grandmother of Juneteenth' for her untiring work over decades to bring awareness to the importance of June 19th (Juneteenth) in American history and to advocate for it becoming a federal holiday. In 2021, Juneteenth was officially signed into law as a federal holiday commemorating the date in 1865, two months after the end of the Civil War and two and half years after the Emancipation Proclamation, when federal troops arrived in Galveston, Texas with the belated news that slavery had been outlawed in the Confederate states.
Her talk at UTA will focus on plans for construction of a National Juneteenth Museum which is scheduled to open in 2024. The national museum, another one of Dr. Lee's long-time advocacy goals, is to be built on the site of her Fort Worth Juneteenth Museum that has been in existence for nearly 20 years. According to the City of Fort Worth website, "The museum will be led by a collaboration of activists, researchers, historians and everyday people who understand the influence of history on the trajectory of the human experience. It will educate guests on the legacy and experiences of the enslaved and provide factual narratives about people who overcame the trials and hardships of oppression." (https://www.fortworthtexas.gov/news/2021/10/Juneteenth-Museum-Announcement)
Dr. Lee has been recognized for her historic activism with a nomination for the 2022 Nobel Peace Prize. We are honored to host her at UTA.