Wild Pony Editions and Mavs Letterpress+
Wild Pony Editions aims to bring artists, designers, poets, and students together to collaborate in the creation of innovative prints and artists' books in a wide range of traditional and nontraditional print media and techniques. Our program is centered on producing projects that expand the boundaries of print and educate our students and the public about the diverse possibilities of contemporary print media.
Wild Pony offers access to the printshop at UT Arlington which includes facilities for lithography, intaglio, relief, and screen printing. Housed in a separate studio, our Vandercook letterpress provides an entry point into developing artists books and broadsheets.
Wild Pony Editioned Prints
Artists are invited to realize their projects by working alongside students and faculty. Wild Pony Editions and the artist agree to split the edition, with the revenue generated from the sale of the print to provide students with scholarship opportunities and to continue hosting additional artists.
Mavs Letterpress+ Artist/Designer/Poet in Residence
Artists, designers, or poets are invited to develop a unique book or broadsheet. Participants realize their projects (an edition of 20 is required) by working alongside students and faculty. Mavs Letterpress+ will retain half of the work produced to include it within the departmental and university collections. In exchange, invited guests are asked to work closely with students and faculty providing a glimpse into their unique creative practice.
Announcing a Wild Pony Print
Robert Hower's print: TREEGLOW
The lithograph TREEGLOW is based on an investigation of Memory and Presence.
The use of space and light as starting points for establishing creative concepts is important to my work. Growing up, I think that each one of us has unique experiences that affect how we relate to the physical and psychological world. I grew up in a house that was an intimate space, my mother was born in the home, and my grandfather built the home. My awareness and memory of that space is keen and clear. The essence of the light and space captured in that environment was very powerful and with a unique presence. I think that on a very basic level we all have similar formative conditions and experiences.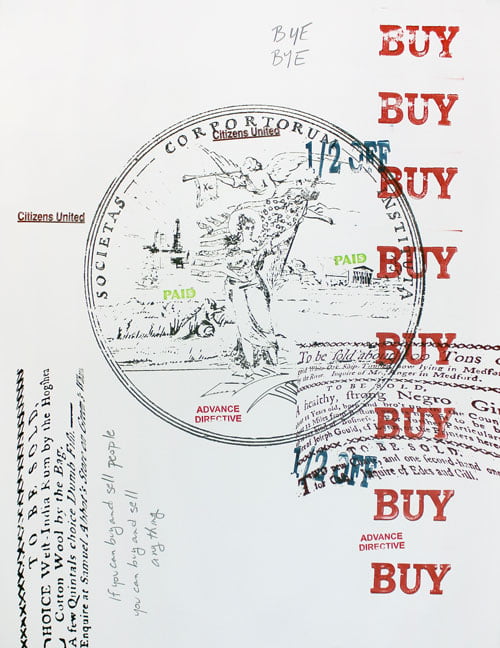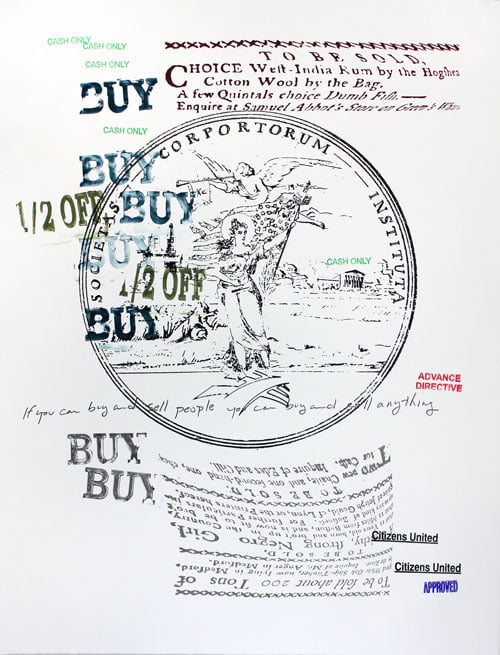 Darryl Lauster's print: If You Can Buy and Sell People You Can Buy and Sell Anything
The print If You Can Buy and Sell People You Can Buy and Sell Anything is an iconoclastic appropriation of tropes that define the inconsistencies of American history culture. The central image is an allegorical figure of liberty first used in an 1864 pro-union lithograph made in reaction to the Civil War. Further images suggest institutional exclusion and segregation operating both in past and present beside the individual freedoms granted in our Bill of Rights. Thematically, this discomforting history, reinforced by references to structures that further divide class, race and power, are offered in a disparate composition to point out the long, vulgar and omnipresent war between capitalism and morality.
Print Details:
Size: 22x29
Edition size: unique edition (artist hand work on each) 50
Paper: Rives BFK, White
Media: one run, photo lithography, 3-5 runs (depending on image) photo silkscreen, hand stamped by the artist, hand writing by the artist
Bottom Right: Signed and numbered
Bottom Left: Wild Pony Edition chop
Darryl Lauster is a professor of Sculpture at the University of Texas at Arlington. He has exhibited nationally at the Louise Wells Cameron Museum of Art, Appalachian State University, Millennium Plaza Park, the Nicolaysen Art Museum, the John Michael Kohler Foundation and the Contemporary Arts Museum, Houston. His work is in the permanent collections of the Philadelphia Museum of Art and the Museum of Fine Arts, Houston. He has received grants from the Peter Reed Foundation in New York City, and has served residencies at the Ucross Foundation, the Wassaic Project and the Houston Center for Contemporary Craft and was selected as one of the 2010 Jon Mitchell Award winners. He also serves as the Collections Manager of the Samuel Gray Society, an institute dedicated to 18th century American history.