Meet Margie Jackymack, Staff Advocate and Leader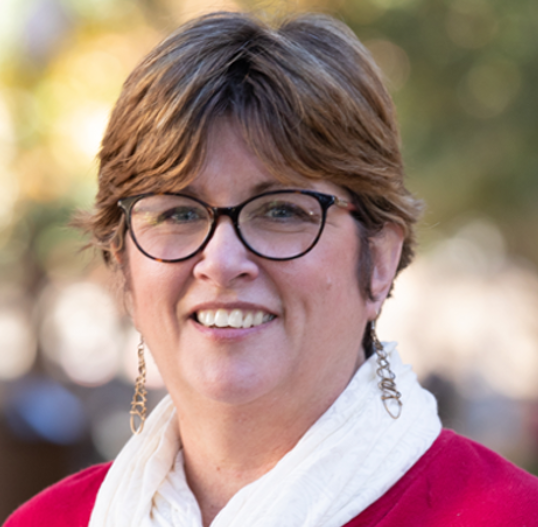 This story is the first in a series, Behind the Scenes, where we will learn more about the people who study and work in the Department of English and what they do, especially the contributions they make within and beyond our Department that are not easily noticed or recognized.
If you work in the Department of English, then you no doubt already know Margie Jackymack, Coordinator II, Special Programs. Margie manages the departmental accounts, which includes overseeing purchases and payroll; she coordinates lunches and events for us; she answers numerous queries and requests from faculty members, taking prompt action to address their needs and concerns; and she stays current with the seemingly endless changes to data systems at UTA, including UT Share. Her hard work is a major reason why the Department of English runs smoothly, even after COVID-19 struck. But what you might not be aware of is that Margie provides extensive service and leadership outside our Department as an advocate for staff members at UTA.
This all began five years ago, when Margie took over leadership of the UTA chapter of the International Administrative Assistants Professional Association, known as the Arlington Golden Circle. This group holds monthly luncheons for support staff from across campus where a guest speaker covers topics such procurement, travel, or retirement. The luncheons enhance communication channels between support staff in different units, allowing them to share their experience and to meet new people.
Around the same time, Margie became Treasurer of the Staff Advisory Council (SAC) and then, for the last four years, Chair of this important organization. Margie describes SAC as "the voice for staff on campus." SAC fulfills a role for staff analogous to that performed by Faculty Senate for faculty, consisting of elected representatives who serve two-year terms from nineteen "districts" on campus (including the colleges, but also other units like OIT, Facilities, etc.). SAC meets every month and produces a monthly newsletter providing updates about what is happening on campus. Before COVID-19, SAC also participated in regular social outreach and service, such as running coat and sock drives and delivering birthday boxes for homeless children. The Chair of SAC is responsible for all the tasks involved in running a large organization (planning and running meetings; supervising committee work and reports; answering staff queries, etc.) and also attends all Faculty Senate meetings as an ex officio representative.
Margie quickly realized that the treatment of staff at UTA was being determined by what she calls "a definition problem" that conflated Administrative Professional staff (AP), many of whom are faculty administrators like Center Directors, with SAC eligible staff. When staff were represented on committees, it was usually by the addition of AP staff, which left many hundreds of voices out of the conversation on campus. In her role as Chair of SAC, Margie brought this definition problem to the attention of UTA Human Resources and other leaders on campus, producing real change leading to the inclusion of staff members on major committees and taskforces affecting their working life at UTA.
But being Chair of SAC is not the extent of Margie's service work. She is also the Staff Co-Chair Elect this year for Women's Faculty Staff Network, where she has been an active member since the beginning of this organization. And she also, this summer, co-chaired one of the six taskforces that worked on the campus repopulation plan, "Taskforce 4.2: Staff Issues and Challenges." Margie again worked to make sure that staff had a voice and role in the re-opening plan, which was crucial because they often would be the first from their units back to campus. The taskforce met weekly over the summer, conducted an extensive survey of staff, held a dedicated listening session, and contributed to the repopulation report sent to UT System. From the staff feedback that they collected, the taskforce created the staff "Frequently Asked Questions List" for the UTA COVID-19 information page and liaised with units around campus to find out the answers. Margie also attended all the meetings of two of the other taskforces over the summer to make sure she had access to the information potentially relevant for staff and also so she could express a staff viewpoint.
In addition, three years ago Margie collaborated with HR in the development of a professional certification for support staff, Support Staff Certification I, which has been so popular with staff across campus that she was tasked with helping develop a follow up qualification, Support Staff Certification II, which will begin enrolling this fall. The certification requires five courses, covering topics such as Excel, Balancing your Priorities, Business Etiquette, Critical Thinking, and Emotional Intelligence. Staff members completing the certification are recognized at the Administrative Professionals Day Luncheon.
Despite all the extra time and effort it involves, Margie is passionate about her work on behalf of staff on UTA's campus. She wants to ensure that staff are included, respected, and involved: "I wanted to make sure that we were given respect just as much as a faculty member. I wanted us to get credit and be heard for the work that we do on campus. Staff on campus would like to be part of events, committees, and such, but we need to be notified and included in order to do this. By working together with UTA leadership and Human Resources, I believe that we have now accomplished this goal."