The
M.A. Program in History
at UTA is specifically designed to meet the needs of students from a variety of backgrounds and with many different career goals. The Department offers graduate courses in United States, European, African, Latin American, Transatlantic, Transnational, and Comparative history. Our large program is led by top-notch faculty, and includes students just out of college as well as those returning to retool for new careers.
Established in 1998, our unique
Ph.D. Program in History
specializes in the interactions of people and regions across the Atlantic from the fifteenth century to the present. Unlike doctoral programs that are defined by geographical, political, and thematic boundaries, ours explores interactions and cross-cultural developments among the inhabitants of Europe, Africa, and the Americas during the last six centuries. Students who earn a PhD in History are trained in a wide range of transnational, global, and cross-cultural approaches to historical phenomena. The Department of History's faculty specialize in a diverse number of transnational and transatlantic subjects, including colonialism, slavery, migration, historical geography, and the history of cartography.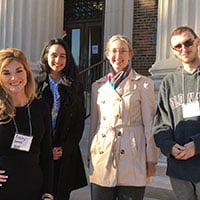 Transatlantic History Student Organization
Founded in 2000, the Transatlantic History Student Organization (THSO) is a one-of-a-kind graduate student organization. THSO's primary goal is to provide UT Arlington history graduate students an opportunity to discuss issues related to transatlantic studies, and welcomes anyone interested in transnational history or comparative history that deals with encounters, discoveries, and interaction across frontiers and borders situated in the countries and continents surrounding the Atlantic Basin.