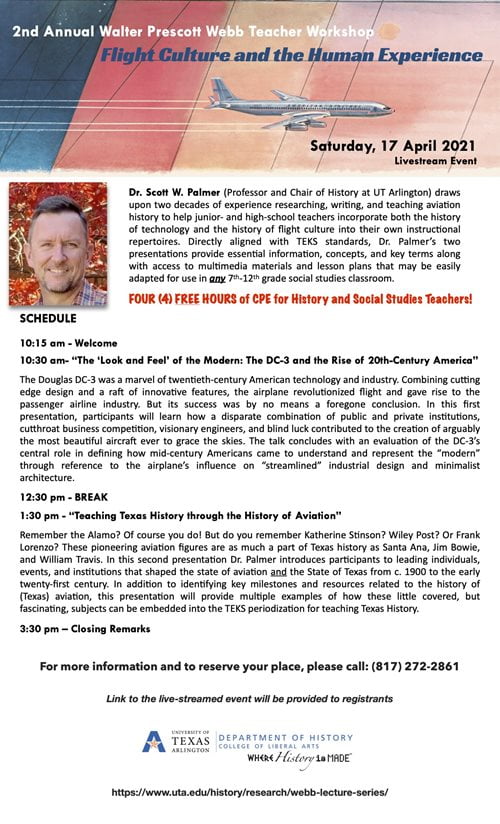 "FLIGHT CULTURE and the HUMAN EXPERIENCE"
SATURDAY April 17, 2021
LIVESTREAM EVENT
Dr. Scott W. Palmer (Professor and Chair of History at UTA) integrates two-decades of experience researching, writing, and teaching aviation history into two engaging presentations designed to help junior- and highschool teachers incorporate both the history of technology and the history of flight culture into their own instructional repertoires. Directly aligned with specific TEKS standards for American and Texas history, social studies, business and economics (among others!), Dr. Palmer's presentations provide essential information, concepts, and key terms along with access to multimedia materials and lesson plans that may be easily adapted for use in any 7th-12th grade social studies classroom.
SCHEDULE
10:15 am - Welcome
10:30 am - "The 'Look and Feel' of the Modern: The Douglas DC-3 and the Rise of Twentieth-Century America"
Among the most important and best-known aircraft in history, the Douglas DC-3 was a marvel of twentieth-century American technology and industry. Combining cutting edge design, state-of-the-art construction methods, and a raft of innovative features, the airplane revolutionized flight and gave rise to the passenger airline industry. But its success was by no means a foregone conclusion...In the first of his two presentations Dr. Palmer covers the "hidden history" of the Douglas DC-3. Participants will learn how a disparate combination of public and private institutions, cutthroat business competition, visionary engineers, and blind luck contributed to the creation of arguably the most beautiful aircraft ever to grace the skies. The presentation concludes with an evaluation of the DC-3's central role in defining how mid-century Americans came to understand and represent the "modern" through reference to the airplane's influence on "streamlined" industrial design and minimalist architecture.
12:30 pm - BREAK
1:30 pm - "Teaching Texas History through the History of Aviation"
Remember the Alamo? Of course you do! But do you remember Katherine Stinson? Wiley Post? Or Frank Lorenzo? These pioneering aviation figures are as much a part of Texas history as Santa Ana, Jim Bowie, and William Travis. In this second presentation Dr. Palmer introduces participants to leading individuals, events, and institutions that shaped the state of aviation and the State of Texas from c. 1900 to the early twenty-first century. In addition to identifying key milestones and resources related to the history of (Texas) aviation, this presentation will provide multiple examples of how these little covered, but fascinating, subjects can be embedded into the TEKS periodization: "Modernizing Texas in the Age of Oil" (1900-1929); "Texas and the Great Depression" (1929-1950); and "Contemporary Texas" (1950-present).
3:30 pm - Closing Remarks