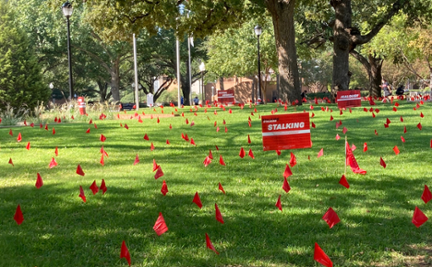 The Red Flag Campaign
Research indicates that in 1 in 5 college students experience dating violence.* The Red Flag Campaign uses a bystander intervention strategy to address and prevent sexual assault, dating violence, and stalking on college campuses. The campaign encourages friends and other campus community members to say something when they see warning signs for sexual assault, dating violence, or stalking in a friend's relationship. The campaign is a project of the Virginia Sexual and Domestic Violence Action Alliance, and was created by college students, college personnel, and community victim advocates.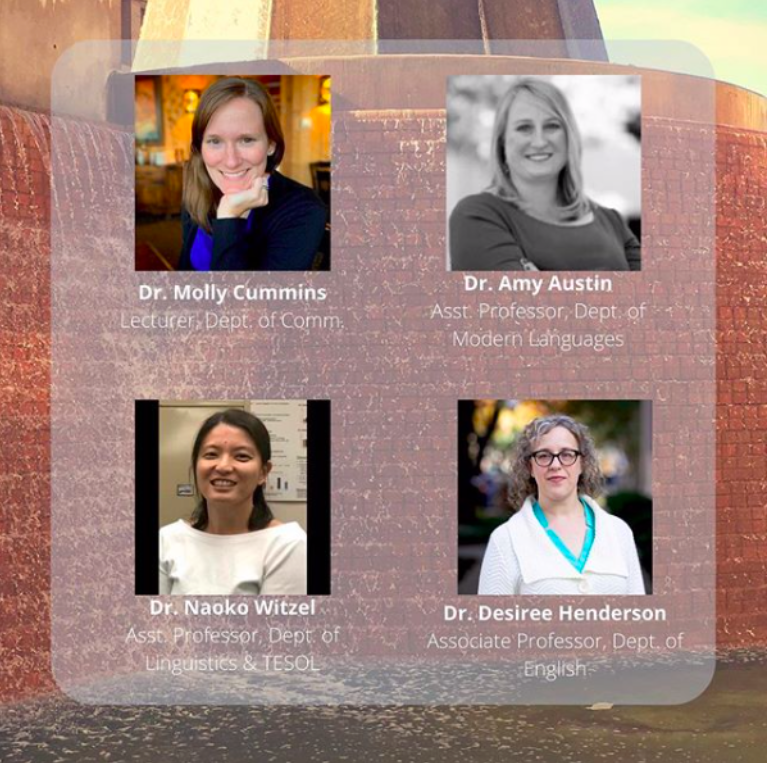 CONGRATULATIONS NEW ADVISORY BOARD MEMBERS
Recently four UTA faculty members were elected to the Women's & Gender Studies Program Advisory Board, which assists in decision-making regarding the structure and governance of the program. They will each serve three-year terms. We are so glad to welcome each of these faculty members to the UTA WGS Advisory Board!
Statement From WGS
In recent weeks, the long and uninterrupted history of racism and white supremacy in this country has been challenged by the courageous stand of the Black Lives Matter movement and its allies. The Women's and Gender Studies Program at UTA stands with the protestors in demanding the dismantling of the interlocking, systemic racism that infects our institutions, places of work and learning, and indeed, all of American society. Police brutality and the massive prison system echo the foundation of this country on the stolen lands and genocide of Indigenous peoples and the brutal enslavement of Africans and their descendants. We wholeheartedly embrace our black and brown brothers and sisters and pledge our unwavering support of justice and equality for every American. We further pledge to interrogate our curriculum to confirm that it is free of any vestige of the legacy of white supremacy. We will endeavor to include the historical experiences of black and brown peoples in all of our courses and to make sure that our students can see and hear our unwavering dedication to the dignity and value of every human being in our teaching, advising, and all other actions.
In this time of tragedy and loss, we extend our heartfelt sympathy to those who are suffering, and, especially, to the family and friends of George Floyd. We remember, too, that Atatiana Jefferson and Botham Jean were both murdered by police right here in the Dallas-Fort Worth area last year. Just in the past few years, there are many others we can't forget, including Breonna Taylor, Ahmaud Arbery, Tamir Rice, Philandro Castile, and Michael Brown. Say their names.
We join hands with all our colleagues and students in kindness and empathy, and pledge to support each other in these trying times. Black Lives Matter has focused America on its great and egregious failings, and the path forward is fraught with danger, resistance, and formidable foes. However, we commit ourselves to joining forces with all people of goodwill in the struggle to remake America into a more equitable and just union.
Together, we are stronger. And together, we will work to expunge white supremacy, in all its forms, from America.
Listen, Learn, and Act
As an academic unit, UTA's Women's & Gender Studies Program pledges our resources to educating ourselves and others; to listening; to interrogating, naming, and dismantling privilege; to amplifying the voices of all Black people and all people of color in teaching, scholarship, and administrative work; and to supporting Black people and all people of color in their fight for equality and justice.
Click here for a list of some resources for educating yourself and others.
Listening Links
Welcome to Listening Links
Would you like to listen again to Amanda Gorman's "The Hill We Climb"? Or maybe you would like to re-visit Ngozi Okonjo Iweala's and Julia Gillard's "6 Essential Lessons for Women Leaders" TED talk. You can find these links on this page. We will add and remove links throughout the year to bring you a good selection of old and new enjoyable moments.
Latina Journalism Panel
Breaking Stereotypes: Latina and Hispanic Women In Media
August 15, 2020 at 1.00-2.00pm CDT
This panel addresses the various ways Latinas and Hispanic women are stereotyped in media. We will discuss ways to fight against those stereotypes to bring more diverse images into various media spaces, from journalism to entertainment and on to television and social media.
Moderator:
Dustin Harp, Ph.D., Associate Professor, Department of Communication, Director, Women's & Gender Studies Program, University of Texas at Arlington
Panelists:
Melita M. Garza, Ph.D., Associate Professor, Department of Journalism, Bob Schieffer College of Communication, Texas Christian University
Jessica Retis, Ph.D., Associate Professor, Master in Bilingual Journalism, Program Director, School of Journalism, University of Arizona
Laura Castañeda, Ed.D., Professor of Professional Practice, USC Annenberg School of Journalism
Amara Aguilar, Associate Professor of Professional Practice, Digital Journalism, University of Southern California
Watch Panel Discussion