Roland Martin to serve as 'Opening Lecture' keynote
Center for African American Studies' event features acclaimed journalist, author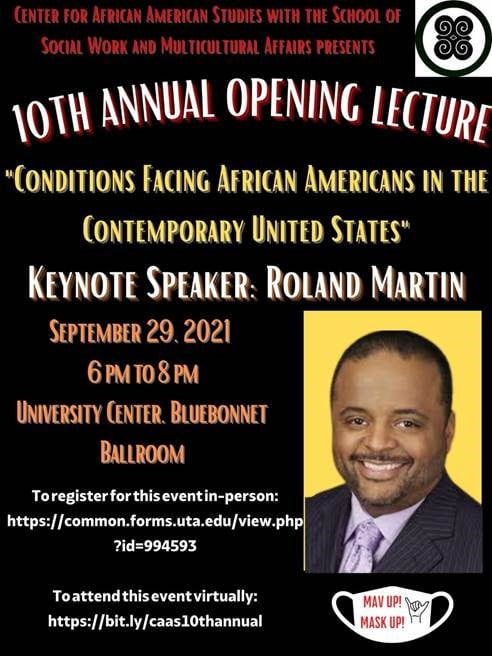 Renowned journalist and author Roland S. Martin will serve as the keynote speaker at the Center for African American Studies' 10th annual Opening Lecture at The University of Texas at Arlington.
Scheduled for 6 p.m. on Sept. 29 in the University Center's Bluebonnet Room, the lecture is sponsored by the Center for African American Studies (CAAS), School of Social Work and Office of Multicultural Affairs. Martin will discuss "Conditions Facing African Americans in the Contemporary United States."
The event is free and open to the public. Attendees are encouraged to register here or join virtually here.
Martin spent six years as a contributor for CNN and is the former executive editor and general manager of the Chicago Defender. Over his career, he has won more than 20 awards, including a regional Edward R. Murrow Award from the Radio-Television News Directors Association and several first-place awards from the Dallas-Fort Worth Association of Black Communicators.
Currently, Martin is the host and managing editor of #RolandMartinUnfiltered, a daily online program focused on news and analysis of politics, entertainment, sports and culture from an explicitly African American perspective.
Jason Shelton, associate professor of anthropology and sociology and the director of CAAS, called Martin, a native Texan, "a leading thinker who helps to shape African American political and social thought."
"He has rich background as a journalist and columnist. But he is also a TV personality, book author and social media influencer with more than 20 years' experience in speaking out on African American issues," Shelton continued. "Roland Martin will most certainly help to move the conversation forward."
Relius Johnson, assistant director in the Office of Multicultural Affairs, said he is interested to hear more about Martin's passion for social justice issues.
"This will be an opportunity where students and the Maverick family will be able to go deeper in dialogue and to challenge their own perspectives and beliefs while also learning from others," Johnson said.