Modern language faculty member honored with UT System award
Rueda-Acedo recognized with Outstanding Teaching Award by UT System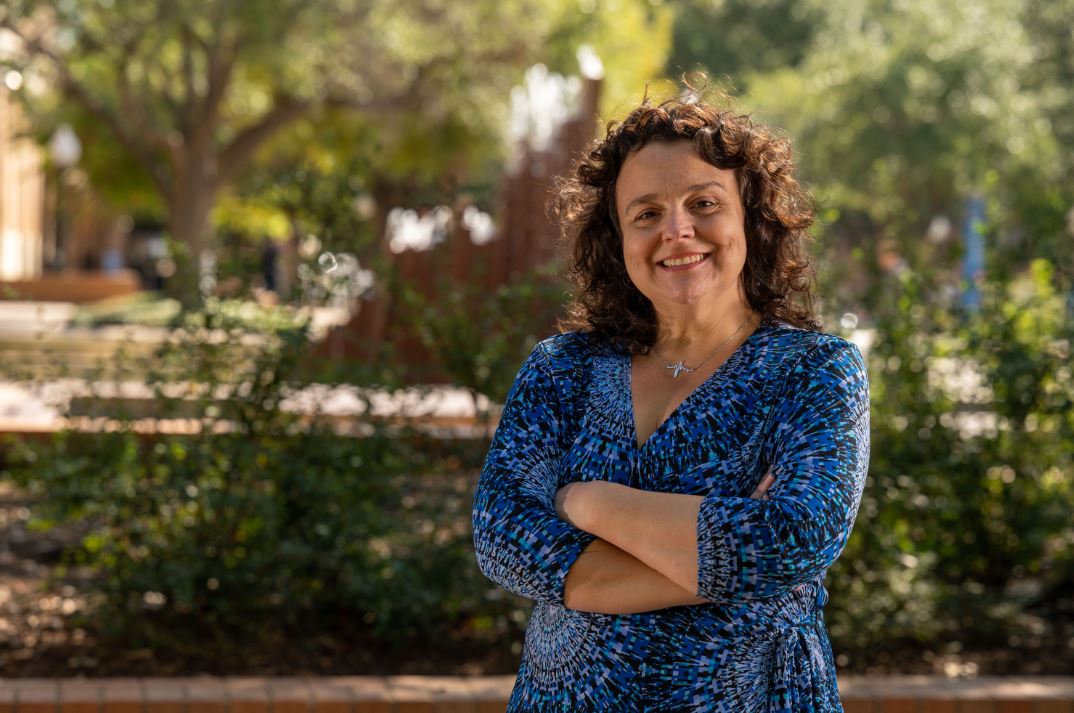 An associate professor of Spanish has earned the 2021 UT System Board of Regents Outstanding Teaching Award for her exceptional work guiding students at The University of Texas at Arlington.
The award—which comes with a medallion, a certificate and a monetary prize of $25,000—reflects the high regard for Alicia Rueda-Acedo's ability to teach and inspire.
Rueda-Acedo, who also serves as director of the Spanish Translation and Interpreting Program, said her greatest motivation is the success of her students.
"When I see that my students are having success in different careers at different companies, that is also my success," she said. "When they have reached their goals, I have reached my goals, too. It is very rewarding to devote myself to teaching, to the promotion of learning and to finding new ways to be here for my students."
The annual award recognizes educators who best exemplify excellence, innovation and a commitment to student success. Winners are chosen based on thorough evaluations that focus on the candidates' classroom expertise, curriculum quality, innovative course development and student learning outcomes.
"The best way to ensure students get the full promise of a UT degree is to provide them with outstanding faculty," Board of Regents Chairman Kevin P. Eltife said. "On behalf of the Board of Regents, I extend our profound appreciation to these educators for their commitment to teaching excellence and passion for serving students."
The Board of Regents has presented more than $20 million to more than 700 UT System educators since the Outstanding Teaching Award was first established in 2008.
"I'm delighted we are able to recognize these exceptional educators who are so committed to engaging, teaching, and supporting their students," Chancellor James B. Milliken said. "I'm grateful to the Board of Regents for recognizing their impact on our students and our campuses."
Rueda-Acedo is originally from Madrid, Spain, the daughter of a mechanic father and a mother who began working in a factory at age 15. She said her first student was her mother.
"My family worked to survive," Rueda-Acedo said. "When my brother and I were in high school, we helped my mother obtain a general education degree. I would help her with reading, writing and grammar, and my brother would help her with math."
Rueda-Acedo earned a bachelor's in journalism, then a second bachelor's in translation and interpreting and finally a doctorate in Hispanic languages and literatures. She became the first in her family to earn a college degree.
"It's a milestone for my whole family and proof of the unconditional support they have given me throughout all my life," she said. "Although my parents did not have a formal education, that was all they wanted for me, my brother and my sister."
When Rueda-Acedo found out she won the UT System Board of Regent's award, she called her mother back in Spain.
"It's a beautiful cycle," she said. "I started teaching with my mom, and last year I got to teach my kids while I homeschooled them because of the pandemic. But she's still my favorite student."
At UTA, Rueda-Acedo integrates community translation and service learning into her translation courses. Students in her classes collaborate with
Proyecto Inmigrante
,
a nonprofit organization that provides immigration counseling services, and the Arlington Public Library, where they translate and publish stories written by parents in a program called Stories to Our Children. Her Introduction to Translation course regularly translates documents for several regional organizations, including Mission Arlington, Genesis Women's Shelter and Support, Grand Prairie Independent School District, Girls Inc., Tarrant County and Greyson Crisis Center.
"Alicia represents the very best of what UTA faculty have to offer our students because of her dedication to teaching excellence and student success," said Teik C. Lim, interim president of UTA. "Faculty members like her help provide a first-class holistic education to our students and set the standard for what it means to be a Maverick."
Rueda-Acedo also is the community outreach coordinator for the
Department of Modern Languages
and the recipient of the College of Liberal Arts Outstanding Teaching Award (Tenured Faculty) in 2014. She was inducted to the UTA Academy of Distinguished Teachers in 2015 and named the 2016 College of Liberal Arts Professor of the Year on behalf of the Arlington Sunrise Rotary Club. She received the President's Award for Excellence in Teaching in 2020, and she was selected as the UTA Piper Professor Nominee in 2021.
"Service learning is very important because I always try to connect what I teach to what is outside the University," she said. "We have to go beyond what is traditionally offered, particularly in language programs. I want to continue to develop my teaching skills, pay attention to the necessities of technology changes and create new service-learning opportunities and internships. I will always be happy to work toward that direction."