Octavio Solis hosts a Q&A about his captivating play, Lydia
Octavio Solis hosts a Q&A about his captivating play, Lydia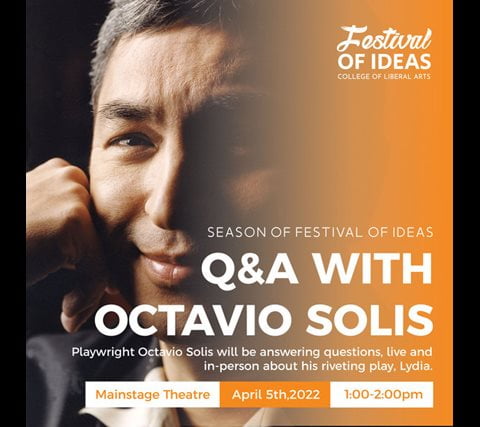 The College of Liberal Arts, along with the Theatre department of UTA, is hosting a Q&A with the playwright Octavio Solis on Tuesday, April 5th from 1-2pm at the Mainstage Theatre in the Fine Arts Building. The Q&A is free and open to the public.
Lydia is a riveting play about the Flores family in 1970's El Paso, Texas. Lydia, an undocumented maid, comes to the Flores family to assist them with their disabled daughter. What follows is a personal look into a shared family trauma, with the themes of understanding/misunderstanding, love, sexuality, identity and the importance of voice, especially for those who cannot speak.
This Q&A is part of the 2022 Season of Festival of Ideas, a two-month long season of inspiring and thought-provoking presentations, lectures and student research in which faculty and students across the College of Liberal Arts apply their expertise and creativity to engage in the themes from Octavio Solis' play, Lydia. Solis will be answering questions, live and in-person about Lydia and his experience as a playwright.
The play opens on Wednesday, April 6th at 7:30pm, also in the Mainstage Theatre in the Fine Arts Building. Lydia runs through Sunday, April 10th. Tickets can be purchased here: https://utatickets.com/.