Carissa Chavarria, MAVERICK CLASS OF '22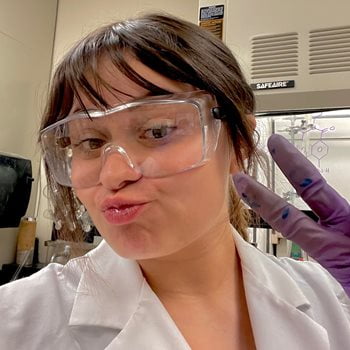 What inspired you to choose chemistry as your major?
I initially started off as a biology major, at least for a semester. After spending a semester in general biology I and general chemistry I, I realized pretty quickly that Biology was just not as fulfilling as chemistry. I also knew there would be a heavier challenge by taking this path so as a Hispanic woman I saw opportunity for self- growth and a lot of excitement! Plus chemistry labs are a lot more fun :-)
What was your favorite chemistry class and why?
Very tough, but quantitative chemistry with Dr. Dasgupta was by far my favorite. Not necessarily due to the material but the way the class was arranged. The class mimicked what it would be like in the real world so there was a genuine desire of learning. I learned very valuable skills from that course that made the rest of my courses more enjoyable!
What do you see as your ideal long-term career?
Medicinal Chemistry
Have you been involved in research? If yes, also list which professor(s) lab.
Organic Synthesis with Dr. Foss's lab.
What was the most impactful experience you had as a student while at UTA?
The opportunity of doing research has been the most impactful. Due to COVID many vital labs were substituted to an online platform, but research has allowed me to perfect my laboratory techniques and practices without missing out! I am very grateful for UTA to work with my degree plan so research can be prioritized.
What advice would you give to your younger self about college?
Change to digital studying/notetaking much sooner! iPad notes have changed my life and the way I obtain information. I can access old semester's worth of notes with a search bar instead of sifting through piles of notebooks.
What is one thing that people who know you might be surprised to learn?
Most people might be surprised that I am really into PC gaming and even built my own computer