Mentors, guest speakers help preceptorship program students prepare for med school, health-care careers
Students in the Pre-Medical Preceptorship Program at The University of Texas at Arlington get a valuable glimpse of what careers in medicine and the health care field will look like, well before they...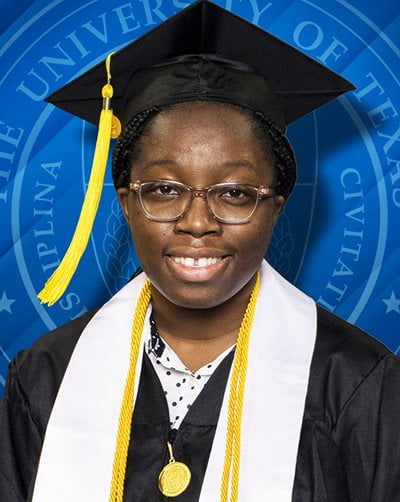 Students in the Pre-Medical Preceptorship Program at The University of Texas at Arlington get a valuable glimpse of what careers in medicine and the health care field will look like, well before they even enter medical school.
The program, which was created by the College of Science and Texas Health Resources in 2015, pairs students with physician mentors and allows students to shadow doctors in area hospitals and talk with them about their job experiences, and get general advice on their career path. Nurse practitioners also serve as mentors.
Since the start of the COVID-19 pandemic, most of the program's activities pivoted to online, but plans are tentatively in place to return to in-person activities for the next cohort.
The program includes a three-hour journal club which meets once a week, during which students discuss often difficult issues in health care and receive insight into applying to medical school. The club also includes interactive discussions with guest speakers, who provide insight on advances in medicine and what these advances mean for the future of health care.
Malgosia Wilk-Blaszczak, a professor of instruction in biology who earned an M.D. from the Medical University of Warsaw, Poland, is primary instructor for the journal club portion of the course. Sandy Hobart, College of Science health professions advisor, is program coordinator and co-instructor.
Sarah Oyegoke, who graduated with a B.S. in Biology in May, said the job-shadowing opportunity aspect of the program appealed to her, as did the ability to talk candidly with professionals and peers about the future of medicine. She wants to become a pediatrician and says the compassionate care she received as a child from her own pediatrician inspired her to want to someday provide the same for others.
"I've had nothing but positive experiences in the program. It has helped me prepare for medical school by giving me new perspectives on health care," Oyegoke said. "It has made me stop and reflect on why I want to go into medicine, what I plan on accomplishing as a physician, and how to realistically plan on achieving my goals. I will take all the things I have learned from this program with me in my future endeavors."
Oyegoke's physician mentor was Dr. Bala Ponnam, an internist at Texas Health Arlington Memorial Hospital.
"In a typical semester, we would have had the opportunity to shadow physicians at various hospitals, but because of the pandemic, things were a little different," Oyegoke said. "At the start of the semester, I was paired with Dr. Ponnam, and we were able to talk biweekly via phone call. We discussed his work life, case studies, and different perceptions of medicine. He gave me great advice that I will take with me."
Among the guest speakers for the spring 2021 semester was Ewa Kubalska, a principal engineer with Nvidia, a leading artificial intelligence (AI) company. Kubalska talked with students about how AI is programmed and implemented into various industries, including health care. Following the presentation, students were invited to Nvidia's GTC21 virtual conference where they watched as doctors used AI in their practice and had the chance to interact and ask questions.
"I found it really great to hear from someone who worked in health care whose focus was on advancing treatments and diagnostic tools used," UTA student and program participant Omar Yanouri said. "It encouraged me to think of a diverse multidisciplinary team working hard to push our ability to diagnose and treat illnesses."
"Ewa's presentation gave me a better understanding of the AI world and how it is used in a medical context," Oyegoke said. "Her presentation, along with the AI presentation I watched, gave me a glimpse of how healthcare systems are changing for the better and demonstrated how AI will affect us in our future medical careers."
The program also allows students to analyze medical literature and present case studies to their physician-mentors for critique. They also meet with UTA faculty members to evaluate, discuss and enhance their clinical experience, including analysis of relevant published topics such as clinical trials, molecular research, ethical issues, patient experiences and more.
The UTA Pre-Medical Preceptorship Program is open to all current UTA undergraduate, post-baccalaureate and master's students from any major with an interest in medicine. Participants are selected through a competitive application process. The application period for Spring 2022 will open in September 2021.
Learn more about the program at https://www.uta.edu/science/programs/health-professions/special-programs-volunteering-research-opportunities/pre-medical-preceptorship-program.php.