Chi receives NIH grant to develop simulation to improve safety of medical radiation treatments
An interdisciplinary team of scientists led by a physicist at The University of Texas at Arlington will use a grant from the National Institutes of Health to develop a new system designed to make the use of radiation in medical procedures safer for...
An interdisciplinary team of scientists led by a physicist at The University of Texas at Arlington will use a grant from the National Institutes of Health to develop a new system designed to make the use of radiation in medical procedures safer for patients.
Yujie Chi, UTA assistant professor of physics, is principal investigator for the project, titled "Development of the next-generation GPU-based Monte Carlo simulation platform for radiation-induced DNA damage calculations." The study is being funded by a three-year, $446,582 grant from the NIH's National Cancer Institute.
Co-investigators are Qiming Zhang, UTA professor of physics, and Zui Pan, associate professor in the UTA College of Nursing and Health Innovation. Acting as consultants for the study are Xun Jia, professor of radiation oncology at UT Southwestern Medical Center in Dallas, and Ramin Albofath, a clinical medical physicist at New Jersey Urology in West Orange, N.J.
Ionizing radiation, or IR, which consists of electromagnetic waves and charged particles, ionizes atoms or molecules in the medium it passes through. IR is used in medicine broadly in two ways: imaging and treatment. The ionizing effect of IR on medium is the medium atomic composition dependent, such that it can be applied to "see" the inside of the patient's body in the form of x-ray imaging, positron emission tomography, etc. IR can cause cell damage and cell death, which makes it a pillar of cancer treatment in the form of radiation therapy. However, IR can also be carcinogenic, triggering secondary cancer or other side effects after IR exposure. It is an ongoing goal to improve the safety and effectiveness simultaneously of IR application in medicine.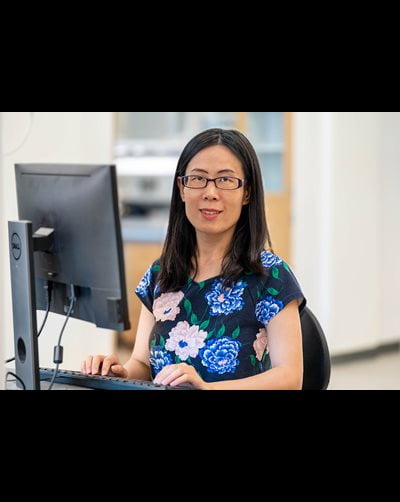 The current radiation clinic is dominated by a top-down, clinical experience rooted approach, which can be ineffective to speculate the optimal radiation strategies. Along with continuing advances in radiation biology at the cellular and molecular levels, a mechanically inspired bottom-up approach, although still in its infancy, is expected to shed new light on this problem.
"Cellular radiobiological studies show that radiation damage to DNA plays a pivotal role in the determination of the final biological or even clinical outcome after exposure to IR," Chi said. "It is then essential to understand how IR produces this initial damage under different radiation conditions to lay the sessional foundation for the bottom-up approach. Mechanistic Monte Carlo simulation that can simulate the radiation interaction with water and DNA at the atomic and molecular levels, and quantify the induced DNA damage, serves as a promising starting point."
Over the years, various mechanical Monte Carlo simulation tools have been developed. One representative is Geant4-DNA, which has been used broadly in conventional radiobiological studies.
However, along with the advancement of IR delivery technique and modality in radiation therapy, it is desired to speculate radiobiological effect caused by advanced radiation scenarios with mechanistic Monte Carlo simulation, which is hard for state-of-the-art Monte Carlo tools presently in use to meet, Chi said. Common issues include low efficiency for large-scale simulation, lack of support of DNA models covering the entire cell cycle, large parameter uncertainties and the limited-access/user-unfriendly designs.
"In this project, we propose to solve these issues by developing a next-generation Monte Carlo simulation tool for IR-induced DNA damage computation," Chi said. "It features the novel implementation of graphical processing units (GPUs) parallel computing for cost-effective efficiency boosting, new DNA model development based on the extrusion model and polymer physics, parameter uncertainty study with molecular dynamics/first principles based computation, and open-source release with user-friendly interface development."
Zhang has experience utilizing first-principles molecular dynamics (MD) simulation, which computes the physical movements of atoms and molecules, and allows for the extraction of statistical information from the movements. The team will use this method to get parameter inputs for the proposed Monte Carlo simulation.
The researchers hope that the system they plan to develop will serve as a next-generation simulation platform for the calculation of initial DNA damage caused by IR. This would be a major first step towards the ultimate goal of bottom-up multi-scale modeling for the entire radiobiological process, thus making a significant impact in radiation medicine.
"Dr. Chi's project is aimed at developing a fundamental understanding of how IR causes the initial stages of DNA damage under different radiation modalities and scenarios," said Alex Weiss, professor and chair of the UTA Department of Physics. "Such an understanding has important implications for radiation therapy and can be expected to contribute to the safe and effective use of ionizing radiation in medicine. With this study, Dr. Chi, Dr. Zhang and their colleagues are making vital contributions to the advancement of cancer treatment and improving human health."
To support educational and research efforts in the UTA College of Science visit the giving page, or if you're a prospective student interested in beginning your #MaverickScience journey visit our future students page.