Maverick Science Student Stories
Your story could be next!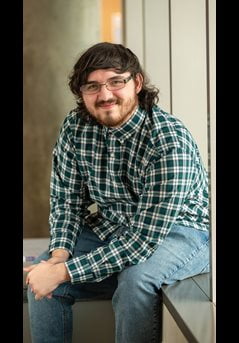 Joshua
Ph.D. student in Physics; earned B.S. in Physics from UTA in fall 2019

Fun fact: Plays the violin
I grew up in Corpus Christi but moved to Arlington around 7th grade. When I was deciding where to go to college as an undergraduate, my brother had gone to UTA, and he told me good things about it. I also got to visit the campus as part of the AVID college readiness program, and I enjoyed the campus environment.
For graduate school, I had gotten to know the physics professors and also enjoyed the research I had done during my last semesters as an undergraduate, and so I decided I wanted to stay here at UTA.
As a kid I used to watch a lot of astrophysics documentaries, which was my first introduction to physics, and eventually I began watching YouTube videos about everything physics related. I think what I love about physics is just that it tries to explain the world around us and that there's still so much we don't know.
I got my bachelor's degree in December 2019, and I started doing research during my last year as an undergraduate. During that time, I won the Outstanding Undergraduate Student Poster Presentation Award at the 2019 Texas Section meeting of the American Physical Society. That was exciting and surprising, since it was the first time, I had ever presented research at a conference.
My current work is still in high-energy astrophysics, working specifically with Gamma-ray burst data, which is my main research focus. Additionally though, I'm assisting in a traffic engineering problem and on a bioinformatics problem.
I recently became involved as a helper in the Software Carpentry Workshops offered here at UTA. The workshops teach students computational tools, such as Python, that are useful for more efficient research. Hopefully I'll get to be an instructor soon in some of them, too.
My professors have been amazing. They're always available whenever you need help. My Ph.D. advisor, Dr. (Amir) Shahmoradi, has helped me improve my presentation skills where I had practically none before. He teaches skills to me and other students that will be useful whether in academia or industry. He also always tries to make time to help students and has, on occasion, even met with me over Microsoft Teams past midnight to talk if I'm having trouble implementing something for research.
Additionally, he always reminds his students to be more accommodating to people with colorblindness when presenting results so that it is accessible to as many people as possible, which is something I hadn't thought of previously.
Dr. (Zdzislaw) Musielak is also one of my favorite professors as it's refreshing to see someone enjoy his job so much and bring a smile to class every day. You can tell how much he loves interacting with his students and that he fosters an aura of communication and curiosity among his students.
I think my experiences at UTA have prepared me well for a career, both in thinking critically about a problem and also in giving me experience in many computer programming languages. I feel like both are applicable to many career paths.
I'm not entirely sure yet what I'd like to do when I finish my Ph.D. At the moment I'd like to keep working in academia, but if I end up working in industry then I'd probably want to work in the field of data science.
---
Joshua
Ph.D. Estudiante de Física; pregrado en ciencia en física UTA en otoño de 2019.
Dato Curioso: Toca el violín
Crecí en Corpus Christi, pero me mudé a Arlington cuando estaba en el grado séptimo. Cuando estaba decidiendo a cuál universidad ir, tuve la guía de mi hermano, él había ido a UTA y me dijo cosas buenas sobre la universidad. También pude visitar el campus como parte del programa de preparación universitaria AVID y me gusto el ambiente del campus.
Para mi carrera de posgrado, había llegado a conocer a los profesores de física y también disfruté de la investigación que había hecho durante mis últimos semestres como estudiante de pregrado, por lo que decidí que quería quedarme aquí en UTA.
Cuando era niño, solía ver muchos documentales de astrofísica, esa fue mi primera experiencia aprendiendo sobre física, y finalmente comencé a ver videos en YouTube sobre todo lo relacionado con la física. Creo que lo que me encanta de la física es que trata de explicar el mundo que nos rodea y que todavía hay mucho que no sabemos.
Obtuve mi pregrado en diciembre de 2019 y comencé a investigar durante mi último año como estudiante de pregrado. Durante ese tiempo, gané el Premio a la Presentación de Pósters de Estudiantes Sobresalientes de Pregrado en la reunión de la Sección de Texas 2019 de la Sociedad Americana de Física. Eso fue emocionante y sorprendente, ya que era la primera vez que presentaba una investigación en una conferencia.
Mi trabajo actual sigue siendo en astrofísica de alta energía, trabajando específicamente con datos de estallidos de rayos gamma, este es mi principal enfoque de investigación. Además, estoy ayudando en un problema de ingeniería de tráfico y en un problema de bioinformática.
Recientemente me involucré como ayudante en los Talleres de Carpintería de Software que se ofrecen aquí en UTA. Los talleres enseñan a los estudiantes herramientas computacionales, como Python, que son útiles para una investigación más eficiente. Espero poder ser instructor pronto en algunos de ellos, también.
Mis profesores han sido increíbles, siempre están disponibles cuando necesitas ayuda. Mi asesor de doctorado, el Dr. (Amir) Shahmoradi, me ha ayudado a mejorar mis habilidades de presentación, antes prácticamente no tenía ninguna ayuda en este tema. Me enseña habilidades a mí y a otros estudiantes que serán útiles ya sea en la academia o en la industria. Además, siempre trata de sacar tiempo para ayudar a los estudiantes y, en ocasiones, incluso se ha reunido conmigo a través de Microsoft Teams pasada la medianoche para hablar si tengo problemas para implementar algo para la investigación.
Además, siempre recuerda a sus estudiantes que sean más amables con las personas con daltonismo al presentar los resultados para que sea accesible a la mayor cantidad de personas posible, esto es algo en lo que no había pensado antes.
El Dr. (Zdzislaw) Musielak es también uno de mis profesores favoritos, ya que es muy agradable ver a alguien disfrutar tanto de su trabajo y traer una sonrisa a clase todos los días. Se nota lo mucho que le encanta interactuar con sus alumnos, fomenta un excelente ambiente de comunicación y curiosidad entre sus alumnos.
Creo que mis experiencias en UTA me han preparado bien para desempeñar como profesional, tanto en el pensamiento crítico sobre un problema como en darme experiencia en muchos lenguajes de programación de computadores. Siento que ambos son aplicables a varias carreras.
Todavía no estoy del todo seguro de lo que me gustaría hacer cuando termine mi doctorado. Por el momento me gustaría seguir trabajando en el mundo académico, pero si termino trabajando en la industria, entonces probablemente quiero trabajar en el campo de la ciencia de datos.