About The Center for Child Welfare
The complexities of the contemporary American family call for innovative and coordinated approaches to service delivery between health, mental health and protective service agencies.
The Center for Child Welfare serves as a research and resource center for Texas, the Southwest, and the nation in the advancement and dissemination of knowledge to improve the conditions of vulnerable children and their families. Research, education, and dissemination efforts using evidenced informed products to address the basic rights of children to be nurtured and protected by their families with the support of their communities.
Goals
The goal of the Center is to help equip develop child welfare professionals with current, detailed, and scientific knowledge about effective practice models, ways to support the adequate development of children and families, and strategies to preserve families.
The University of Texas at Arlington School of Social Work, through the Center for Child Welfare, has become an important part of the national child welfare reform effort. The School of Social Work is uniquely qualified as the site of the Center because of the combination of a nationally recognized faculty with expertise in child welfare practice innovations, technology development, and a long-standing partnership with child welfare professionals at the local, state, and national level.
Objectives
To develop, conduct, and disseminate research to address important policies and practice influencing the lives of children and families.
To serve as a resource center to child welfare advocates, professionals, and policy makers.
To professionalize child welfare practice through the training and education of professional social workers for a career in child welfare services.
To deliver evidenced-informed training to child welfare practitioners to improve service delivery.
To provide assistance to, and promote collaboration among, national, state, and local public and private child welfare institutions.
About Our Founder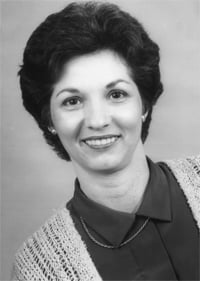 The Center for Child Welfare reflects its founder's mission to provide better trained and educated workers for demanding jobs in the field of child welfare and to conduct research on child welfare issues. Ms. Birmingham was a modest, but passionate supporter of child welfare services who dedicated her life to helping abused and neglected children and their families in Texas. She began that effort in 1968 as a case worker for the Texas Child Protective Services agency in Beaumont and later as a supervisor and regional director in the Dallas – Ft. Worth area until 1981.
Ms. Birmingham enrolled at UTA in 1972 where she received her Masters of Science in Social Work. In 1974, she became UTA Director of Field Education at the Graduate School of Social Work. She later served as Assistant Dean from 1981 to 1989. She was a respected child welfare expert who led local efforts to improve the quality of Texas agencies serving this population. She received many awards for her service to the children of Texas. On two separate occasions, Tarrant County Judge, Mike Moncrief, and Tarrant County Commissioners proclaimed "Judith Birmingham Day" in honor of her advocacy for the protection of children. She received honors for outstanding leadership and service from Lena Pope Home, Tarrant County Child Welfare Board, Department of Human Resources, and the Texas Public Employees Association. As an educator, she authored numerous grants and publications to further the cause of social services to children.
Ms. Birmingham, with co-founder Dr. Marianne Berry, founded the Center for Child Welfare in 1993 by securing a 5 year federal grant. UT Arlington School of Social Work dedicated the Center in her name and memory on November 21, 1996 shortly after her death at age 52 of lymphoma. Colleagues and family members who described her as a determined woman who passionately advocated for her students and abused children, felt this was a fitting tribute to Ms. Birmingham.