Testing and Daily Self-Monitoring
if you have come in close contact with a COVID-positive individual
If a student, faculty, or staff member comes into close contact (within six feet for 10 minutes or longer) with an individual who has been tested and diagnosed with COVID-19, you are required to complete the Close Contact form and follow any subsequent guidelines from UTA Health Services.
If you have been in close contact with a person who is lab-confirmed to have COVID-19, you may not return to work or class until the end of a 14-day self-quarantine period from the last date of exposure to the person that tested positive.
If you Test Positive for COVID-19
Individuals personally diagnosed with COVID-19 are required to report to the University by filling out the Personal Diagnosis form and are expected to self-isolate at an off-campus location.
You may return to campus when all five of the following criteria are met:
At least 3 days (72 hours) have passed since recovery (resolution of fever without the use of fever-reducing medications)
Improvement in symptoms (e.g. cough, shortness of breath)
At least 10 days have passed since symptoms first appeared
You have obtained a note from a medical professional clearing you for return to work or class. The employee must submit the note to Human Resources Leave Management.
Employee only: Human Resources Leave Management notifies your Manager that you are cleared to return to work.
Daily self-monitoring for COVID-19
Everyone must measure their temperature daily.
Prior to coming to campus or while on campus if you are experiencing any of the following symptoms that are new, worsening or occurring in a way that is not normal for any chronic conditions you may have, please remain or return home. Employees should notify their supervisor.
Cough
Shortness of breath or difficulty breathing
Chills
Repeated shaking with chills
Muscle pain
Headache
Sore throat
Loss of taste or smell
Diarrhea
Feeling feverish or a measured temperature greater than or equal to 100 degrees Fahrenheit
Daily Self-Monitoring Checklist
The UTA mobile app provides a convenient, confidential tool to assist with conducting the daily self-assessment, or you can download the daily self-monitoring checklist for easy access.
If you have symptoms
If you have symptoms listed above and do not wish to be evaluated by a medical professional or tested for COVID-19, you may not return to work or class until you have completed the same four-step criteria listed above.
If you have symptoms listed above and want to return to work or class before completing the above self-isolation period, you must obtain a medical professional's note of clearance from COVID-19 or an alternative diagnosis.
Employee testing
Employees seeking testing should contact their health care provider or local health department.
Blue Cross/Blue Shield TX will continue to cover COVID-19 testing for anyone – with or without symptoms – at 100% through the end of 2020. Find locations for COVID-19 testing sites.
COVID-19 testing for those with UT Select and UT Connect coverage
COVID-19 testing with an in-network provider is at no cost for those with UT Select and UT Connect coverage.
Covered employees should contact Blue Cross Blue Shield of Texas (BCBSTX) for assistance with finding a testing site. A BCBSTX representative will be happy to help with choosing an in-network provider with the best location for individual needs.
The BCBSTX numbers are:
UT Select (866) 882-2034
UT Connect (888) 399-8889
You may also contact benefits@uta.edu or call (817) 272-5554 for if you have further questions.
Student Testing
On-campus testing is available by appointment only for all UTA students. PCR tests, which may be required for students who live abroad and need to travel home, are also available. Students should call before going to a clinic or UTA Health Services to receive directions regarding specific protocols. UTA students can contact UTA Health Services with concerns during office hours at 817-272-2771. Students who are identified by Health Services as being in need of testing will not pay out-of-pocket costs, regardless of whether they have insurance.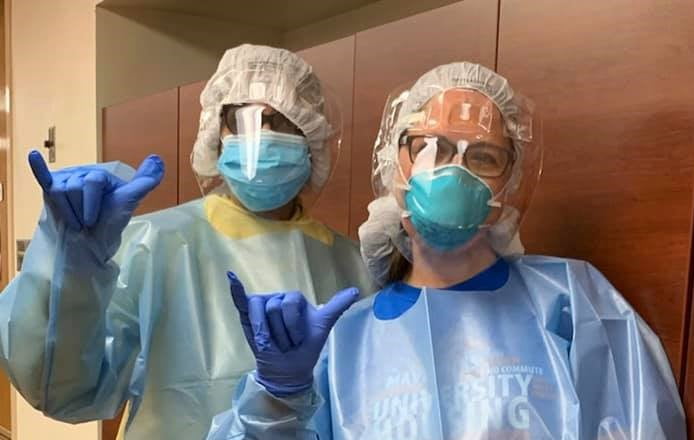 ON-CAMPUS TESTING AVAILABLE FOR STUDENTS
Under UTA plan, students identified as needing testing will pay no out-of-pocket costs
Face-Covering Protocol
This protocol applies to everyone on campus—all students, staff, faculty, contractors, vendors, suppliers, and visitors—and is critical in minimizing risks to others near you.
Learn More about the Protocol
Daily Self-Monitoring Checklist
If you are experiencing any COVID-19 symptoms that are new, worsening or occurring in a way that is not normal for any chronic conditions you may have, please remain or return home.
Download The Checklist
Health Tips for Mavericks
Stay home if you are sick and seek medical attention.
Cover your mouth and nose with a tissue or your sleeve when coughing or sneezing.
Wash your hands with soap and water or an alcohol-based hand sanitizer.
Avoid touching your eyes, nose and mouth.
Avoid contact with others who are sick.
Seek medical attention if you are sick.