Bursts of creativity on display at UTA's popular glass art sale and show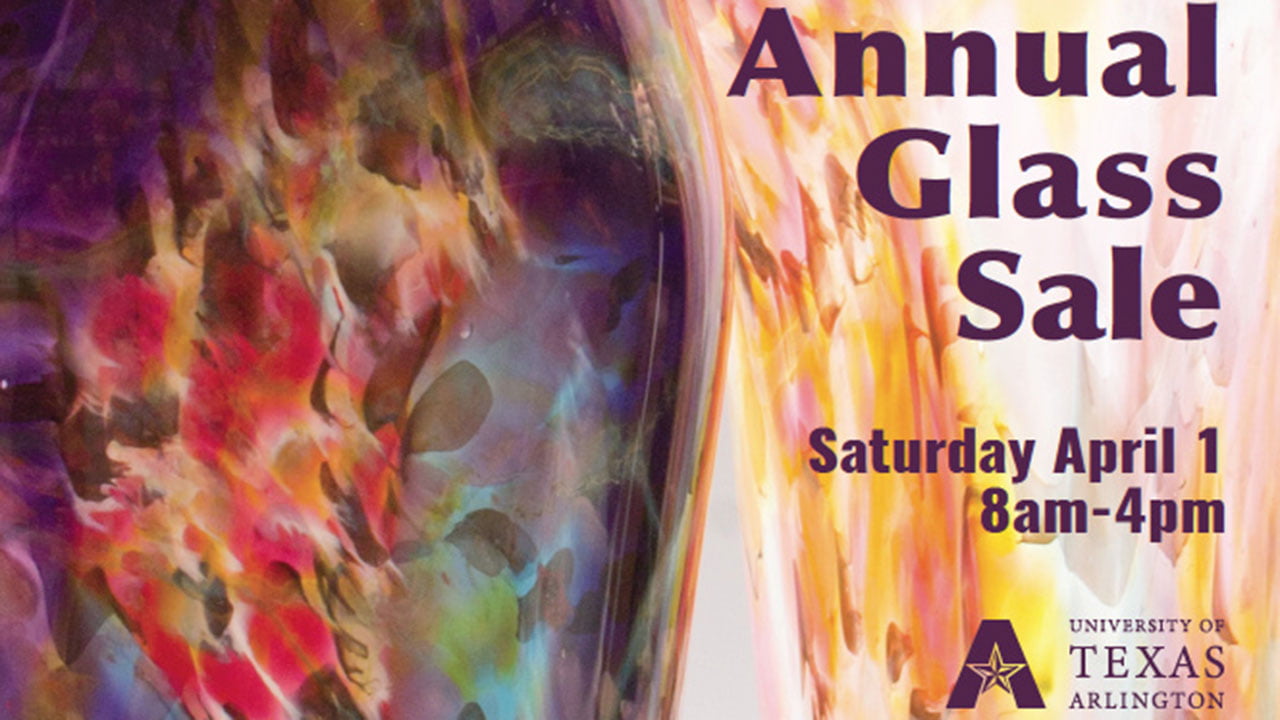 Students from The University of Texas at Arlington's Art and Art History program will demonstrate how they form and shape hot molten glass into exquisite artwork during the annual Glass Art Sale and Show Saturday, April 1, at the Studio Arts Center, 810 S. Davis St., Arlington.  The show runs from 8 a.m. to 4 p.m.
The annual Glass Art Sale and Show draws people from across North Texas and neighboring states, which proves the popularity of the students' extraordinary artwork.
Funds from the glass art sale help pay for scholarships, student travel for conferences, new equipment and visiting artists.
"It is vital for our continued recognition of being one of the best programs and studios in the country," said Justin Ginsberg, glass program coordinator and assistant professor in the Department of Art and Art History. "Without this, we wouldn't be able to operate."
The sale includes more 2,000 objects made of glass. There will be plates, bowls, vases, platters, jewelry and other functional items handcrafted by students, faculty and visiting artists.
"We'll have a small exhibition that highlights some of the graduate students' research and works they're exploring as well as resumes and accomplishments they've achieved over the past semester," Ginsberg said.
Students and faculty will have live demonstrations of classic glass-blowing techniques to show the level of skill it takes to create glass art.
The prices for the pieces range from $5 to several thousand dollars with most below $50. A silent auction will take place during the sale and a live auction begins at 2 p.m.  Free parking is available at the building.  Call the Studio Arts Center at 817-272-2891 for more information.
About The University of Texas at Arlington
The University of Texas at Arlington is a Carnegie Research-1 "highest research activity" institution. With a projected global enrollment of close to 57,000, UTA is one of the largest institutions in the state of Texas. Guided by its Strategic Plan 2020 Bold Solutions|Global Impact, UTA fosters interdisciplinary research and education within four broad themes: health and the human condition, sustainable urban communities, global environmental impact, and data-driven discovery. UTA was recently cited by U.S. News & World Report as having the second lowest average student debt among U.S. universities. U.S. News & World Report lists UTA as having the fifth highest undergraduate diversity index among national universities. The University is a Hispanic-Serving Institution and is ranked as the top four-year college in Texas for veterans on Military Times' 2017 Best for Vets list. 
                                                                                                                 --Bre'Ana Davis, contributing writer