UTA professor receives grant to develop device to fight osteoporosis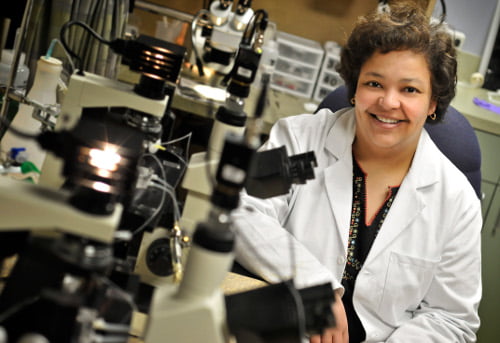 A faculty member in UTA's College of Nursing and Health Innovation has received a $250,000 National Science Foundation grant to design a revolutionary device that could stimulate bone growth and ultimately be used as a weapon against osteoporosis.
Under the terms of the three-year grant, Rhonda Prisby, an associate professor of kinesiology who studies blood vessels in bones, will work with Jeong-Bong Lee, a professor of electrical engineering at the University of Texas at Dallas. Lee also received a $250,000 grant for this project.
Together, they will design a small biomedical device that will be implanted inside the bones of young and old rats. The device will be activated over a length of time. Following this period, researchers will check to see if the device stimulated bone growth in the animals.
Prisby said the goal is to ultimately develop a device that will strengthen the bones of people with osteoporosis and thereby lessen their risk of fracture. "If a person has been diagnosed with low bone mass this could be the option for them," Prisby said.
Elderly people are particularly prone to osteoporosis and other bone ailments. One in four women over 65 and one in six men over 65 suffer from osteoporosis, according to the Centers for Disease Control.
Prisby said that if the device is successful, it could be of use to astronauts as well.  
"When astronauts are in space they lose bone mass at a rapid rate and it's hard to recover," said Prisby. " This could help mitigate some of the loss."
Presently, the grant is only focused on low bone mass conditions. But if the device is successfully developed, the researchers plan to explore using it to heal fractures. Additionally, veterinarians may have some use for the device in animal care.
"I am excited about the myriad of therapeutic applications this device could have for people and for ultimately for animals," said Prisby, who rejoined UTA's faculty at the start of the 2016-17 school year, following a stint at the University of Delaware.
Anne Bavier, dean of the College of Nursing and Health Innovation, said this research has the potential to enhance the lives of millions of people, particularly the elderly.
"As everyone knows, our society is aging rapidly. The potential of this device to improve the quality of life of elderly people is limitless," Bavier said. "This is a classic example of the kind of work our college is doing to improve health and the human condition."