Lady Movin' Mavs chosen for women's national teams, prepare for world competition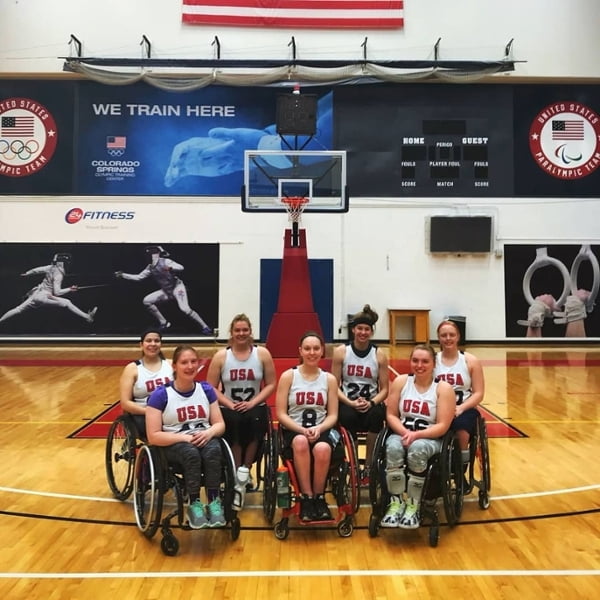 The University of Texas at Arlington's status as an elite, premier university for adapted sports was further solidified by the selection of four current members and one former member of UTA's dominant Lady Movin' Mavs wheelchair basketball team for national teams in the United States and Australia. 
These gifted student athletes are poised to compete in the 2018 International Wheelchair Basketball Federation's World Championships in Hamburg, Germany in August.
Lady Movin' Mavs Rose Hollermann and Abigail Dunkin, seniors and gold medalists in the 2016 Paralympic games, graduate student Morgan Wood, and alumna Josie Aslakson were named to 17-person Team USA roster, which will be trimmed to 12 ahead of the IWBF world games. No other university in the U.S. has such a large contingency on the national team.
Freshman Annabelle Lindsay, a native of Australia, was selected to the Australian Women's National Wheelchair Basketball team.
"Rosie and I have long been supporters of UTA's impressive adapted athletics programs as they demonstrate the very best of the human spirit," said Mike Moncrief, former state senator, state representative, Tarrant County judge and mayor of Fort Worth. Both he and Rosie are ardent supporters of disability rights. "It's wonderful to see UTA continue to excel and break down barriers to ensure all students can chase their dreams and passions."
The Lady Movin' Mavs won the national intercollegiate championship in 2016 and achieved a team GPA of 3.56 during the fall 2017 semester.
"UTA builds champions," said Jason Nelms, coach of the Lady Movin' Mavs. "We are proud of the athletic opportunities we offer student athletes of all abilities, and even more proud of the top tier education they receive when they choose UTA."
Apart from its status as a destination university for adaptive athletes, UTA is one of the nation's leading institutions providing students with disabilities access to high quality educational opportunities. UTA was the first university in the nation to offer full-ride scholarships for athletes in adapted sports. UTA's disability studies minor was the first such program in the south and is one of only about 30 in the nation.
"Congratulations to these outstanding student athletes, who, like our entire student body, remind us every day that dreams and goals should have no limits," Vice President of Student Affairs Lisa Nagy said. "UTA truly is the home of endless opportunities."