CollegeChoice.net ranks human resources management program No. 5 in nation
The University of Texas at Arlington is quickly growing a reputation as one of the nation's top places to earn a master's degree in the fast-growing field of human resources.
CollegeChoice.net recently tabbed UTA as having the nation's fifth-best master in human resources degree program.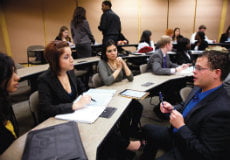 College Choice based its rankings on such key metrics as academic reputation, tuition, financial aid offerings and early career salaries for graduates. The data was derived from sources including U.S. News & World Report, the National Center for Education Statistics and PayScale.com.
"We are extremely proud of our Master of Science in Human Resource Management (MSHRM) program," said Harry Dombroski, who was hired April 30 as UTA's dean for the College of Business. "Our MSHRM program has historically been a very high-quality program that was designed to meet all the guidelines of the Society for Human Resource Management for quality master's programs in HR, and it richly deserves its No. 5 ranking by CollegeChoice.net."
According to the Bureau of Labor Statistics, the demand for human resources managers is expected to grow by 9 percent through 2026.
UTA's master in human resources degree program ranked behind only the University of Illinois Urbana-Champaign, Texas A&M University, Wisconsin University and Villanova University. UTA finished ahead of such notable schools as Purdue, Cornell, Marquette and Vanderbilt.
Among the top 25 schools, UTA is the most affordable option, as it is the only university with an annual tuition of less than $21,000, at $16,980, according to College Choice. Furthermore, 14 of the top 25 schools have an annual tuition of more than double that of UTA.
"UTA's program provides great value for a high-quality education," Dombroski said, "which is reflective of the goal of UTA's College of Business—namely, to align ourselves with the needs of our core constituencies by delivering high-quality, innovative and distinctive educational programs at a cost that allows our students to achieve their professional goals without incurring unmanageable amounts of student debt."
College Choice noted that UTA's master in human resource management program combines general business knowledge with a concentration in HR management. The curriculum involves 18 hours of required work in human resource management, with six hours focused on research and statistical methods for decision-making and problem-solving. Students can choose between a thesis (30 credits) and non-thesis plan of study (36 credits).
Full-time students can graduate in two years and study HR analytics, talent management, total rewards, employment law, and HR consulting with a focus on applied skills.  Graduates of the UTA MSHRM work at all the largest employers in DFW, several local governments, and non-profit organizations.  Students have interned with such companies as Lockheed Martin, Texas Instruments and Bell Helicopter.
Dombroski noted that he's "very proud of the work" that George S. Benson has done in growing the program. Benson is the chair of UTA's Department of Management and was director of the program from 2010 to 2018.  Benson said UTA revised the curriculum in 2010 for the MSHRM program, emphasizing the added elements of analytics and quantitative decision-making in all the classes. He noted that UTA was one of the first universities to have a class in HR metrics and analytics. UTA also added an applied consulting class.
"We're very proud of our program that's in the company of some very distinguished universities," said Benson, who has been at UTA since 2002.  "We're also one of the more affordable programs. We've worked hard to make sure that the curriculum is cutting-edge. We have a great set of scholar-practitioner faculty who bring a balance of academic and industry experience. We have an excellent group of students. We have industry partners who serve on our advisory board who have given us a lot of input on our curriculum to help make our students employable."
Additionally, Human Resources MBA recently recognized UTA's master in human resources program. The agency placed UTA No. 6 in its 2019 list of the "20 Best Master's in Human Resources."
"HR as a field is growing in importance for companies to be able to compete for talent and manage organizational culture," Benson said. "There are a lot of opportunities for students, and we feel like we're meeting their needs. We're still working on ways still to get better and improve. We would like to grow the program. We would like to generate more opportunities for our students with national employers coming in to recruit on campus.
"Our students are hungry for opportunities and hopefully these rankings will get the word out that people need to come to UTA to find HR talent."
-- written by Brandon George