Associate dean recognized for outstanding work in gerontology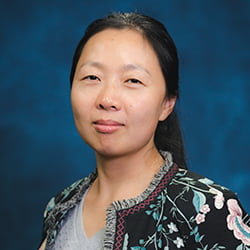 The University of Texas at Arlington's Zhen Cong has led pioneering research for more than a decade on aging adult concerns, including depression among Mexican-American grandparents.
Cong, the associate dean for research and faculty affairs and director of the Ph.D. program in the School of Social Work, has been named a fellow of the Gerontological Society of America, the premier international society for scholars who research aging issues.
"This is a tremendous achievement and great acknowledgement of Dr. Cong's outstanding research, scholarship and service to the profession and community," UTA President Vistasp Karbhari said. "I'm extremely proud of her and am deeply appreciative of the tremendous positive impact her work has on our students and the communities we serve. She is a wonderful example of how outstanding faculty at universities transform society for the better through the implementation of the work resulting from their scholarship."
The Gerontological Society of America comprises biological, behavioral and social scientists such as economists, sociologists, epidemiologists and social workers from around the world. The organization's members study the experiences of aging adults, their adversities and their relationships and interactions with families and communities.
Cong said the recognition reinforces her commitment to studying aging issues.
"It is a recognition of my past achievements and a motivation for me to follow the steps of those great leaders in the area of aging to continue my devotion to promoting social justice and the well-being of vulnerable populations," she said.
As part of one of her recent studies, Cong is seeking to understand the vulnerability and resilience of older adults to natural disasters. She is creating a new model to guide future disaster-related studies in the presence of aging populations and emerging technologies, including how to effectively communicate tornado warnings to older adults and how to best mobilize protective action and mitigation behaviors. Included in her research is the design and delivery of personalized assistance to older individuals before, during and after disasters to increase their survivability.
Scott Ryan, dean of the School of Social Work, called the recognition a "wonderful achievement."
"The School of Social Work is so very proud to have her as part of our team," Ryan said.
The School of Social Work has launched innovative projects addressing the concerns of those aged 60 and older—one of the fastest-growing demographics in Texas—through programs and research that focus on their physical, social and mental health care needs.
For example, Assistant Professor Noelle Fields has investigated civic engagement among older adults, the results of which were published in the Journal of Gerontological Social Work. She found that older adults who had access to opportunities and were connected to their communities were more likely to be civically involved and build age-friendly neighborhoods, in contrast to older adults from low-income, marginalized populations.
Fields is also working with Assistant Professor Ling Xu on a research project aimed at reducing caregivers' burden and stress, increasing their well-being and growing their knowledge about Alzheimer's disease, funded by a $459,994 National Institutes of Health grant.
An interdisciplinary project involving researchers from the School of Social Work, College of Liberal Arts and UTA Research Institute ran two pilot studies in collaboration with Brookdale Pecan Park Senior Living of Arlington to provide emotional support for older adults via a Shakespeare-reciting robot.
A project led by Assistant Professors Kathy Lee and Rebecca Mauldin seeks to mitigate the loneliness and social isolation that older adults often experience. Together, Lee and Mauldin developed SageServe, an app that helps older adults strengthen existing social roles and develop new ones by connecting them to online-based volunteer opportunities. Last year, SageServe was recognized as the Best Human Services App Idea at the annual Social Work, Education and Social Development Conference in Dublin, Ireland.
--written by Valerie Hill