Convening experts on urban watersheds
UTA hosts national conference on making Texas urban watersheds sustainable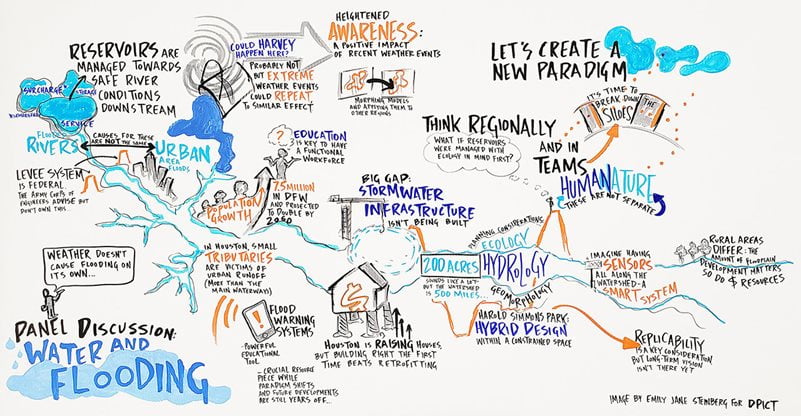 Urban planners, scholars, environmental organizations, designers, water officials and elected officials from across the nation met on The University of Texas at Arlington campus for a workshop focused on creating a sustainable future for Texas water.
UTA's College of Architecture, Planning and Public Affairs (CAPPA) held its "Future Cities, Livable Futures: Toward a Sustainable Model for Urban-Watershed Systems" conference and workshop August 16-17 to a sold-out audience.
"Watershed urbanism sets out to better understand how watershed systems and urban systems connect to create a whole system," said Adrian Parr, CAPPA dean and lead investigator of the National Science Foundation-funded workshop. "The conference and workshop were exciting opportunities and a first step toward forming important partnerships across DFW and onto Houston with a view to testing sensitive design interventions and blue and green infrastructures that can provide the basis for a comprehensive sustainable regional plan for urban growth and watershed management that enhances the health and wellbeing of all."
Jerry Cotter, chief of water resources for the U.S. Army Corps of Engineers' Fort Worth District, noted that the increasing frequency of heavy storms affecting interconnected watershed and urban systems has reduced the usefulness of comparing current storms to historical data.
"We need an alternative method for assessing storms," Cotter said.
Parr pointed out how Texas' watershed systems can impact the entire state.
"The Trinity Watershed is a distinctive area of study because it falls entirely within the boundaries of the state of Texas," she said. "What happens in DFW impacts the Trinity waters as far as Houston and Galveston."
The conference was co-sponsored by the National Science Foundation; UNESCO; and UTA's Institute of Urban Studies, College of Engineering, and Institute for Sustainability and Global Impact. Co-principal investigators were Assistant Professor Nick Fang and Associate Professor Michael Zaretsky, both of civil engineering, and Meghna Tare, UTA's chief sustainability officer.
Other speakers included Jeff Williams, mayor, city of Arlington; Brandi Schottel, associate program director, National Science Foundation; John Nielsen-Gammon, Texas state climatologist, Texas A&M University; Donna Barron, city manager, city of Lewisville; Vincent Lee, associate principal and technical director of water for North America, Arup Engineering; Stacey Pierce, executive director, Streams and Valleys Inc.; Steve Luoni, director, University of Arkansas Community Design Center; and Elizabeth Silver, associate principal, Michael Van Valkenburgh Associates.
– Douglas Klahr
Associate Dean for Faculty and Student Affairs
College of Architecture, Planning and Public Affairs