'I'm a nurse. I've got this!'
UTA nursing faculty honored for leaping into action during courthouse medical emergency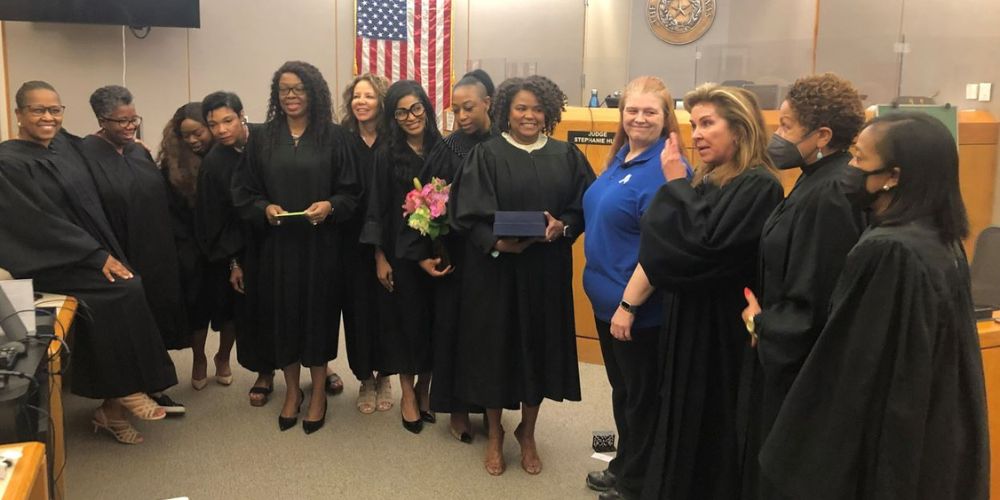 Clinical Assistant Professor Katherine "Kat" Kreis' teaches her "Clinical Nursing Foundations" students that the conditions in which nurses treat patients won't always be ideal. It is a nurse's job to observe the environment, identify immediate problems and act on what he or she sees.
Earlier this year, Kreis had to follow her own lessons when she witnessed a medical emergency—in a Dallas County courthouse.
Kreis, a clinical simulation faculty member in The University of Texas at Arlington's College of Nursing and Health Innovation, was in the central jury room serving jury duty when something caught her attention.
"Out of the corner of my eye, I could see that a man threw his phone," she said. "I looked over, and his hand was shaking, and his phone was on the floor. The expression on his face was definitively that he was starting to have a seizure."
Kreis immediately jumped into action to help the man, who also was there on jury duty.
"I heard somebody ask, 'Is anybody a nurse?' And I'm already standing there with him, so I stuck my hand way up in the air and said: 'I'm a nurse. I've got this!'" she said.
Her priority was making sure he did not injure himself while seizing, she said. Kreis had the man placed on the floor to avoid injury and monitored his pulse and breathing. She also was able to make an educated guess about his health condition based on a written list of medications he had in his wallet.
Kreis was able to gather even more details by speaking to him.
"What I was actually doing was trying to see how he responds," she said. "Do his eyes move to track me, or is he looking all over the place? Does he not seem to be focusing on any one object because he is not able to see? All of these are pieces of information that you gather."
She was able to give paramedics details on what happened once they arrived. She was later told that the man is recovering, having been moved from the ICU to an inpatient rehab facility.
Kreis says her 20 years' experience in a variety of nursing departments, combined with her role as a UTA faculty member training future nurses, equipped her with the tools she needed. The emergency reminded her of a classroom lesson, she said, where she simulates real-world scenarios for her students.
"We've learned the best action to take during a seizure is to get the patient on his or her side, time it, watch it and ride it out, because we don't have any medicines there immediately accessible," she said.
Kreis was sporting her UTA gear when a group of Dallas County judges recently honored her for her actions, which Fox 4 and WFAA featured. Her wardrobe choice is not surprising considering she comes from a Maverick family. Kreis herself is not just UTA faculty but is enrolled in doctoral-level courses as a student. Both her son and daughter are UTA students, and her fiancé is a UTA aerospace engineering alumnus.
Kreis hopes that what happened inspires others to carry a written list of medication with them. The details could be lifesaving.
"If they put a written medication list in their wallet or pocketbook, and an emergency contact number, then it makes it so much easier for those responders to help," she said.