A celebration of Indigenous culture
UTA celebrates Native American Heritage Month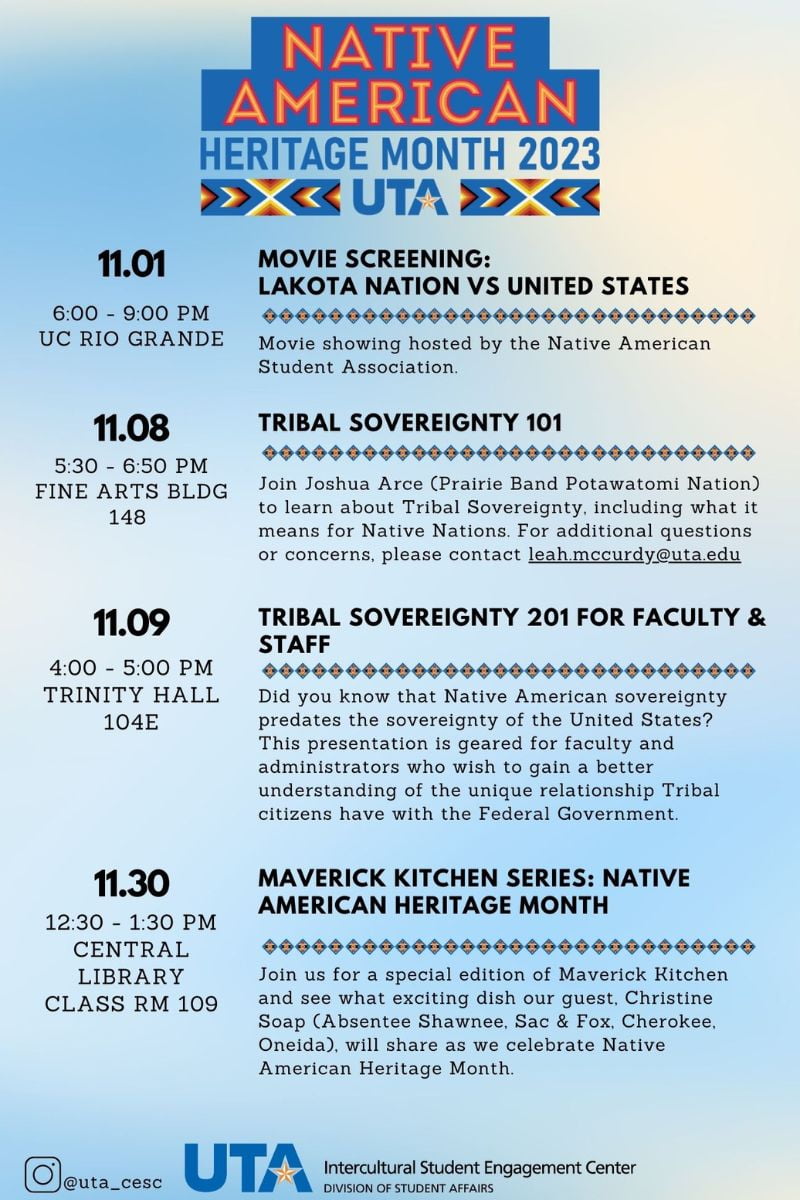 The Native American Student Association (NASA) and the Intercultural Student Engagement Center are celebrating Native American Heritage Month at The University of Texas at Arlington with a series of events highlighting Indigenous culture.
"This is a key month for our campus to demonstrate that Native American and Indigenous students are welcome and have a voice," said Les Riding In, assistant dean and director of graduate programs in the College of Liberal Arts and primary advisor for NASA. "NASA has many programs throughout the year, but November is a special month as it provides a time to spread awareness to students, faculty and staff."
UTA's NASA is the longest continuously running native student group in Texas. Throughout the year, it supports a multitude of events to celebrate and honor Native and Indigenous students, faculty and staff at UTA.
This year, Joshua Arce, president and CEO of Partnership with Native Americans, is the featured speaker. Arce will lead two talks about tribal sovereignty, including what it means for Native nations and to understand the unique relationship tribal citizens have with the federal government. The talks are scheduled for 5:30 p.m. on Nov. 8 in Fine Arts Building 148 and 4 p.m. on Nov. 9 in Trinity Hall 104E.
Sampson Dewey, president of NASA, said tribal sovereignty is important to many Native American and Indigenous peoples and that NASA decided to bring Arce to campus to spread awareness about the issue.
"We have this culture that's been passed down from our ancestors, and it's something we are proud of," Dewey said. "We like to share and teach other people what our cultures are about."
Dewey is looking forward to sharing Native dishes that have been passed down through generations with Mavericks. At the end of the month, the UTA Libraries Maverick Kitchen Series will hold a special edition to celebrate Native American Heritage Month featuring a UTA and NASA alumnus and her family.
"In the Native American community, food is very special because they're recipes that have been passed down from one family to the next," he said. "It might be the same dish but taste completely different because of how everyone is taught."
View the UTA Events Calendar for a full list of events.