Students Ride on Via Self-Driving Shuttle
Monday, March 21, 2022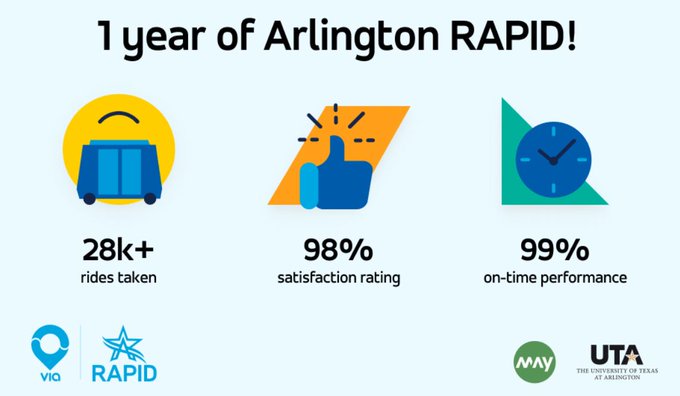 UTA Parking & Transportation is excited to partner with the City of Arlington, May Mobility, and Via to bring autonomous vehicles to campus and extend campus mobility options into Downtown Arlington.
We're launching year 2 of Arlington RAPID on Monday, March 21st and we're giving ourselves a little makeover. 
Service hours. We're tweaking our hours to focus our AV availability during the times you need us most. RAPID will now run from 12pm-6pm Monday to Friday.
Ride fares. UTA students are eligible for a $1 discount on all rides — other rides will continue to be between $3 and $5 to go anywhere within the RAPID zone. 
And remember, you can still book a ride with Via Arlington Rideshare every Monday to Friday 6am-9pm and Saturday 9am-9pm.
UTA students will be able to request a trip on the Via app, and if the trip begins and ends within the autonomous vehicle (AV) service zone and service hours and the student is using their Via account registered to their @mavs.uta.edu email address, the student can select to be picked up in an AV or traditional driver-driven Via vehicle.  
The MavMover shuttle buses and Late Night Security Escort services will continue to operate as normal.