Kim Mayer, Executive Director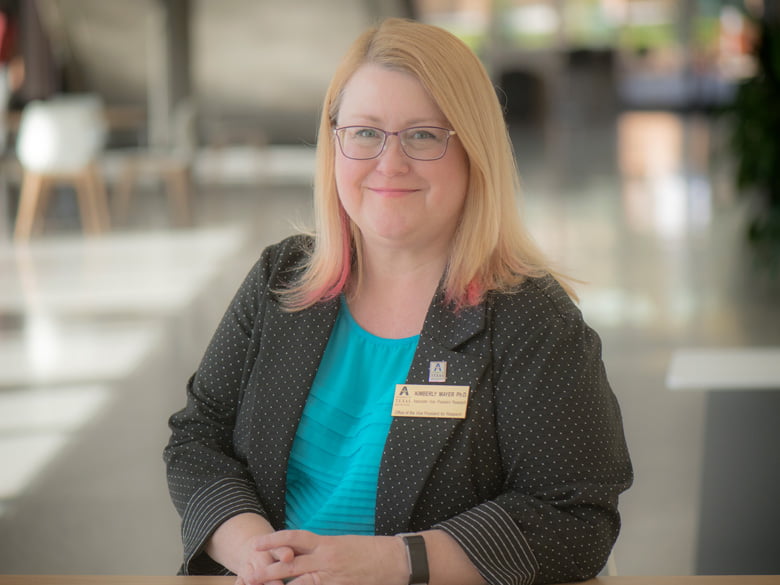 Dr. Kim Mayer is our inaugural (interim) Executive Director and is leading the launch of the Center for Entrepreneurship and Economic Innovation at the University of Texas at Arlington. Kim brings to this role her previous experience as the Statewide Technology Commercialization Director at the NC Small Business and Technology Development Center (SBTDC), affiliated with The University of North Carolina system. Under Kim's leadership from 2011-2015, the NC SBTDC's Technology Commercialization Services team received client attribution for directly contributing to economic impacts with over 125 companies, including: 258 SBIR/STTR awards totaling nearly $102 million, 24 business starts, 38 investments and the creation of over 140 new jobs.
Kim also spent four years, from month 1 through to acquisition, as a senior scientist with a successful agricultural biotechnology startup company in NC's Research Triangle Park. Kim is also an Associate Vice President for Research at UTA. She uses her expertise to serve the community as a knowledge broker for interdisciplinary projects, facilitate relationships between groups that don't typically have an opportunity to work together, and identify opportunities where combined expertise can lead to greater success. Prior to joining UTA, Kim was the inaugural Executive Director of the endowed Donna and Benjamin M. Rosen Bioengineering Center at the California Institute of Technology, where she worked with faculty, staff and students across the Institute doing innovative research in multiple fields at the intersection between biology and engineering. Send Kim an email.
Matt Clark, Faculty Director
Matt Clark is an entrepreneur, artist, and assistant professor of practice at UTA where he is the faculty director of the Center for Entrepreneurship and Economic Innovation. As the faculty director, Clark connects and collaborates with student, faculty, and alumni entrepreneurs, incorporates entrepreneurship into courses across the university, creates programming, and evangelizes all things entrepreneurial across the metroplex. Matt Clark Studio has been in business for 20 years creating original artwork for homes and businesses across the globe. His paintings are in the collections of over 25 international corporations. FidenClark creates unique goods for the home using handwoven textiles from Oaxaca, Mexico. In 2012, Clark created and launched the Entrepreneurship in the Arts initiative helping students leverage their creative talents professionally. He has spoken throughout the US on this topic and presented a TED talk in 2016. Send Matt an email.
Under Construction: Our New Home
When construction is completed, the Center for Entrepreneurship and Economic Innovation will be housed at the corner of Center St. and UTA Blvd. in Arlington in a space designed to facilitate collaboration and foster entrepreneurial ideas and community connections.

Parking
Visitors to the Center for Entrepreneurship and Economic Innovation are advised to park in the garage at 100 UTA Blvd. Off-campus visitors are allowed to use the CEEI-designated spots, which are marked by a green sign. After parking, take a photo of your license plate to request a QR code upon entry and receive a permit. UTA students, faculty, and staff must use appropriate permitted parking spaces within the garage.
We're Hiring
The Center for Entrepreneurship & Economic Innovation is hiring a Director of Operations. Read the full job description and apply at the link below.
Learn More