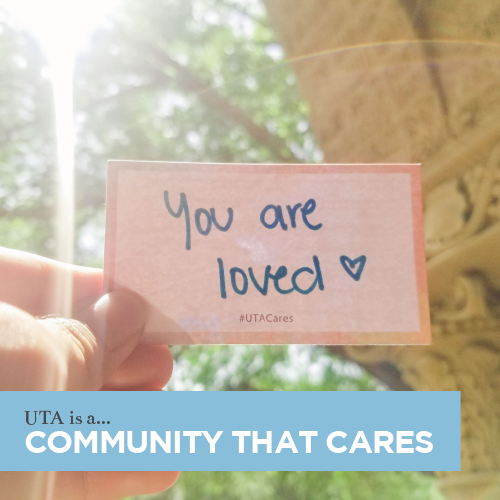 CAPS Promotes Diversity and Inclusion On Campus
Counseling and Psychological Services (CAPS) is here to help improve the mental health, wellbeing, and safety of UTA students with appreciation and respect for race, nationality, ethnicity, age, sexual identity, gender and gender identity, religion and irreligion, immigration status, physical and intellectual ability, size and stature, and socioeconomic status. We celebrate the rich diversity of our UTA community and strive to affirm each student's individual identities with dignity.
Diversity Statement
We at CAPS acknowledge the historical and ongoing acts of systemic racial oppression and violence. We disavow racism and xenophobia in any form and acknowledge its damaging psycho-emotional effects. We understand that stigma, distrust, and fear create barriers that prevent many students from reaching out and seeking support. We understand those attitudes and feelings often develop from experience. The mental health system in America has often fallen short of serving the unique needs of Black, Indigenous, People of Color, LGBTQ+ individuals, and other under-represented members of our community. We at CAPS are committed to doing all we can to create a safe and inclusive space for students in need of counseling, psychiatry and resources. This includes holding an attitude of cultural humility, that we may listen more mindfully and gain a greater understanding of how our own cultural frameworks affect our work with students and colleagues.

As counselors, psychologists, clinical social workers, and physicians, the CAPS team is held to high professional codes of ethics that include valuing diversity and inclusion and promoting social justice. We take seriously our responsibility to serve as mental health advocates on campus. Toward this end, CAPS has traditionally held discussions of ethics and diversity concerns in every weekly staff meeting. Most recently, a formal committee has been formed with goals related to promoting initiatives of mental health equity and campus-wide diversity and inclusion. The Steve Fund Equity in Mental Health Framework will be utilized, which is an evidenced-based initiative with recommendations for improving the mental health of students of color on college campuses.

CAPS enthusiastically supports the diversity and inclusion initiatives announced by UTA president Dr. Teik C. Lim in July 2020, outlining plans to redouble efforts to create a more diverse and inclusive atmosphere for students, faculty, and staff.