Gynecological Health
The gynecological health clinic offers caring, confidential evaluation and education to enhance your overall health.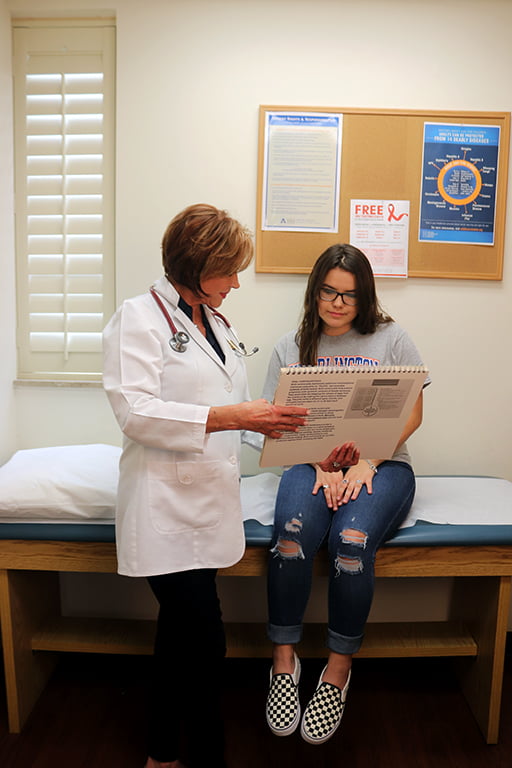 GYNECOLOGICAL HEALTH
The gynecological health clinic provides a comfortable environment where you can feel at ease asking questions and having your concerns addressed. Certified nurse practitioners and registered nurses are available to provide care by appointment. Consultations and follow up appointments with a gynecological health provider are free of charge for eligible students. Charges vary for physical examinations, procedures and prescriptions. UTA Health Services utilizes chaperones (registered nurses) for all sensitive physical examinations, including breast, pelvic and rectal exams.
The following services are available in the gynecological health clinic:
Evaluation and treatment of menstrual concerns, common gynecological conditions, and reproductive concerns
Annual examination (well visit) with or without Pap smear
Screening, diagnosis and treatment of sexually transmitted infections
Contraceptive counseling, prescription and management
Pregnancy testing
Emergency contraception, available in the pharmacy without a prescription
Breast health assessment
Removal of intrauterine device (IUD)
HPV vaccinations
Well-Visit
Regular annual wellness exams keep you healthy by checking your current health and risk factors and screening for breast and gynecological diseases and sexually transmitted infections. You should begin having annual wellness exams once you turn 18 or start having oral, vaginal, or anal sex, whichever happens first. A general well-visit gives you an opportunity to review your health, discuss preventive health steps, conduct screenings and address questions you may have related to gynecological health. It usually includes a breast and pelvic exam, as well as a Pap smear – which is used to screen for cervical cancer, for patients over the age of 21. If you have had a Pap smear performed elsewhere within one year, please bring a copy of the results, if possible. If you are using birth control or any other medication, please be prepared to provide information on the medication name and dosage.
More Info
Community that Cares
UTA Cares about the well-being of our students, faculty, and staff. Help us make this a safe, secure, and supportive campus.
First time pap smear
A free class is offered each month explaining what to expect during your first Pap smear and to answer any questions you may have.
Call 817-272-2771 to register for a class.