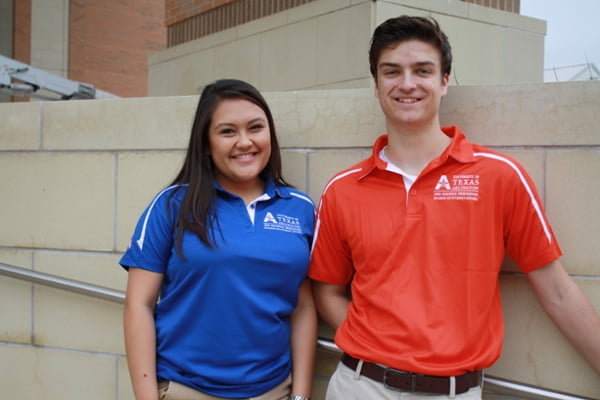 Transfer Orientation Leaders
The University of Texas at Arlington is dedicated to the retention and overall success of our students, by promoting academic excellence and fostering lifelong learning. New Maverick Orientation offers a variety of programs, both on campus and online, for new students. The Transfer Orientation Leader program is designed to provide incoming UTA transfer students the opportunity to connect with fellow transfer students, campus resources, and faculty and staff. Maverick Transfer OL's assist incoming students and their families with their transition to UT Arlington. They will work closely with...
Responsibilities
Responsibilities of an OL
Benefits
While the Freshmen Orientation Leader is a paid position, money is not the most significant benefit of the position. Orientation Leaders will be engaged in many learning opportunities that will translate to almost any career field. This leadership position will provide a strong base for any future...
1.
Provide support and guidance to transfer students (new, current and prospective) through programming and other initiatives
2.
Use their transfer experience to assist with the transition
3.
Explaining academic opportunities, responsibilities, and procedures
4.
Acquainting new students and family members with campus services and building locations.
5.
Facilitating small groups discussions
7.
Assisting students in the class scheduling and registration process
8.
Assisting in the preparation of orientation activities and materials
9.
Being part of and supporting a diverse team of Mav OLs
10.
Being part of and supporting a diverse team of Mav OLs
11.
Engaging students in UT Arlington history and traditions
1.
Gain significant leadership experience while enhancing your opportunities for campus involvement, employment marketability, and career opportunities
2.
Develop professional relationships with faculty, staff, and other students
3.
Gain skills in effective interpersonal communication, peer-to-peer leadership and conflict management
4.
Learn to think on your feet and make quick, educated decisions in a fast-paced environment
5.
Gain significant knowledge of UT Arlington history and traditions, academic resources and involvement opportunities
6.
Learn valuable small group facilitation and discussion skills
7.
Attendance at the NODA Region IV Regional Conference (subject to change)
8.
Compensation: $8 an hour On-campus housing, during orientation sessions, for summer 2018 (required) Limited dining plan for summer 2018 All apparel and food associated with NMO function.