What did you find among PALs?
Discover what the PAL community is like from the PAL perspective of working with other PALs, with the New Student Courses staff, and with faculty!
Blog Post #2
What did you find among PALs?
When UNIV classes commence in the fall semester, the staff and student employees in the Office of New Student Courses (NSC) do not divide and conquer- they work closely with one another. Peer Academic Leaders (PALs) grow closer together and lean on each other for advice in teaching and answers to big and small questions they encounter throughout the semester – even at one in the morning.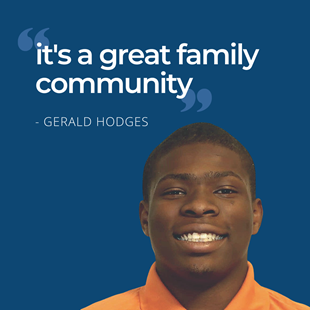 I am a PAL and I see the amazing and caring community created by PALs and the NSC administrative staff that makes the job more enjoyable than you could imagine. I knew many of my fellow colleagues would agree, so I asked a couple PALs how they would describe the PAL community.
"For one thing," Gerald Hodges starts, "it's a great family community." He said he enjoys his time with fellow PALs when they are collaborating on lesson plans and ideas for their classrooms. Gerald (pictured on the right) is a senior majoring in Mathematics and is a third year PAL and a Live On PAL.
Both Amy Selvarathinam – a senior majoring in Biology, a Senior PAL and teaching the UNIV curriculum for four years now – and Naia Williams – a sophomore majoring in English with a Secondary Education Certification and teaching the UNIV curriculum for the first time this year – agreed the PAL community is a close-knit group of students.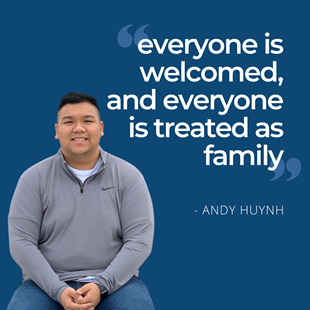 "The PAL community is a place where everyone is welcomed, and everyone is treated as family," said Senior PAL Andy Huynh (pictured on the left), third year PAL. He is a senior majoring in Mechanical Engineering.
"It is a group of people that all want to have leadership positions on campus and give back to their students," Senior PAL Stephen Reinsmith said. "I've seen a lot of compassion and collaboration that has been encouraging to me." Stephen (pictured below) is a senior majoring in Biology and has been a PAL for well over a year now.
"We come from diverse and various walks of life," Amy adds, "so we are always ready to help and offer advice in not only the PAL job but in navigating through college as well!" PALs are, as Amy said, "always excited to learn and be involved in the UTA community overall." This is due to the natural character of each PAL but also from the encouragement of NSC staff.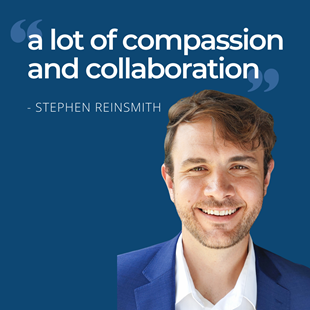 "Beyond the great instruction and resources (NSC) provide," Stephen said, "the staff is welcoming to people who have questions and want every one of the PALs to succeed as an instructor, student, and person."
"The New Student Courses Staff consistently provide us with support and appreciation throughout the semester by checking in on us constantly and making sure that we are not overwhelming ourselves and that we are doing well physically and mentally," said Andy.
"They are a great source of guidance and support," Amy (pictured below) adds. "I have always felt that I can go and talk to them about my classes and my job."
"It's small gestures like offering candy during the week of Halloween to Chris bringing donuts that really make you feel special and appreciated every single day," said Naia (pictured below).
Chris Martin is the Peer Academic Leader Coordinator who, like Director of New Student Courses Dr. Danielle Klein, Associate Director Lauren Krznarich, Assistant Director for Curriculum and Assessment Denisse Avila, and Academic Advisor Nicole Nguyen, always have a smile and make any day a little better.
Gerald adds to this by saying, "The New Student Courses Staff are arguably some of the best employers I have ever had. They are always available and willing to help me and support me, and they are just enjoyable to be around."
Overall, New Student Courses staff are irreplaceable, wonderful people. And it's not only the NSC Staff that PALs work with throughout the semester, but we also work with faculty one-on-one to bring an engaging curriculum to students.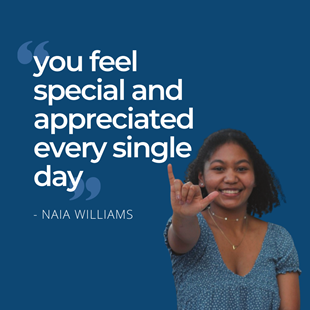 "Working with faculty has been a great experience," said Stephen. "It has shown me different instructional styles and ways to lead a classroom."
"Peer Academic Leaders are usually paired with (faculty members) within their major, so working with them builds a relationship that can help you later on, professionally," said Andy. "All of the (faculty members) that I've had the pleasure to work with have helped me in so many ways, including being a reference, writing letters of recommendation, and answering any questions I might have about the career field!"
"I have found that (faculty) are more relatable than we initially think," adds Amy.
I could not agree with them more. The faculty member I had for my UNIV class in 2020 was the professor in my Intro to Public Relations and now my faculty member for the UNIV class I'm teaching this semester. I wouldn't have this connection with her, with my Senior PAL, colleagues, and NSC staff if it weren't for being a PAL.
All in all, the PAL community is a family of exceptional leaders. It is a workplace where everyone – PALs, NSC staff, faculty –support and care for one another from the moment they meet and throughout their career.
A

dvice

from PALs to

any student applying for the position:
"My advice would be to allow your personality to shine through. Whether it's in your PAL training class or in your future UNIV classroom, your passion and personality will be your best asset that students naturally gravitate towards and can relate to." - Naia Williams
"Someone applying to the PAL program needs to look at their time and schedule and be honest with their capacity. Being a PAL is a major commitment that should be taken seriously. But it is a great opportunity for anyone who wants to have an authentic leadership position on campus that builds their resume, establishes their network, and makes a difference in the lives of their students." - Stephen Reinsmith:
"Don't be afraid if you have little teaching experience, or if you feel shy. Being a PAL isn't just about having skills or being an amazing speaker, it is about learning and growing your skills and abilities, and helping students like you get through college." - Gerald Hodges
"Any and every student are highly recommended to apply for the PAL position. You don't have to have any prior knowledge about teaching or leading. You just need to have an open mindset and be ready to learn. Every day is a new experience, and you need to be able to adapt to it." - Andy Huynh
"Be excited to help other students navigate through their first semester of college! You have so much experience to share and you know what UTA has to offer. So many students come in with lots of questions and worries and you will be there to give them the guidance they need." - Amy Selvarathinam:
Add a comment by clicking here!