News
Fort Worth Business Press presents C-Suite Awards
Published on June 27, 2018
SBA Names UTA Business Advisor As The 2018 DFW District Veteran Business Champion of the Year!
Published on April 26, 2018
2018 DFW District Veteran Business Champion of the Year
Myron Pullum, Business Advisor at the UTA Veterans Business Outreach Center
SBA winners to be formally recognized in Arlington on May 4th during National Small Business Week, April 29th - May 5th
APRIL 26, 2018 -
DALLAS/FORT WORTH - Herbert Austin, District Director of the U.S. Small Business Administration's Dallas/Fort Worth District Office, announced today this year's 2018 DFW District Veteran Business Champion of the Year Award will go to Myron Pullum, Business Advisor at the University of Texas at Arlington Veterans Business Outreach Center.
Myron serves a three state region as a business advisor for the UTA VBOC. He also has a primary role to deliver Boots to Business curriculum on military installations as part of the Department of Defense's Transition Assistance Program. Myron's impact on veterans helped the VBOC assist 843 clients since October of 2016.
The SBA will honor a total of 12 outstanding small business owners and champions of business at The Spirit of America: 2018 Salute to North Texas Small Business luncheon on Friday, May 4th hosted by the Arlington Chamber of Commerce. For more information about the luncheon contact Henry Lewczyk at 817-543-4284 or hlewczyk@arlingtontx.com.
These honorees competed among others from across the 72 Texas counties that the DFW District Office covers. Two of the DFW winners won regional awards after competing with other businesses from four other states. Each winner will receive an award from Director Austin at the May 4th luncheon. "This is an exciting time of the year where we honor our local entrepreneurs and advocates for their great work in business and in the community" said Herbert Austin.
"Nominations for all of the awards were accepted last fall and winners were selected by a panel of judges" said Ahmad Goree, SBA's Lead Economic Development Specialist & Public Information Officer.  "Each winner will be individually featured on the @SBADFW twitter account where you can also get additional information on National Small Business Week" said Goree.
The U.S. Small Business Administration's National Small Business Week will be held April 29th to May 5th.  Events will take place all across the country and feature forums discussing the small business landscape, business coaching services, matchmaking events as well as networking opportunities and award ceremonies. The 2018 National Small Business Person of the Year will be announced during that week.
UTA To Open Center Helping Veterans Own Their Own Business
Published at 9:46 AM CDT on May 31, 2016
By Katy Blakey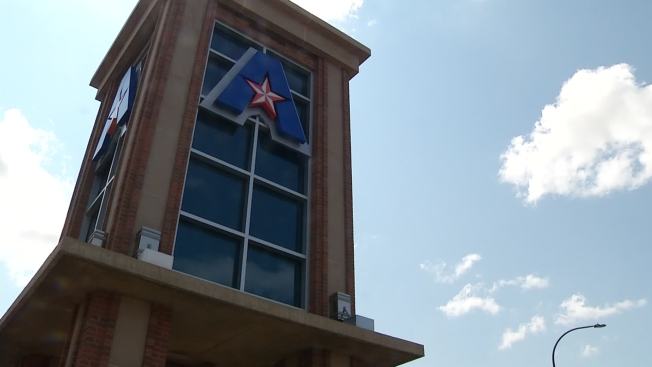 The University of Texas at Arlington is set to establish a center to help veterans start their own businesses.
Nearly $1 million in federal grants was awarded to UTA's College of Business by the Small Business Administration to open a Veterans Business Outreach center intended to help veterans and their families start or grow their own business.
"Small businesses are the backbone of America, the backbone of our society and the backbone of our economy," Texas Veterans Commission's Patrick Alcorn said. "Veterans are poised because of their background, their nature and everything about them to be owners of all these small businesses."
The grant money will fund one-on-one business counseling and training counseling. Workshops will focus on how to start a business and develop a successful business plan.
There are 19 similar Veterans Business Outreach centers in the country. This will be the first in North Texas.
More than 3,000 military veterans and their dependents are enrolled at UTA.
Small Business Administration grant establishes UTA center to help veterans with entrepreneurial skills
Published on Thursday, May 19, 2016
The University of Texas at Arlington College of Business has been awarded a two-year, $500,000 Small Business Administration grant to establish a Veterans Business Outreach Center that will offer educational, training and consulting services to veterans who are starting or growing a business.
The UTA Veterans Business Outreach Center is the second such center established in Texas, the center in the largest metropolitan area to date and the 19th center nationwide. Among the existing centers is one at The University of Texas Rio Grande Valley in Edinburg.
The UTA grant will support:
Collaborative, hands-on, interactive learning opportunities for veterans, disabled veterans, spouses, National Guard and reserve component members through the Texas Veterans Commission Veteran Entrepreneur Program;
Continued training at area military bases through Operation Boots to Business: From Service to Startup;
A UTA Entrepreneur Manufacturing Boot Camp for Veterans;
Ongoing one-on-one business counseling and training programs, courses and seminars;
Building a community of interactive veteran resource partners locally and across SBA Region VI;
And workshops to include how to start a business, writing a business plan, credit counseling, learning about the SBA loan program, the Veterans Advantage and more.
Rachel Croson, dean of the UTA College of Business, said the program will provide needed education and training to those who have given much to their country.
"This program will make UTA the first stop for veterans who are leaving the military to pursue a business education," Croson said. "This program benefits our veterans, but also makes the university and the College of Business stronger by bringing their talents into our classes and onto our campus. Finally, this initiative strengthens the U.S. and Texas economy, as participating veterans are given the training and support to create businesses of their own."
Air Force veteran and state Rep. Tony Tinderholt, R- Arlington, applauded the initiative and said, "Veterans, UTA, North Texas, the nation and the economy are the winners in the establishment of this center. It will provide military veterans the education and skills they need to launch successful businesses of their own. That, in turn, will expand our economy and create jobs for others."
Edmund Prater, an associate professor in the Department of Information Systems and Operations Management, will serve as principal investigator of the research grant and executive director of the center. Its programs will be built upon principles of entrepreneurship and franchising, areas that appeal to veterans, he said.
"The research shows that the attributes these veterans employ in the field translate well to the world of business," Prater said. "Once you've been shot at, the problems of starting a business aren't that big of a deal."
The Department of Veteran Affairs shows that Texas is second only to California in the size of its veteran population with nearly 1.6 million veterans to California's veteran population of about 1.8 million. The Texas Veteran Commission says that North Texas is No. 1 location for veterans, and many have enrolled in UTA.
The University counts more than 3,000 military veterans and their dependents among its student population. Military Times magazine ranks UTA as the top Texas college for veterans and lists the University as No. 16 among four-year schools nationwide that offer undergraduate or graduate degrees or both. The magazine also ranks the UTA College of Business among the nation's top 50 business schools for veterans.
UTA established a campus-based Veterans Assistance Center in May 2013 as part of the Veterans Upward Bound program. The center provides student veterans tutoring, mentoring, assistance with completing forms and a place to unwind in between classes.
In addition, many UTA faculty members have attracted research grants to support studies that explore better ways to help veterans who suffer from physical and psychological challenges as they return to civilian life.
Patrick E. Alcorn, currently with the Texas Veterans Commission's Veteran Entrepreneur Program, will serve as director of the new UTA Veterans Business Outreach Center. He said his team will work closely with the state agency entrusted with the welfare of Texas veterans.
States and regions were selected as potential Veterans Business Outreach Center sites based on "Boots to Business" program demand, military installation and transitioning population data. Boots to Business is an entrepreneurial training program the SBA operates for the Department of Defense's Transition Assistance Program, the agency said.
Earlier this month, Alcorn said about 265 veterans attended a one-day seminar about entrepreneurship and franchising.
Call 817-272-1704 for more information about UTA's Veterans Business Outreach Center.
About The University of Texas at Arlington
The University of Texas at Arlington is a R-1 - Carnegie "highest research activity" institution of more than 53,000 students in campus-based and online degree programs and is the second-largest institution in The University of Texas System. U.S. News & World Report ranks UTA fifth in the nation for undergraduate diversity. The University is a Hispanic-Serving Institution and is ranked as the top four-year college in Texas for veterans on Military Times' 2016 Best for Vets list. Visit www.uta.edu to learn more, and find UTA rankings and recognition at www.uta.edu/uta/about/rankings.php.