UTA developing bilingual ed, immersive learning platform in additive manufacturing
An education faculty member is using virtual reality technology to help with an important research project on campus!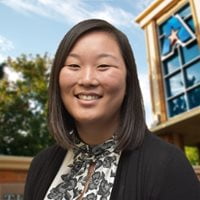 Dr. Amanda Olsen, an assistant professor in the College of Education's Department of Curriculum and Instruction, is using virtual reality to aid in the development of a bilingual (English/Spanish) immersive learning environment to help students better understand the field of additive manufacturing. Additive manufacturing allows researchers, engineers, and other creators to build objects by adding materials, one later at a time – such as through 3D printing.
This virtual reality platform will help students gain confidence using expensive and sophisticated machines without potentially damaging real machinery. The platform will be designed to be inclusive of all students, including those who identify with disabilities.
"My role on the project is to specifically help with the evaluation of the virtual reality platform," said Olsen. "We want to make sure that the platform is effective in helping students understand and interact safely with additive manufacturing technologies."
The project, "Enhancing Active Learning in Additive Manufacturing Using a Bilingual, Assisted Virtual-Reality Platform," was awarded an $837,000 grant from the National Science Foundation and is led by Dr. Shuchisnigdha Deb, assistant professor in UTA's Department of Industrial, Manufacturing, and Systems Engineering (IMSE). Fellow ISME faculty Dr. Emma Yang is also on project.
Full story from UTA News: https://www.uta.edu/news/news-releases/2022/08/18/deb-nsf-virtual-reality