A tradition of excellence
Academics
UTA offers more than 180 degree programs across nine colleges. With world-renowned faculty and resources, we help you carve out your path to becoming an innovator, thought-leader, and global citizen.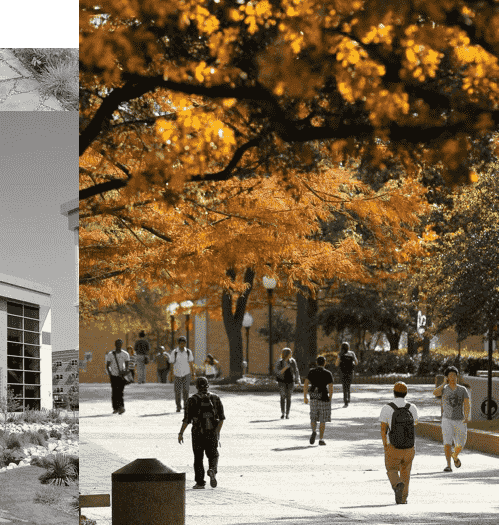 Undergraduate Studies
Our nine colleges offer a wide variety of disciplines with more than 180 degree programs to choose from. Take the first step in joining more than 220,000 UTA alumni who forged a new path by discovering an academic experience deeply rooted in excellence.
Graduate Studies
UTA is home to nationally top-ranked graduate programs lead by award-winning faculty that focus on preparing students for leadership positions. Explore graduate programs designed to expand your mind and prepare you for life after turning the tassel.
Non-Traditional Academic Tracks
Life happens while you're making other plans, so the "traditional path" to college isn't always possible. Whether you're a veteran, a busy parent, or just wanting to try something new, UTA offers several flexible and accelerated programs to help write the next chapter of your story.
#6
In the Nation for Undergraduate Diversity
(U.S. News & World Report, 2020)
#1
in North Texas among national universities
(Washington Monthly, 2019)
#2
In Texas for Best Universities for Adult Learners
(Washington Monthly, 2019)
Nursing Major
Meet Anissa
I would tell my first-year self to talk to the person sitting next to you in class or introduce yourself to someone in the plaza at lunch. As a freshman, a lot of people are in the same boat as you where they are scared and they want to make friends, so just go for it! One moment that had an impact on me was when we had a guest speaker in one of my science classes. The speaker was a nurse and she told the class something that really stuck with me. She said that to achieve what you want, you have to believe in yourself, because at the end of the day you're going to be the one putting in the work and effort to follow your dreams. People will be there along the way to help you, but if you don't have faith in yourself, it's going to be so much harder to achieve what you want. That really helped motivate me throughout my whole college journey.
#20
Best Online Master's program in Curriculum and Instruction
(U.S. News & World Report, 2020)
#1
Best Master of Public Administration degree program
(Intelligent.com, 2020)
#2
Best Master of Social Work degree program
(SR Education Group, 2019)
Graduate Student
Class of 2019
This university is unique in a sense that it has the "big university" feel but you never feel disconnected from the students or staff. Professors here are always willing to give you an extra 10 minutes or to meet you outside of class to help you further your learning or experience. Don't be afraid to speak up or challenge ideas, because what you learn from these constructive confrontations is far more valuable than any textbook reading. My first semester of my MBA program was very beneficial to my professional and social life. I made connections with leaders and student leaders who have pushed me and challenged me to take that next step in my life. From this unconditional support I was able to land an internship with Southwest Airlines, one of the top airline companies in the country and one of the top work/life balance cultures I have ever been a part of.
ACADEMIC CALENDAR
Stay updated on important dates and deadlines for programs of interest with the UTA academic calendar.
Upcoming Dates:
Aug. 12: Last day of summer classes
Aug. 24: Registration Ends for Fall Term - Regular Session
Aug. 25: First day of fall classes
Aug. 30: Late registration ends
VISIT ACADEMIC CALENDAR
FACULTY
Our world-renowned faculty are an invaluable resource for our students. They are both passionate teachers and lifelong learners dedicated to sharing their energy and knowledge. Search our database of UTA faculty and staff to learn more about the individuals who are large contributors to the success of our students and our university.
FACULTY PROFILE SEARCH