2023 Research Day Taps Timely Education Topics for Dialogue, Discussion
The agenda includes roundtable discussions and presentations on pandemic-era education, race/racism, queer representation, and women in STEM fields.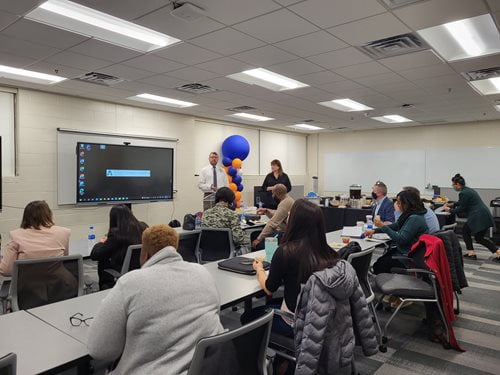 The UTA College of Education is preparing to host its next
Research Day event on Saturday, Feb. 11, 2023, from 8 a.m. to 3 p.m. in Trimble Hall
on the UTA campus. The second annual event will cover timely topics impacting both students and educators in the K-12 and collegiate spaces. The event is free and open to the public; registration is not required.
Two guest speakers will be featured:

•
Differential Growth in Reading and Mathematics in Elementary School: One Size Does Not Fit All
,
Karen Rambo-Hernandez
, Texas A&M University
•
Inspiration, Inoculation, & Introductions Are All Critical to Successful Mentorship for Undergraduate Women Pursuing Geoscience Careers
,
Paul Hernandez
, Texas A&M University
•
Fostering a Research Culture, Paul Hernandez and Karen Rambo-Hernandez
, Texas A&M University
K-12 teachers, school administrators, and other education professionals are invited. Attendees will leave with knowledge of the latest research efforts of education faculty and students. More than 20 roundtable discussions and paper presentations are scheduled, including talks on online learning, school leadership during pandemic-era education, queer representation, gender gaps in STEM fields, inclusive and/or culturally responsive teaching, and the impact of the 2020 racial reckoning on leadership practices.