WELCOME BACK!
AUGUST/SEPTEMBER
PRE-LAW NEWSLETTER
August 29, 2022

Welcome Back from the Pre-Law Center!
We hope you've had an amazing summer! But now it's time to hit the books and build up your GPA. The Pre-Law Center will be hosting a booth at the College of Liberal Arts Welcome Back Kick Off outside of University Hall in the Central Library Quad on August 30th from 11am to 1:30pm. Can't catch us that day? We will also have a booth at the Maverick Cookout & Activity Day in the University Center Mall with fun games and prizes during the Thursday, August 31st from 10:30am to 1:00pm. Stop by for fun, games and prizes or just to say hello. Don't forget to bring a friend!
In This Month's Newsletter
Pre-Law Day & Law School Fair– Register NOW!!
AT&T/Haynes & Boone Mentorship Program Sign-Ups Open
Pre-Law Center 10-Year Celebration
Fall Internship Opportunity
Scholarship for Aspiring Lawyers Opening Soon!
Networking in DFW
Time to Get Social! Join a Pre-Law Org Today!
Upcoming Events this Fall
New Discounted LSAT Prep
REGISTER NOW FOR THE PRE-LAW DAY & LAW SCHOOL FAIR EVENT!
Wednesday, September 21st at the University Center
Workshops & Panels 9am – 1pm
Law School Fair 1pm – 4pm
Forum Discussions on Law & the Criminal Justice System 1pm – 4pm
REGISTER NOW for our annual UTA Pre-Law Day event. This year's event will feature a law school fair and an opportunity to hear directly from law schools.
Panel topics will include:
Inside the Admissions Committee Room: Insights from Admissions Pros
Creative Ways to Use Your Law Degree – Roundtable Talk with Attorneys from the UTA Office of Legal Affairs
Am I Doing This Right? Tips for Mastering LSAT Study hosted by LSAC Ambassador Jennifer O'Connor
Lunch is available for all advance RSVPs. Registration is NOW OPEN!
Full agenda available at www.utaprelawday22.weebly.com!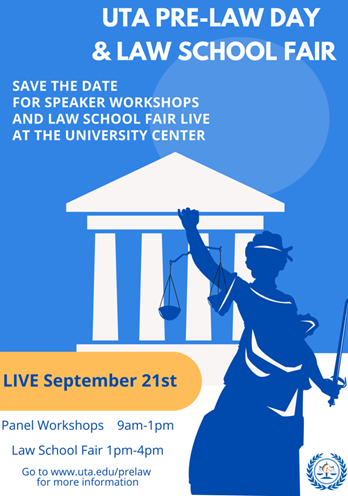 AT&T MENTORSHIP PROGRAM IS BAAACK!
Thursday, Oct. 20th 11am – 4pm
The AT&T-Haynes & Boone Mentorship Program has RETURNED!!
Students will be treated with the opportunity to go to Dallas for the day to have one-on-one conversations with a mentoring attorney from AT&T and Haynes & Boone. In the meeting, you can learn how to network, how to interview, how to use social media to your advantage in the legal community and so much more! This year's event will even feature a lunch and a "mocktail" hour social with the attorneys!!!
Have a class meeting during this time?? No problem! Because this is a prestigious university program, University Excuse Letters can be provided to students in attendance, so sign up today!!
Applications are open today at https://forms.office.com/r/EFMzT2ktnV.
Email prelaw@uta.edu if you have questions about the program.
PRE-LAW CENTER IS TURNING 10 YEARS OLD!
Wednesday, September 7th 12pm – 2pm
Pre-Law Center (TH 303)
Join us in the Pre-Law Center for a celebration of the Pre-Law Center's 10 year anniversary! We'll be giving away t-shirts and snacks so don't miss it!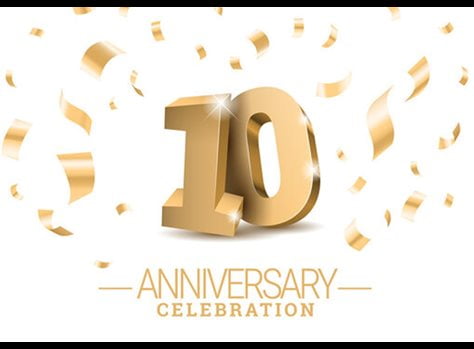 FALL INTERNSHIP OPPORTUNITY
Matthew M. Hanley Federal Immigration Practice is seeking an intern for the remainder of the spring semester with the opportunity for a paid position in the summer months in its Arlington office. No prior experience is required. This internship is for non-course credit applicants only.
Interested applicants should email resume, cover letter and PDF of unofficial transcript directly to betzabeth@hanleyimmigration.com
For more information about the law practice, visit https://www.hanleyimmigration.com
WAYNE WATTS FULL-TUITION SCHOLARSHIP FOR ASPIRING LAWYERS OPENS THIS WEEK
This scholarship is made possible by generous contributions from former AT&T General Counsel and prominent UTA alumnus D. Wayne Watts. This scholarship is designed to provide a full tuition scholarship to students nearing the end of their undergraduate career at UTA who are looking to attend law school and become practicing attorneys. Sophomore, Junior and Senior undergraduate students are welcome to apply. Students who will have only one semester remaining before receiving their undergraduate degree will have the scholarship applied to their final semester only. Students must be able to demonstrate satisfactory academic performance in order to apply for this scholarship. A minimum of 3.0 GPA and a practice LSAT score is required to apply for this opportunity. For questions about how to get a practice LSAT exam, contact the Pre-Law Center at prelaw@uta.edu.
Applications OPEN September 1st in MavScholarshop.
Wayne Watts Scholarship for Aspiring Lawyers - The University of Texas at Arlington Scholarships (academicworks.com)
The deadline to apply is Sunday, November 13th.
The scholarship award can be up to $10,000!!!! So apply early!!
NETWORKING OPPORTUNITY IN DFW
UTA Pre-Law Students have been invited to attend a networking event in Grand Prairie, TX this Thursday, September 1st 6pm-8pm where they will have the opportunity to meet with state, local and county officials as well as several attorneys. See attached Meet & Greet flyer for more details.
3025 S. Camino Lagos, Bldg 1, Grand Prairie, TX 75054
This event is sponsored by Attorney Ebony Turner, candidate for Judge, Tarrant County Criminal Court 6.
For more information on how to attend this event, please email ebonymturnerlaw@gmail.com
JOIN A PRE-LAW STUDENT GROUP TODAY!
Pre-Law Society
Students new to UTA or new the pursuit of a legal career will find benefit in socializing with other students pursuing the same goals! This year, the officers are working to bring you a virtual semester of speakers, socials, community service events and the PLS LSAT Prep Study Group!
August/September Meeting Schedule
August 29th – 12-1pm in Pre-Law Center (TH 303)
September 12th – 12-1pm TBD
September 26th – 12-1pm TBD
For more information about how to join this group, contact PLS President Meghna Sharda (Meghna.sharda@mavs.uta.edu) or
Vice President Izabella Russell (imr6096@mavs.uta.edu).
Website: https://prelawsocietyuta.weebly.com/
Women In Law
Women in Law is meeting and looking for new members! This organization is open to all majors and seeks to provide resources to advance women's interest in the legal world. Students can look forward to bi-monthly meetings, socials, the WIL Speaker Series and each semester the WIL Spring Retreat! The 2022 April Spring Retreat in Las Colinas is in the books and was amazing!
Women In Law August/September Meeting Schedule
August 29th – 3:30-4:30pm in Pre-Law Center (TH 303)
September 12th – 3:30-4:30pm in Pre-Law Center (TH 303)
September 26th – 3:30-4:30pm in Pre-Law Center (TH 303)
Ready to join this group now? Contact:
President Thaiss Loaeza (Thaiss.loaeza@mavs.uta.edu)
Vice President Mak Martinez (Mckenzie.martinez2@mavs.uta.edu)
Website: https://utawomeninlaw.weebly.com
Facebook: https://www.facebook.com/utawomeninlaw
Pre-Law Chapter of National Black Law Students Association
For over fifty years, the National Black Law Students Association has worked to develop culturally responsible Black and minority law students that excel academically, succeed professionally, and positively impact the community. NBLSA members are activists, thought leaders, and strategic thinkers. NBLSA alumni are partners, general counsel, judges, non-profit executives, and business operatives.
Pre-Law NBLSA August/September Meeting Schedule
August 31st – 6pm-7pm in UC Neches
September 14th – 6pm-7pm in UC Neches
September 28th – 6pm-7pm in UC Neches
For more information on how to join this org, contact:
President Ayleanna Westbrooks (Ayleanna.westbrooks@mavs.uta.edu) or Vice President A'Nyria Harper (Anyria.harper@mavs.uta.edu)
SAVE THE DATE FOR UPCOMING EVENTS THIS FALL
Virtual Lunch & Learn with Dean "Pop" Little of Seton Hall Law
Wednesday, Oct 5th
12-1pm CST via Zoom
Join me as I visit with Dean of Admissions Shamsiddin "Pop" Little of Seton Hall Law School in Newark, NJ as we discuss the details of their amazing live and online law programs and the application benefits to Texas Pre-Law students. Don't miss it!
Join Zoom Meeting
https://us02web.zoom.us/j/81250443234?pwd=NmpWc0ZXaGFpeDdDUm9MSjlDM0s3QT09
Meeting ID: 812 5044 3234
Passcode: 841226
Virtual Lunch & Learn with Dean Mathiew Le of the
University of Texas School of Law
Wednesday, Oct. 26th
12-1pm CST via Zoom
Join us for a virtual sit-down and Q&A session with Dean Mathiew Le to receive the inside track for what UT Law admissions is looking for and how to put yourself in the best position to receive an admissions offer from one of the top law schools in the country. Don't miss the chance to get your personal questions answered!
Join Zoom Meeting
https://us02web.zoom.us/j/81213234571?pwd=S2ViQjd3RTIveVRrV1g1SCswUEUzUT09
Meeting ID: 812 1323 4571
Passcode: 297021
NEW UTA DISCOUNTS FOR LSAT PREP THIS FALL!
UTA Students can receive $300 off the in-person LSAT classes, $300 off live online LSAT courses and $100 off online on-demand LSAT courses. To get the discount, students should register for the LSAT course of their choosing from www.scoreperfect.net using their UTA (.edu) email address, then contact info@scoreperfect.net to claim the UTA discount.
In addition, ScorePerfect will be hosting 2 free workshops for students to attend virtually where they can ask questions of real LSAT instructors. See the dates and details below.
Free LSAT Workshop
Wednesday September 14 at 7pm CT
https://www.scoreperfect.net/workshop/4891
Free Logic Games Workshop
Tuesday November 15 at 6pm CT
https://www.scoreperfect.net/workshop/4900
UTA Pre-Law Center
Box 19525, Arlington, Texas 76019 | Phone: 817-272-6796 | Fax: 817-272-3255 | prelaw@uta.edu