TESSA MOORE - MAVERICK CLASS OF '22
Meet Tessa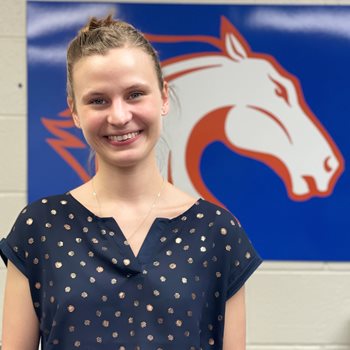 What inspired you to choose chemistry as your major?
I kind of fell into chemistry on accident. My general chemistry 1 professor at TCC (I'm also a transfer student) sent us a flyer for an undergraduate chemistry research program aimed at community college students. I decided to apply, but didn't think I'd get in. I did, and decided it was a good fit!
What was your favorite chemistry class and why?
Biochemistry 1. I loved learning the chemistry and mechanisms behind all the biological processes that I've been learning since middle school. It was fascinating for me to put the missing pieces in and finally understand those processes on a deeper level.
What do you see as your ideal long-term career?
I'd love to be an OB/GYN. I'm very passionate about women's health and equity for women in healthcare.
Have you been involved in research? If yes, which professor(s) lab?
I'm currently working in Dr. So's lab. Her primary focus is RNA and small proteins involved in the spliceosome.
What was the most impactful experience you had as a student while at UTA?
Being involved in campus organizations. They allowed me to find and network with people that have similar goals and interests. There are also so many great opportunities and events!
What advice would you give to your younger self about college?
It's okay to follow your own path! Being a nontraditional student, I struggled with this a lot.
What is one thing that people who know you might be surprised to learn?
I was a professional ballet dancer for 6 years.