Deans' Equity and inclusion Initiative 2022 Fellows
The Dean's Equity and Inclusion Initiative welcomes 17 new faculty members to the scholarly development program. Last summer, CAPPA partnered with other leading U.S institutions and architectural, planning, and design schools. Dr. Adriana Reyes, Professor of Planning, has been selected to join the second cohort of fellows. This collaborative partnership aims to support emerging scholars, address challenges related to the built environment, and engage with diverse underserved communities.
Dr. Adriana Reyes-Sànchez, our newest Fellow, is interested in contributing to the pursuit of equity and inclusion in the built environment. Dr. Reyes is a junior faculty member whose fieldwork is in regions of Mexico City, informal settlements in Santo Domingo, and Texas. She is inspired by urban sustainability and informality and was awarded the Research Enhancement Program and Geisel Grants to examine environmental injustices faced by low-income communities of color, including Sand Branch in Dallas. Her future work will further help understand how low-income Latino/a residents in informal communities across cities in Texas face and adapt to climate and environmental injustice.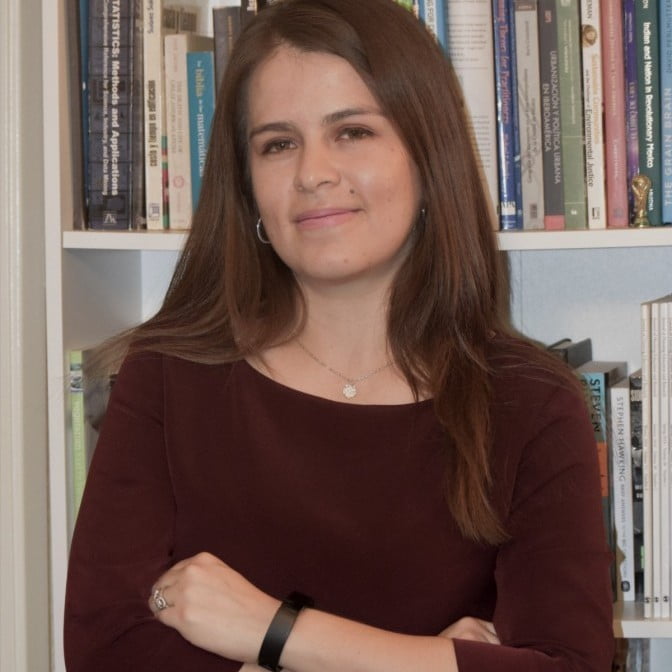 Partnership for equity and inclusion in design and planning schools welcomes a second cohort of early career fellows!
The Dean's Equity and Inclusion Initiative, a partnership of now over two dozen U.S. schools and colleges of architecture, landscape architecture, planning, preservation, and design, welcomes a second cohort of 17 early career faculty to the scholarly development program. This partnership works collectively to nurture a diverse population of emerging scholars focused on teaching and researching built and constructed environments to advance socio-ecological and spatial justice, equity, and inclusion.
Launched in Summer 2021, the cornerstone of the initiative is cohort-based fellowship program supporting early career faculty in the academy who are significant contributors to the pursuit of equity and inclusion in/through the built environment. Fellows participate in a two-year cohort, including two summer institutes and academic year-round professional development workshops. Additionally, each fellow is paired with an internal mentor (from within her/his institution) and an external mentor during their fellowship. Partner schools nominate fellows with attention to BIPOC and other underrepresented faculty dedicated to the built environment professions and disciplines. The first cohort of seven fellows are currently in their second summer institute, hosted at Dumbarton Oaks Research Library and Collections, a Harvard research center located in Washington DC.
The 2022 cohort features seventeen fellows from the University of Washington/ College of Built Environments; Tulane University/ School of Architecture; University of Texas at Arlington/ College of Architecture, Planning and Public Affairs; City College of New York/ Bernard and Anne Spitzer School of Architecture; Graduate School of Design/ Harvard University; University of Michigan/ Taubman College of Architecture and Urban Planning; University of Pennsylvania/ Stuart Weitzman School of Design; The University of Arizona/ College of Architecture, Planning and Landscape Architecture; University of Maryland/ School of Architecture, Planning & Preservation; Virginia Tech/ School of Architecture and Design; Cornell University/ College of Architecture, Art, and Planning; and Howard University, College of Engineering and Architecture. They include faculty from architecture, landscape architecture, real estate development, historic preservation, city and regional planning, and construction management.
Participating in the program are members of the Dark Matter University, senior faculty and deans from partner schools, and members of the professional associations of the Association of Colleges and Schools of Architecture (ACSA), the American Society of Landscape Architects (ASLA), and the Council of Educators in Landscape Architecture (CELA). The professional organizations have also offered financial
support for the program as have many of the schools including the Spitzer School of Architecture and North Carolina State University.
"Increasing diversity in ways that value and strengthen equity and inclusion in our institutions requires more than what any one school can do. We believe it takes the collective of design and planning schools to change who we hire, and what we teach and practice," states the Dean's Initiative website. And as noted by Adrian Parr, University of Oregon "We are collectively mentoring the next generation of diverse faculty into successful academic careers. Working together, we believe that through cross-institutional stewardship of early career faculty, the initiative will expand and enrich the community of designers, planners, and scholars in tenure-track faculty positions across our schools and the nation."
For more information, visit the initiative's website at www.deansequityandinclusioninitiative.com.